Most of us mere mortals would veer away from wearing blinding, bright colors that would bring attention to ourselves such as cherry red, but that certainly isn't the case for actress-model Maymay Entrata.
With legs for days and a statuesque build, it's no surprise she can wear (and look fabulous!) in practically anything—loud prints, OTT details, standout colors, or all of the above!
What we love about her head-turning outfits is how each look still remains very her—playful, elegant, and simple, just the way she is! Below, we listed down several of Maymay's red-hot looks, and threw in a few tips on how you can recreate them, too.
A FANCY TOP
Maymay doesn't let her bold color choice intimidate her and even dares to pair her retro-inspired top with wide-leg, printed trousers!
How to wear: With a simple red top (no fancy ruffles, prints, or anything), you can get away with wearing a black-and-white patterned skirt or a pair of high-waist trousers.
Continue reading below ↓
Recommended Videos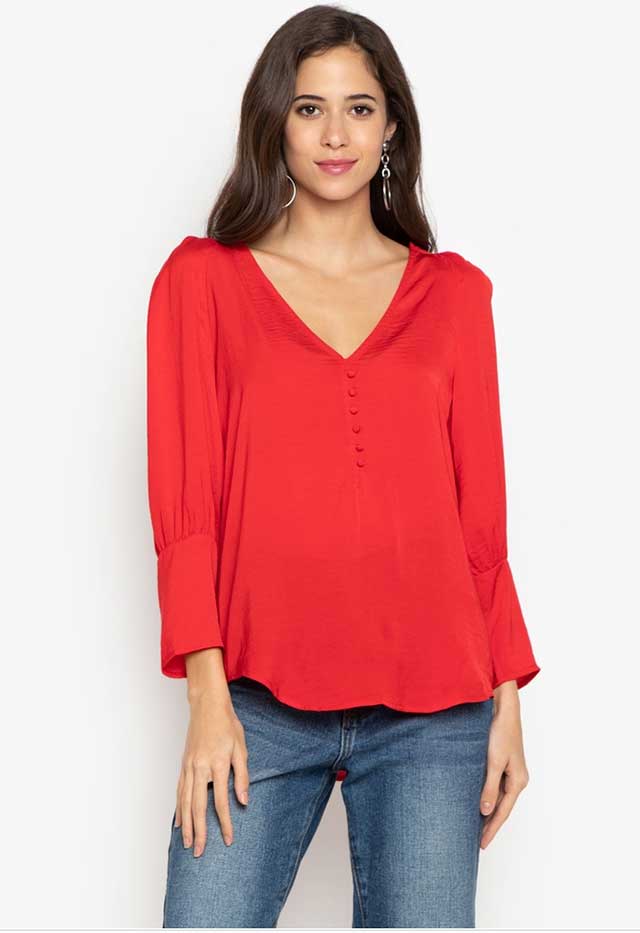 Twenteen blouse, P449.40, Zalora
A CHIC JUMPSUIT
Easy to wear, yet difficult to pee in? Agree, but we're still in! Rompers give off an irresistibly ~effortless~ appeal we all want to exude—that is, until we need to go to the bathroom.
How to wear: As seen on Maymay, all you really need is a pair of statement booties and you're all set! (Inner shirt optional.)
Plains & Prints sleeveless pantsuit, P2,098, Zalora
A PLEATED SKIRT
2018 taught us that red and pink can be worn together, and Maymay samples the combo via a red pleated maxi paired with a pink baby tee.
How to wear: ICYDK, pleated skirts have a way to *magically* make any outfit look put together in an instant! Try wearing your scarlet pleats with a statement tee, your favorite band shirt, or a pink cotton top like Maymay's.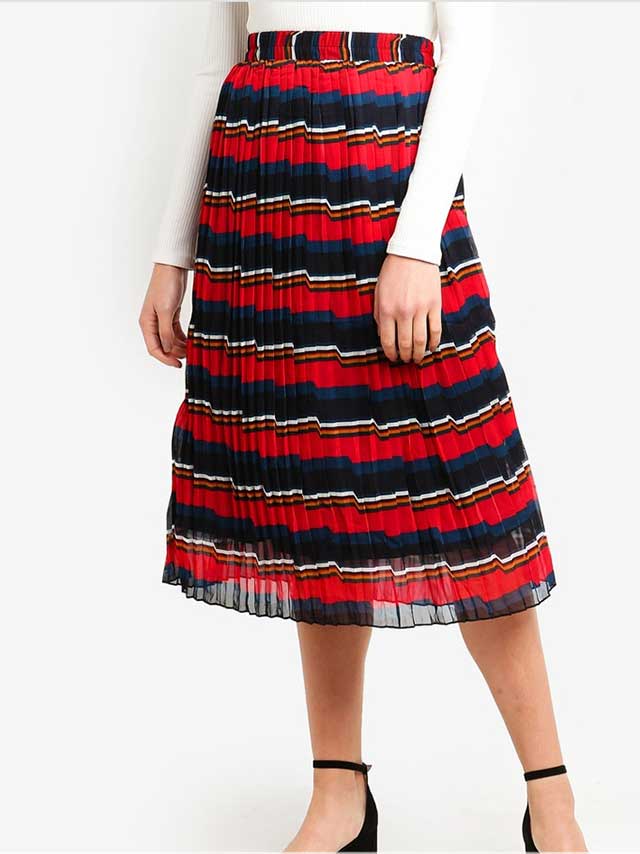 Vero Moda pleated skirt, P2,799, Zalora
A TEENY, TINY RUFFLED TOP
Always a pro at mixing work and play, Maymay pairs her cutesy little tube top with office-appropriate trousers and killer heels.
How to wear: It's all about balance: If you're wearing a slightly revealing top, cover up below, and vice versa.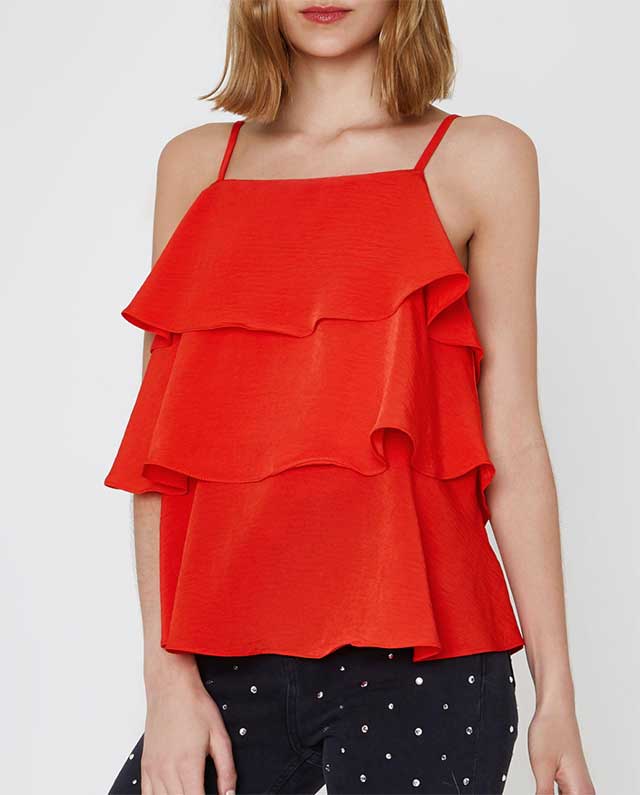 River Island tiered top, P1,439, Zalora
ANIMAL PRINT
The classic tita favorite, leopard print, gets a youthful makeover in a fire-red hue. Maximizing its newfound youth appeal, Maymay wears her co-ords with a pink shirt underneath.
How to wear: Tame your animal print with a basic tee and a dainty sandal.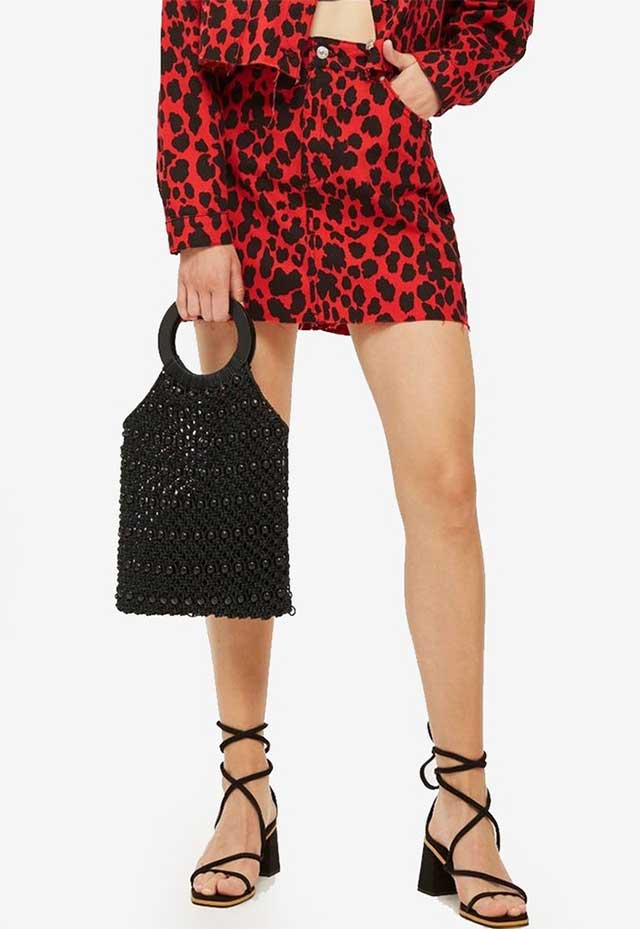 Topshop red leopard skirt, P1,199, Zalora
A LITTLE RED DRESS
Red sure is a tricky color to pull off—head-to-toe—but look, ma! Maymay wears a LRD with strappy heels that's slightly a darker-toned red than her dress and we think it's the chicest thing.
How to wear: Less is more, literally. Hush your screaming reds by sticking to only the bare essentials. Here, Maymay's entire outfit consists of only two pieces: Her dress and heels.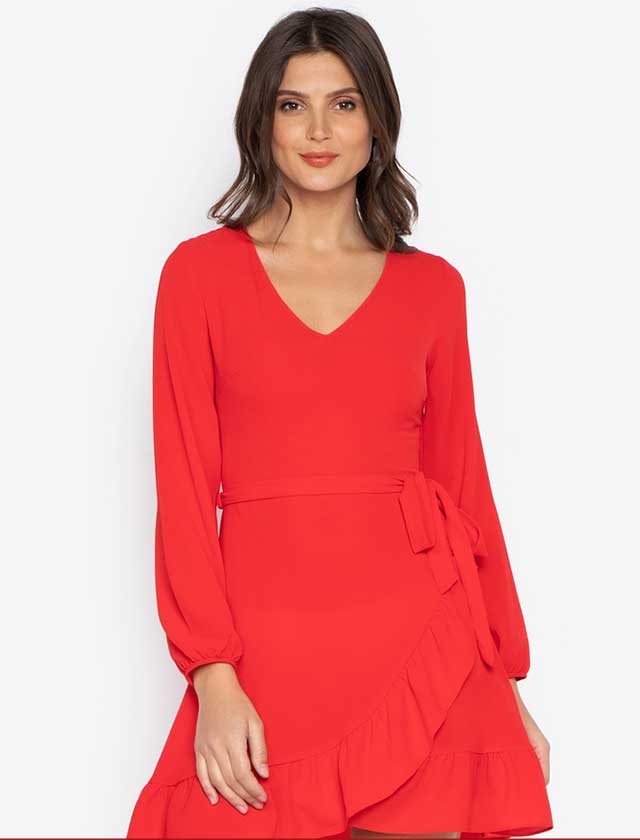 Dorothy Perkins wrap dress, P2,795, Zalora
A FLORAL NUMBER
Tiered, ruffled, and floral in merry red—what's not to love about this look?
How to wear: Choose a dress cut that will flatter your body type, and you'll have a new go-to that can easily be dressed up or down per occasion.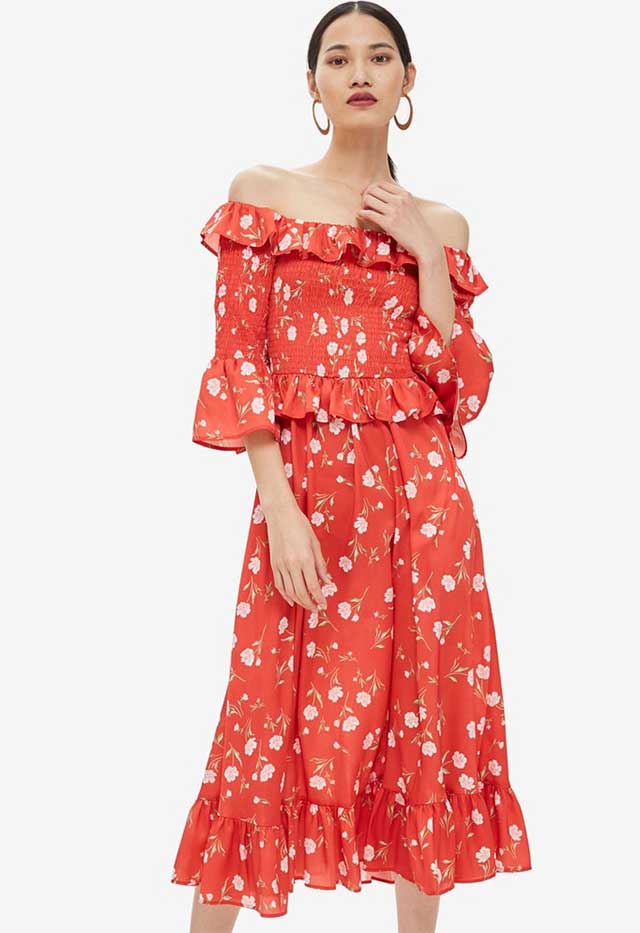 Topshop floral dress, P2,199, Zalora
STATEMENT TROUSERS
Being tall and long-legged obvs makes a world of difference, but we think it's the cut and fit of Maymay's tailored trousers that makes the look, too.
How to wear: Invest in a tailored pair of statement red pants and it'll look great with whatever. Trust us.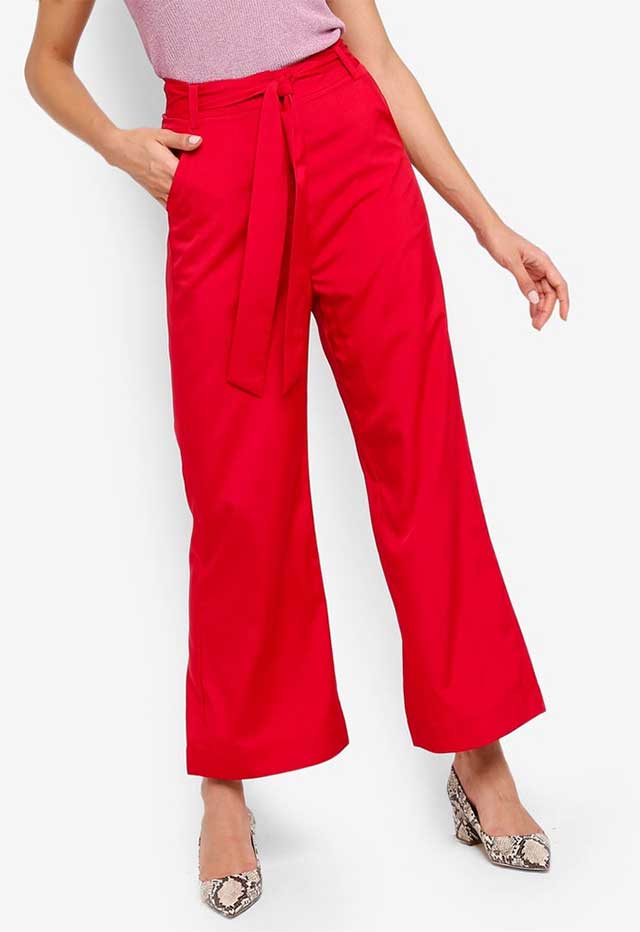 Zalora wide leg pants, P1,299, Zalora
Follow Patti on Instagram and check out her blog at TitaPacita.com.