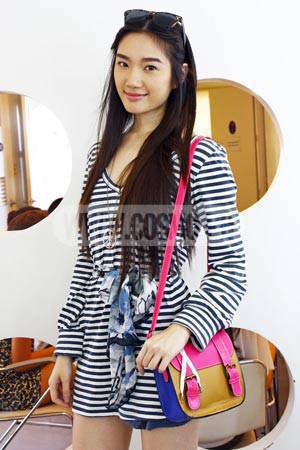 Last week, we showed you the contents of Vanessa Matsunaga's spacious, girl scout-style luggage, which she brings to photo shoots and modeling gigs. Now, we're revealing the essentials of a model whose bag preference is quite the opposite. We featured Taiwanese model Jessica Yang as one of "Cosmo's 8 Sexiest," and were amused to find that, compared to her fellow top models, she needs very little to get by daily.

This simple, laid-back gal sticks to the bare essentials when she goes to work (to shoots and modeling gigs), that's why she can fit them all into the eye-catching, colorful mini satchel she carries.

During our interview with her, she told us that she loves the color-blocking trend because it adds a happy vibe to her mostly neutral wardrobe. If you're like Jessica and have mostly blacks, whites, and browns in your closet, you might want to take a cue from this hot model and add a dash of color to your outfits through your accessories. "It looks so fresh and young," she says.

Since the bag is adorably tiny, we wondered just what she was able to fit in it. She willingly showed us all the kikay and techie things she somehow manages to fit inside. Launch the gallery to see what they are!

Watch Jessica's video on CosmoTV!
ADVERTISMENT - CONTINUE READING BELOW ↓
1771
ADVERTISMENT - CONTINUE READING BELOW ↓
Recommended Videos
EXPLORE COSMO