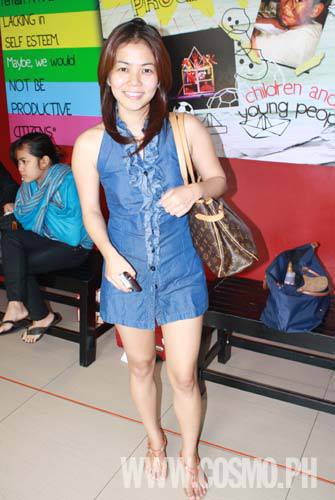 If we are to twist a well-known adage and make it "Tell me what possessions you keep in your bag, and I'll tell you who you are," then we can say that Juris Fernandez spoke the truth when she said that she does not associate herself with the terms "fashionista" or "kikay." After all, her classic Louis Vuitton bag contained only five very simple, very basic essentials--which you will later see when you launch the gallery.

We got to ask Juris for a peek inside her bag during the shoot for "The Style Of Music" fashion editorial in the December 2010 issue of Cosmopolitan Magazine. Juris arrived at the location (PETA Theater) in a simple yet pretty denim dress, toting an LV--and we pounced on the chance to 'raid' it for you. The acoustic singer showed the slightest hesitation at first, worrying that there really wasn't much in her bag. But she eventually agreed--it isn't about the quantity of contents, after all.

Launch the gallery to see the five things Juris brought to the fashion shoot in her LV.
869
Continue reading below ↓
Recommended Videos