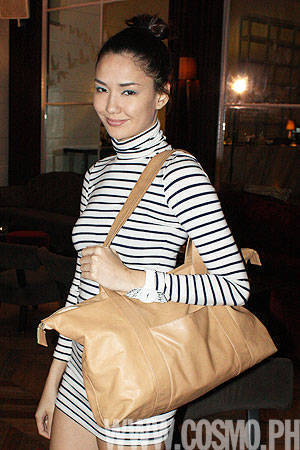 We see so many different models in fashion shows, magazine spreads, and advertisements. But, there are only a few who we really remember, not just by face but by name. One of them is Ornusa Cadness, who caught our eye not just for her remarkable beauty--you'll easily spot her on the runway, the hottest club, or even at the mall--but for her fun-loving 'tude as well.

We've always wondered how she maintains her effortless, timeless good looks. So, when we got the chance to shoot her along with fellow Zombettes (DJ trio) Sanya Smith and Mia Ayesa, we lost no time trying to find out what beauty must-haves this model brings everyday to survive her fabulous yet super busy life.

Ornusa wore a very chic striped turtleneck sweater dress with an oversized tote bag from French brand A.P.C. The it-girl was able to bring more things than her co-models did because of her spacious purse. She granted us a peek into her bag, where we found stylish animal print accessories and an assortment of makeup products. She had a complete stash of eye makeup products, and had not one, but three lip conditioning loot!

An interesting model emergency item we found in her roomy bag was a box of band-aids. Looks like she took Sanya Smith's advice to always have band-aids because "when wearing a new pair of shoes, you might end up getting blisters." She also had an organizer for keeping track of all her shoots, events, and meetings.

Launch the gallery to see all the contents of Ornusa's bag, and look out for Sanya's bag feature soon!
1456
Continue reading below ↓
Recommended Videos