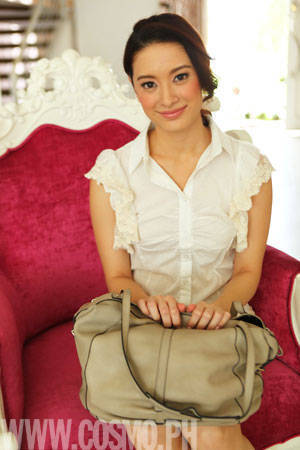 Our stunning August cover girl, Maricar Reyes, arrived at the shoot dressed in crisp white, with a tan leather bag slung over her shoulder, and zero makeup on her face. She's definitely one of those radiant beauties. She looks just as lovely without cosmetics (maybe even lovelier!) as she does with a fully made-up face.

We asked her if we could raid her bag and check out what was inside, and she graciously agreed. It seemed pretty stuffed, but when we unzipped it, we found out that 90% of the bag's contents were made up of a bulky (and super soft) cardigan!

Sorry, girls, you're not going to find an entire shelf of makeup in Maricar's bag. But click through the Gallery and check out what we did find inside.


Grab the latest issue of Cosmopolitan, with Maricar Reyes on the cover and the 2010 Beauty Awards winners inside! In stands now!
605
Continue reading below ↓
Recommended Videos