When Levi Strauss partnered with tailor Jacob Davisin 1873 on a patent for riveted pockets on work pants for Western pioneers, they couldn't have dreamed of its impact on modern culture. The Levi's® 501® button fly jean—the original and first ever blue jean—was born on May 20, 1873.  And 140 years later, it is more popular and even more relevant to global culture and style than ever before.

Deemed Time Magazine's "Fashion Item of the 20th Century"—the original Levi's® 501®button fly jean is an American icon that has been woven and stitched deeply into our world's cultural heritage. From presidents to movie stars, musicians to fashion icons, and entrepreneurs to athletes, the cultural significance of Levi's® 501® jeans has been defined by the people who wear them. No other product has been worn, loved or re-imagined quite like Levi's® 501® jeans. A symbol of individuality and universality—the 501® jean is the ultimate expression of personal style—worn by the pioneers who shape our world, generation after generation.

What's your INTERPRETATION?

For 2013, the Levi's® brand shall give focus on and tribute to its classic 501® for. The message is simple —the 501® unifies everyone, while allowing for our individual style interpretations. Interpretation celebrates the many different ways we can wear the 501®, the most iconic and perhaps most perfect article of clothing ever designed. By utilizing the 501® jeans, this campaign will allow people to either remain conventional or put a twist to the classic, depending on their own interpretations. No matter how one styles and interprets, the fact remains that the 501® is a genuine fashion staple.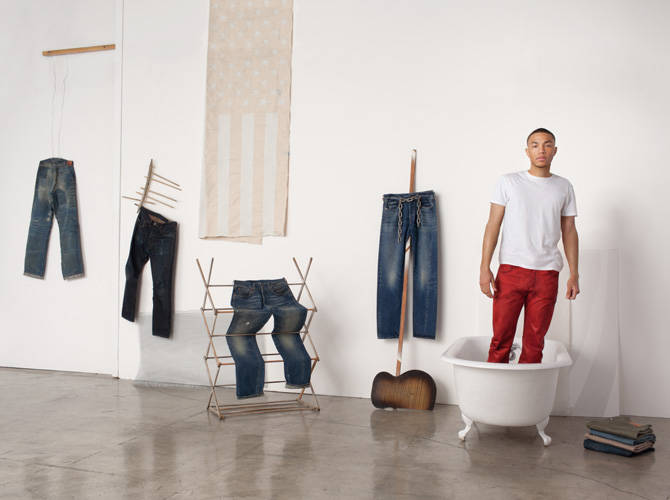 The Evolution of the Levi's®501® Jean

Designed with uncompromised authenticity and tailored to perfection, the 501® jean has subtly evolved through the years—improving with age to provide every generation with the jean they need.

This season, the 501® jean is updated which gives a more contemporary fit featuring:

- a slightly bigger open up waist slimmer leg silhouette and bottom opening
- finer fabric
- reinforced stitching
- adjusted placement for larger pockets
- modernized belt loops, inseams and cuffs

Moreover, the 501® jean will be available in non-denim fabric and new bold colors including mineral red, chalk blue, and true chino.A lighter weight shrink-to-fit fabric offers an incredible, buttery-soft hand feel without sacrificing the fit and strength which are still true to 501® standards. The non-denim fabric is also woven with much finer and denser yarns giving it its delicate texture. By dyeing the yarn using bright and daring new shades, the 501® jean has, for the first time, truly entered the non-denim arena.

The evolution of today's 501® jean has been driven by a commitment to craftsmanship and quality.  There isn't a stitch on the jean that hasn't been reconstructed and improved to enhance this timeless product, while staying true to its essential core.  We've done it all in the spirit of the original, with the same care, the same craftsmanship, and the same attention to every detail.

To know more, find Levi's® online at levi.com.ph/ph on Facebook and on Twitter.