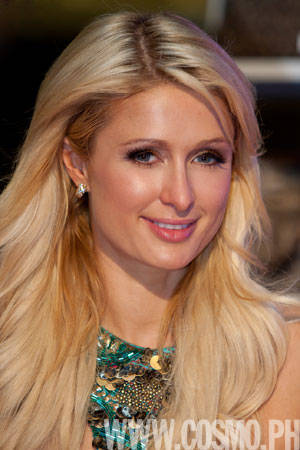 Paris Hilton's recent stay in Manila may have revolved around her newest real estate endeavor with a local property corporation, but she also had more fashionable reasons behind her visit.

On her last day in the Philippines, she made her way to the Mega Atrium at SM Megamall for the ribbon-cutting of the newest Paris Hilton Handbags and Accessories store.

Paris swept into the mall in a chic maxi dress, paired with a regal neckpiece and one of her bag designs, looking fresh and glamorous. She was greeted by an estimated five thousand fans all waiting to catch a glimpse of the stylish hotel heiress. She immediately tweeted: "Just got to my store appearance at The SM Megamall and there are over thousands and thousands of fans here."

Her bags and accessories are created for "fashion-conscious, fabulous women," she was quoted as saying. She says her upcoming Fall collection is "inspired by old Hollywood glamour as well as the trends of new celebrities."

She elaborates on the details, saying, "I wanted a very luxurious and eye-catching collection so we used sequins, reflective materials, and mixed it with faux fur, patent, faux ostrich and crocodile. For the toned down, everyday styles, I chose shiny hardware and appliques. I love it so much!"

If you ever wanted to own a designer handbag fit for the most in-demand it-girl, check out Paris's store. Her bags can be used to glam up an everyday outfit and complement even a formal gown. Eager fans nabbed their favorite designs on opening day, hoping for a chance to have them autographed by the designer.

The Paris Hilton Meet and Greet was attended by fans, celebrity guests, customers, and media. Angel Aquino, Melissa Ricks, Helga Krapf, Empress Schuck, Kitkat, and JM Rodriguez were among the famous Paris fans we spotted at the event. Paris was overcome with joy at the sight of so many Filipino fans, proclaiming, "This is so exciting! You guys are amazing. Thank you so much, I'm really having the best time in the Philippines."

Before rushing out to catch her flight back to L.A., where she lives, Paris announced that she plans to come back for the launch party of her beach club once it's completed. Hopefully, she'll also get the chance to visit more of her stores and interact with her stylish fans--perhaps at the beach, since it's one of the things about the Philippines that really got her attention. "You have beautiful beaches here!" she gushed.

Launch the gallery to see photos of Paris and her famous fans at her Meet and Greet, plus some shots of the Paris Hilton Handbags and Accessories store.


Store Info:
There are 31 Paris Hilton signature stores around the world, and four of them are located in the Philippines. In addition to the SM Megamall branch, other stores are located in Robinsons Place Manila, Newport Mall, and Abreeza Mall in Davao.
Continue reading below ↓
Recommended Videos
1447