First Normcore, now there's a new fashion trend called Athleisure? Don't worry, it's not as complicated as you think.
According to InStyle.com, the new fashion buzzword refers to "clothes that fit a somewhat broad category of being approproate for either athletic or leisure pursuits, or both." Meaning, a good amount of these clothes are items you can wear to the gym AND the office.
Case in point? H&M's recent collaboration with designer Alexander Wang. During the show, models rocked the runway wearing scuba pants (yep, even the guys), sweatshirts, and swimming goggles.
While it's hard to imagine guys going to work in swimming leggings instead of slacks, the trend is doable—and we're pretty sure y'all have been following it for a while now.
Athleisure is all about incorporating sporty pieces into your outfit—not dressing up like you have a game every day. It could mean wearing a cool pair of running shoes, your printed sports bra, an oversized sweater, or a varsity jacket with your normal, everyday clothes.
Like this!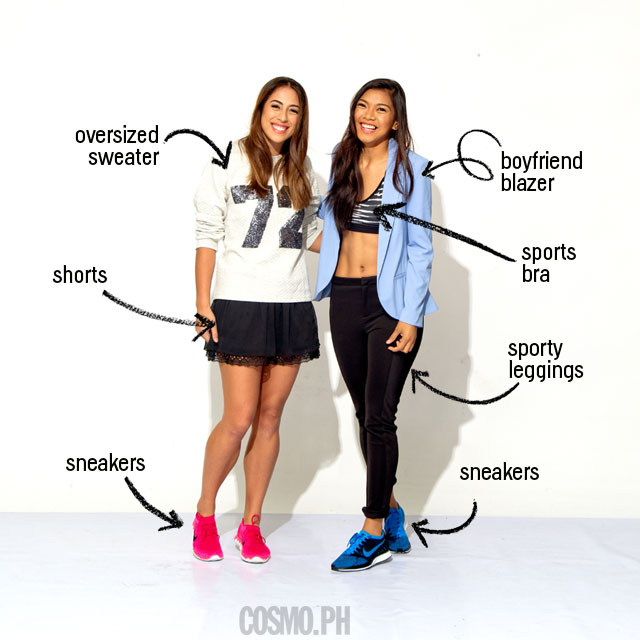 Let's break down their oufits, shall we?
Balance out oversized pieces (sweater) with sexier clothes (shorts or a cute skirt)—like what Ateneo volleyball player Amy Ahomiro is wearing (left).
Alyssa Valdez's outfit works kind of the same way. A printed sports bra (Nike has a great collection, btw) can work like a crop top, and your boyfriend blazer can be used as a chic cover up. See? It's all about mixing and matching all those pieces together.
Continue reading below ↓
Recommended Videos
What do you think of athleisure, CGs? Will you try this trend?
***
Amy: Sweater (Suiteblanco); Shorts (Suiteblanco); Sneakers (Nike) 
Alyssa: Blazer (Forever 21); Leggings (Forever 21); Sports bra (Nike); Sneakers (Nike) 
Follow Sandra on Twitter.