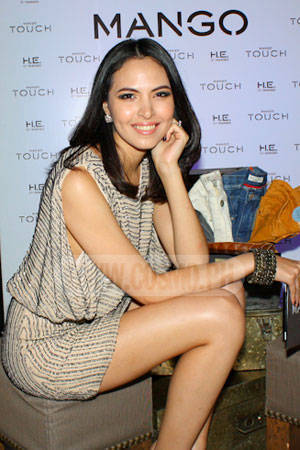 There are only a few people who break into showbiz and turn into a household name overnight. One such lucky gal is Maggie Wilson, who at just age 23 already represented the country as Bibining Pilipinas-World in 2007, became an MTV VJ, and opened her own swimsuit business, Solara. Did we mention that she's also already married to real estate heir and businessman Victor Consunji, blessed with a super cute baby boy?

We caught up with the busy and statuesque Maggie during the launch of Mango Touch and He by Mango, where she was host, and got her to spill on her fave closet picks and best fashion buys.

Can you tell us something about your outfit?

I'm wearing Mango! I like it because it's nude and sparkly. It's great for events, especially at night. I've been shopping at Mango for the past 10 years, even before it came to the Philippines. I was already shopping at Mango in Saudi Arabia. I love the brand because it has everything from casual to dressy pieces, and of course, the clothes are so comfortable and fashion-forward. They understand cut and design. I just love all their styles.

Can you describe your personal sense of style?

I just think I'm for classic [styles]. I like classic silhouettes, I like showing off my body, I like wearing figure-hugging clothes, something short to show off my legs, you never know, then I throw on a quirky piece. I like to make it very, very classy.

Can you tell us four things you don't leave the house without?

My phone, my camera, my wallet for credit cards, and my makeup bag.

What would you say has been your best style investment?

I'd like to think that I'm a very wise shopper. I love sales, because shopping should be getting more for less. Whenever I go shopping, like for stuff in Hong Kong, I go to warehouses. Everything's like 40 to 50 percent off and it's great! They're all designer stuff. That's actually my secret.

For girls who are on the budget-conscious side, what would be your tip for them if they want to update their wardrobe?

Get a little black dress, a little black tank, a nice pair of jeans, and some accessories to dress it up. Having staple pieces is always great because you can change it up just by accessorizing or matching it with your other basic items like shorts, skirts, and whatnot. I just think that if you have these pieces already, then you're good to go. You don't need a lot of clothes to create different outfits.
ADVERTISMENT - CONTINUE READING BELOW ↓
ADVERTISMENT - CONTINUE READING BELOW ↓
Recommended Videos
EXPLORE COSMO