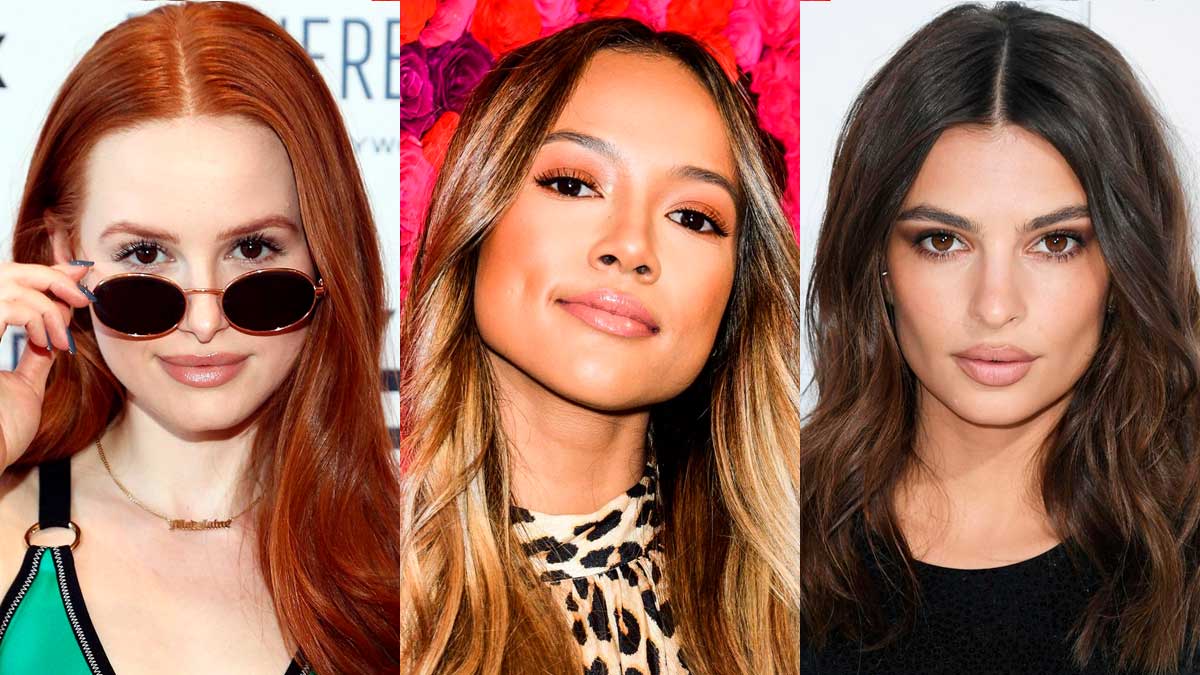 After a few cold months, it's nice to be able to set our sights toward warmer weather. And since summer 2019 is finally on the horizon, it's the perfect time to preview what's trending in hair color. Rather than have you scroll endlessly through Insta for inspo, though, I spoke to three celebrity hairstylists to see what their clients are requesting—and what you should anticipate to see as the Next Big Thing. If I were you, I'd book my color appointment ASAP before everyone you know wears out the trend.
White-Sand Babylights 

Stephanie Brown, master colorist at IGK Soho, says that current blondes might want to start requesting very pale babylights—think white-blonde pieces around the face—since they'll be trending this summer.

"The color is a bit bolder, but not as extreme as full-on platinum," she says. If you've got a cooler skin tone, try this white-sand shade as seen on Ashanti. And if you've got warmer undertones, try a creamier blonde, like Dove Cameron's or Lili Reinhardt's.

Rose Gold

According to James Corbett, Clairol color director and owner of James Corbett Studio, clients are still requesting rose-gold strands like Elle Fanning's, here. While any hair color can try this shade, it translates easiest on current blonde highlights or those with already lightened hair.

Monotone Black

If you're looking to stay on the dark side like Kendall Jenner, you're in luck: "Glossy monotone hues are having their moment this year," says celebrity hairstylist Gabriel Samra, adding that he's "starting to see shiny, blueish-black shades come back." Not only are they equal parts bold and daring, but they're also "a bit more low-maintenance," since there's no obvious grow-out phase.

Sunrise Red

"Darker reds will be on the neutral side this summer," says Brown, noting that the latest iteration of the classic red hue is adding flecks of copper "that reflect in the sun"—similar to Madelaine Petsch's. So in the sunlight, the red will look "bright and vibrant, without being too coppery or neon looking."

Tropical Brown

Similar to "mushroom brown" (listen, I don't make up these names), this neutral, slightly warm shade—aptly dubbed "tropical brown"—is a great option for medium-to-dark brunettes like Emily Ratajkowski. "It adds a bit of bright warmth around your face without being red or too warm," says Brown.

Nude Balayage

Sofia Richie's naked balayage—described by Samra as "soft, peachy nude"—gives blonde hair just a hint of depth and dimension, thanks to the fact that it's painted onto your strands by hand. To find the right shade for you, Samra says to "show your favorite nude lip gloss or lipstick to your colorist so they can match the dye to it." Make this shade last by getting regular toning treatments every four to six weeks (no skipping!).

Strawberry Lemonade

Just like in the late '60s and early '70s, strawberry-blonde hair (peep Amy Adams) is having a moment again. "If you already have light-red hair, try adding in some golden highlights to get a look that says 'I spend all my time in the sun.'"

If you are blonde and want to add a hint of red to your hair, ask your colorist to apply a light, strawberry glaze over your strands; if you have darker hair, you'd need to first lighten it with a single process (a permanent hair color that lifts the pigment), and then add in red highlights from there.

Shadow Roots

For those who are a bit more low-maintenance, Corbett suggests trying shadow roots, like Khloé Kardashian's. "Shadowing can be a great way to camouflage gray roots, as well as use a semi-permanent color that makes grow-out easier," he says.

High-Up Ombrés

This summer, prepare to see shades like Karrueche's: dark-blonde roots that melt slowly into a honey-blonde ombré. "Neutral tones like these are great for all skin tones, since the shade is neither cool nor warm," says Brown. Just make sure to ask your colorist for "a high-up ombré, or off-the-root type of highlight, that gives you extra brightness around your face," she adds.
***
This article originally appeared on Cosmopolitan.com. Minor edits have been made by the Cosmo.ph editors.
Recommended Videos