Miley Cyrus just got her hair cut into a modern mullet.
Fans are pissed at Miley's hairdresser for the haircut even though she didn't handle the cut in the first place!
If for some reason you thought it's too late to give your hair a fresh, new change in 2019, you totally thought wrong, my friend! Case in point: Miley Cyrus got an interesting new trim and people on the internet are spiraling over it. But like... not because they're a fan of the cut, unfortunately. I guess it's another lovely day for people on the internet to get mad about something!
On Instagram, Miley showed off her brand new hairstyle, which appears to be a modern version of a mullet. You know, that iconic hairstyle from the '80s immortalized by the phrase "business in the front, party in the back"? Yeah, that one! Which you can see on Miley right here, since you're curious: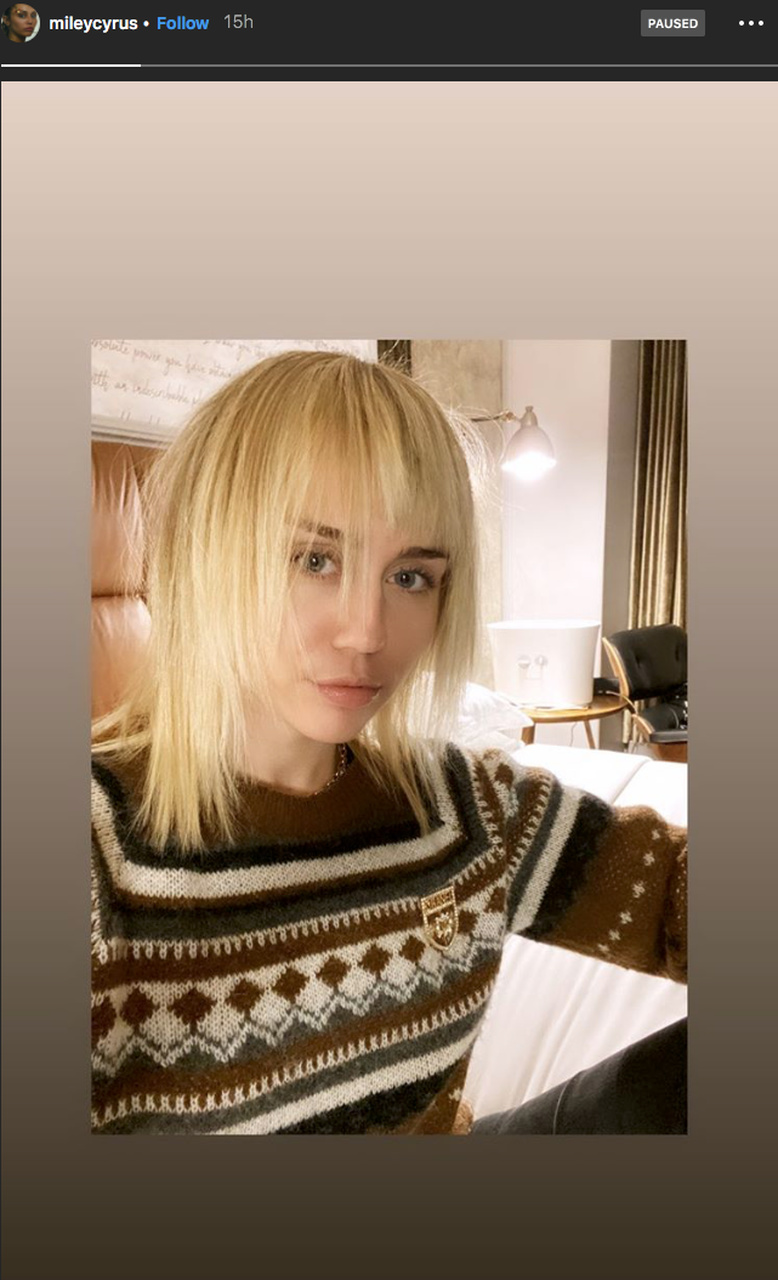 Continue reading below ↓
Recommended Videos
It's really... something! But fans were honestly kinda livid and went off on Sally Hershberger—aka Miley's hairstylist. To quote Instagram user @MileysGem: "This is the worst haircut I've ever laid my eyes on you call yourself a hairstylist? Now, this is gonna be all over TMZ and the news plus the locals that don't like Miley are gonna think she's going through a meltdown again why can't we ever win gonna go cry now bye! That was all." I mean... it's really not that serious!
The thing that angry fans are failing to understand is that Sally didn't do the initial cut in the first place. Miley's mom, Tish, did and made a point to document it on her own Instagram account. Sally just made a few corrections after the fact.
See? That being said, Sally clapped back at the angry fan and gave her a piece of her mind. "@MileysGem first of all if you knew anything about hair, it's the position she's in that's why it looks that way, it's 100 percent even and she also had it straightened so it's more severe, which I actually like," Sally wrote. "That being said, chill out and know it's a modern mullet, which is very cool but it's something you probably aren't even well-versed in sorry but not sorry." Oof! Homegirl might need some ice for that burn.
This obviously goes without saying, but hair is hair, it grows back, and it's Miley's head—she can do whatever TF she wants to it! Now if you'll excuse me, I will be listening to the musical masterpiece that is "I Want My Mullet Back" from Hannah Montana until further notice.
Watch the iconic song I Want My Mullet Back from Hannah Montana.
***
This article originally appeared on Cosmopolitan.com. Minor edits have been made by the Cosmo.ph editors.