Remember when we first dropped the news that Heart Evangelista is collaborating with local makeup brand Happy Skin again after we got a sneak peek of her new lippies on her Insta stories? Well, the whole line landed on our desks at the Cosmo HQ, and of course we had to test, swatch, and review the latest Happy Skin x Love Marie collection!
Heart's third collaboration with the brand is art-inspired, because as we all know, Heart is also an artist. Through this collection, she wants us to "unleash your inner artist" by playing with the six different colors and textures of the lipsticks to create your customized shades. 
Heart came up with six unique and flattering peach, pink, mauve, and red lip products to suit any mood or occasion. The packaging of the lippies are gorgeous—each has Heart's penmanship in gold lettering: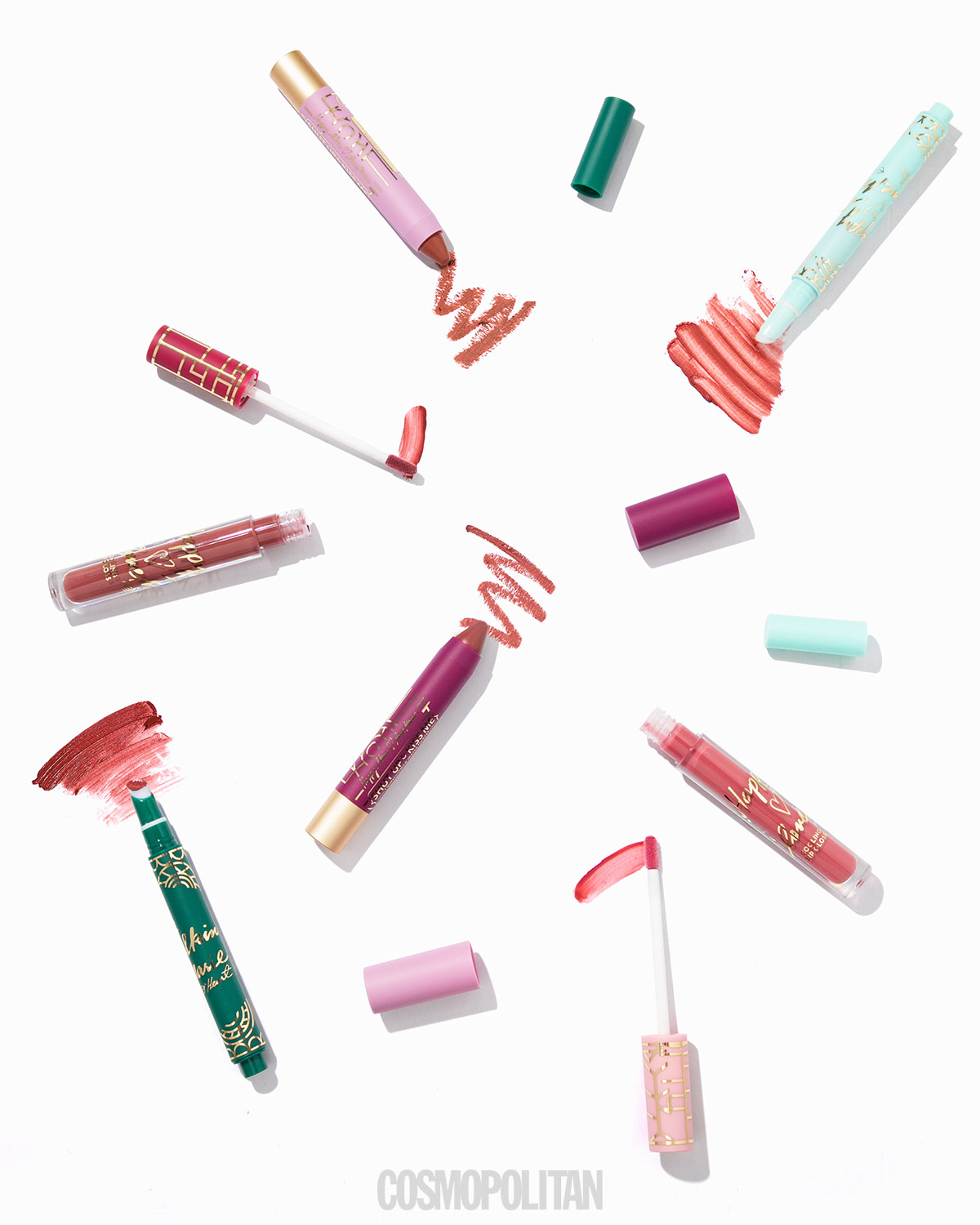 Continue reading below ↓
Recommended Videos
The lipstick boxes feature her special mosaic painting, "Cathedral." This artwork was part of her first exhibit in 2014.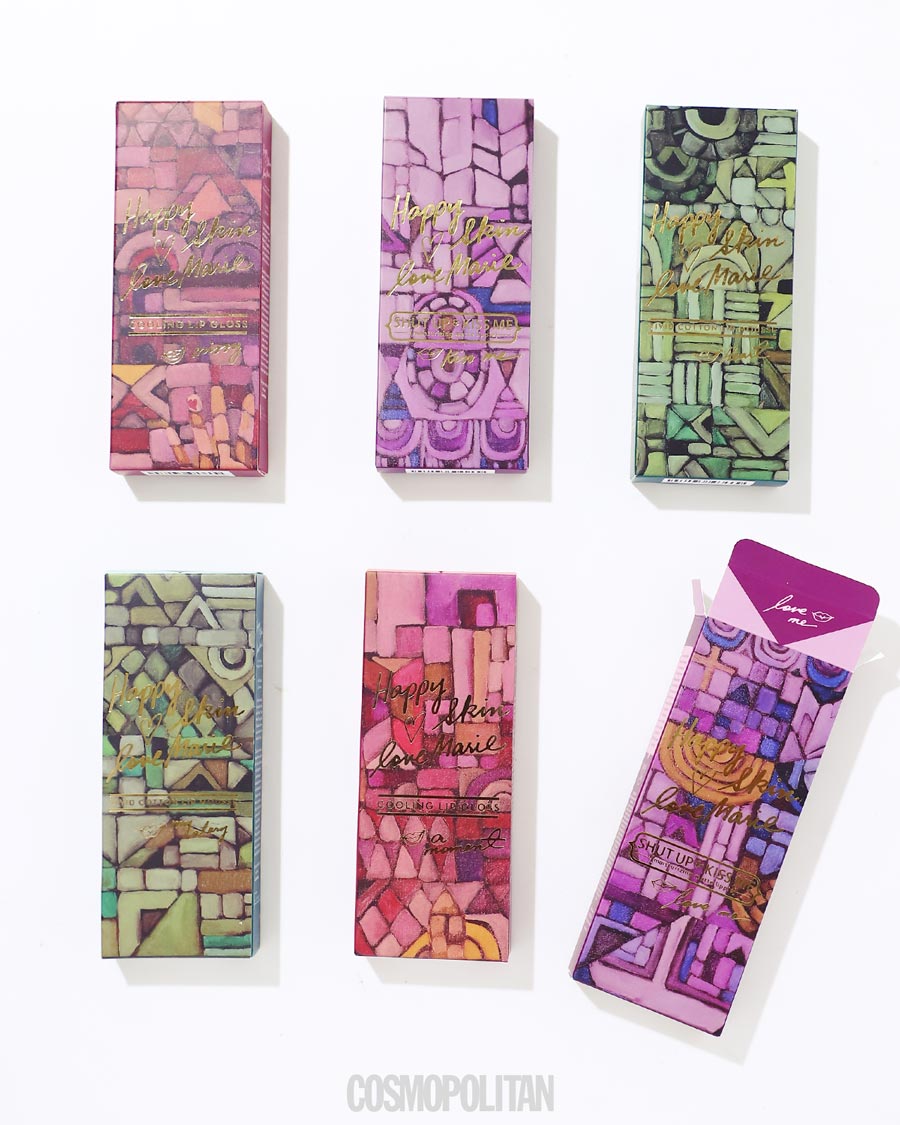 Are you ready to fall in love with her lippies? Read on!
How much are the Happy Skin x Love Marie lipsticks? 


Shut Up & Kiss Me Moisturizing Matte Lippie (comes in two shades), P649
Cooling Lip Gloss (comes in two shades), P599
Vivid Cotton Lip Mousse (comes in two shades), P649


Shut Up & Kiss Me Moisturizing Matte Lippie

The Shut Up & Kiss Me Moisturizing Matte Lippie was one of the first products Happy Skin released—it's also what the brand is best known for! We've lost count of how many shades they currently have, but all of them have a beautiful matte finish that never leaves the lips dry.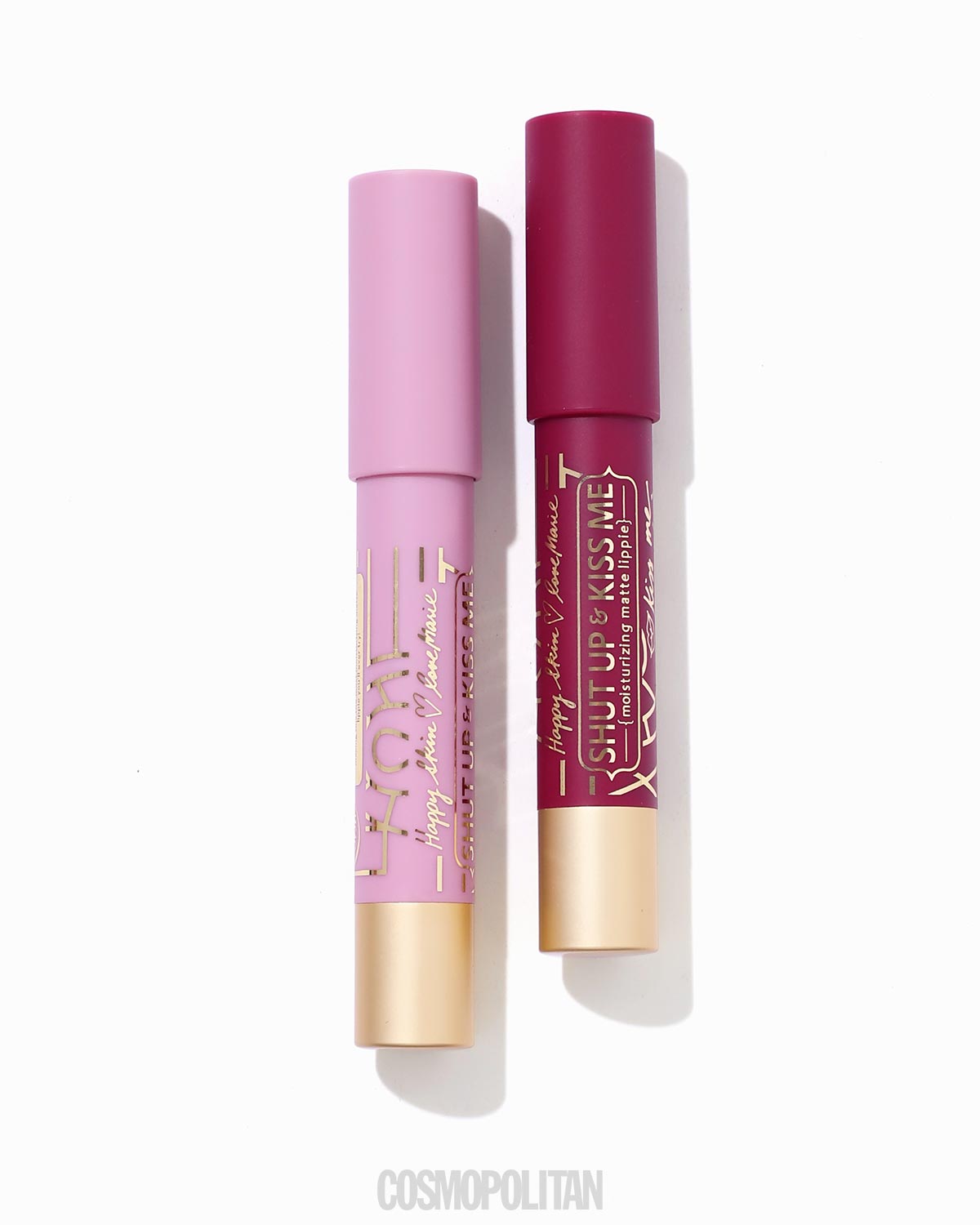 The Happy Skin x Love Marie features two shades of Shut Up & Kiss Me Moisturizing Matte Lippies in two shades: Love Me, a nude peach, and Kiss Me, a deep rose.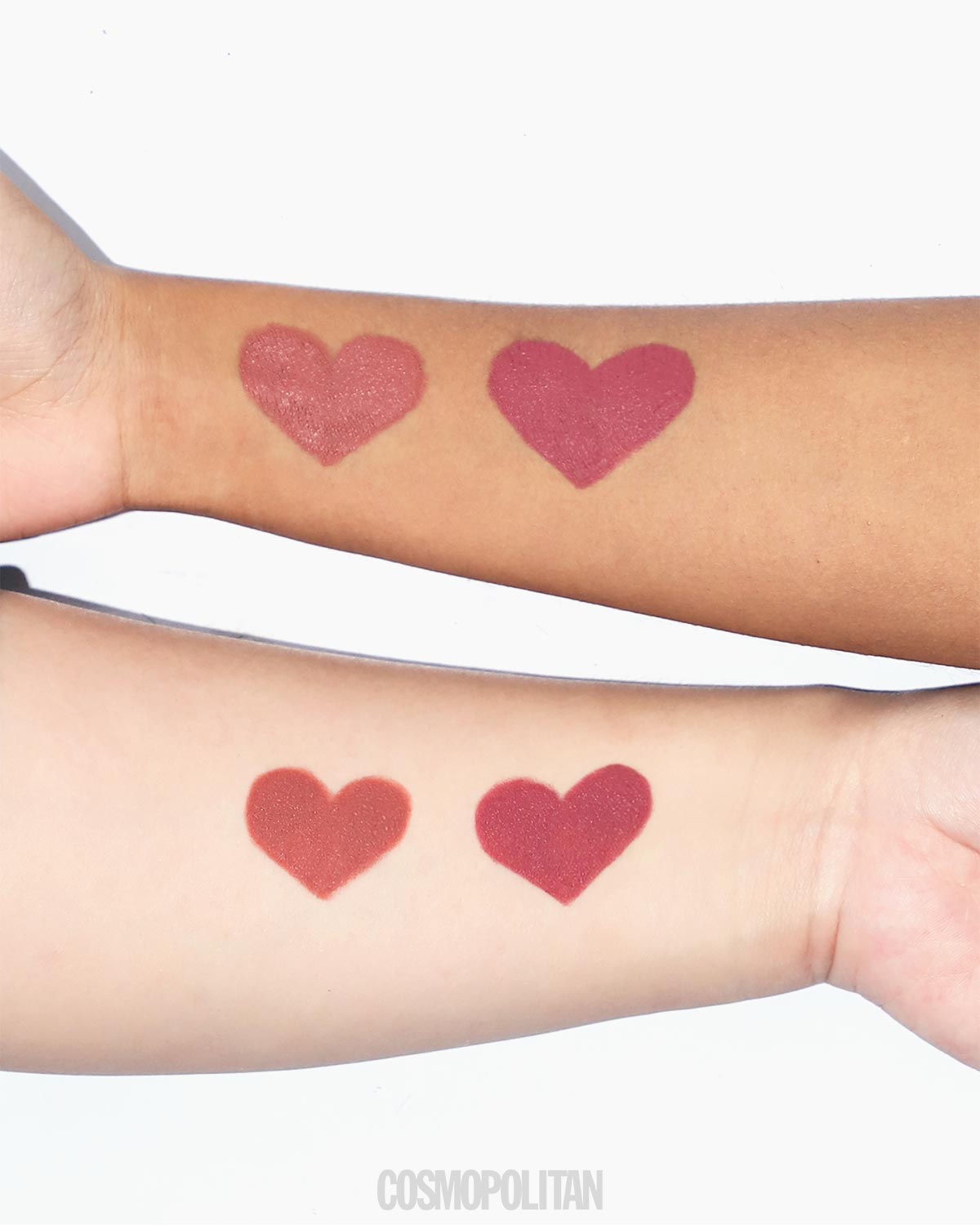 When it came to naming the shades, Heart wanted it to be more personal. As a little girl, she always wrote "Love Me." She shared, "When I was young, I was very insecure—I wasn't the usual beauty that people would want. They always wanted somebody that looked like this or that, but I was different so I would always remind myself to love me."
The shade Kiss Me is inspired by Heart's favorite song of Sixpence None The Richer. "I also love the kiss mark sign, so I wanted to throw that in. It's very nostalgic and personal," she explained.
Cooling Lip Gloss

Heart is a fan of lip gloss because it makes the lips appear plump and soft. The Happy Skin x Love Marie Cooling Lip Glosses provide a sheer color and a glass-like sheen. The collection has two shades: A Moment, an MLBB pink, and Missy, a warm mauve.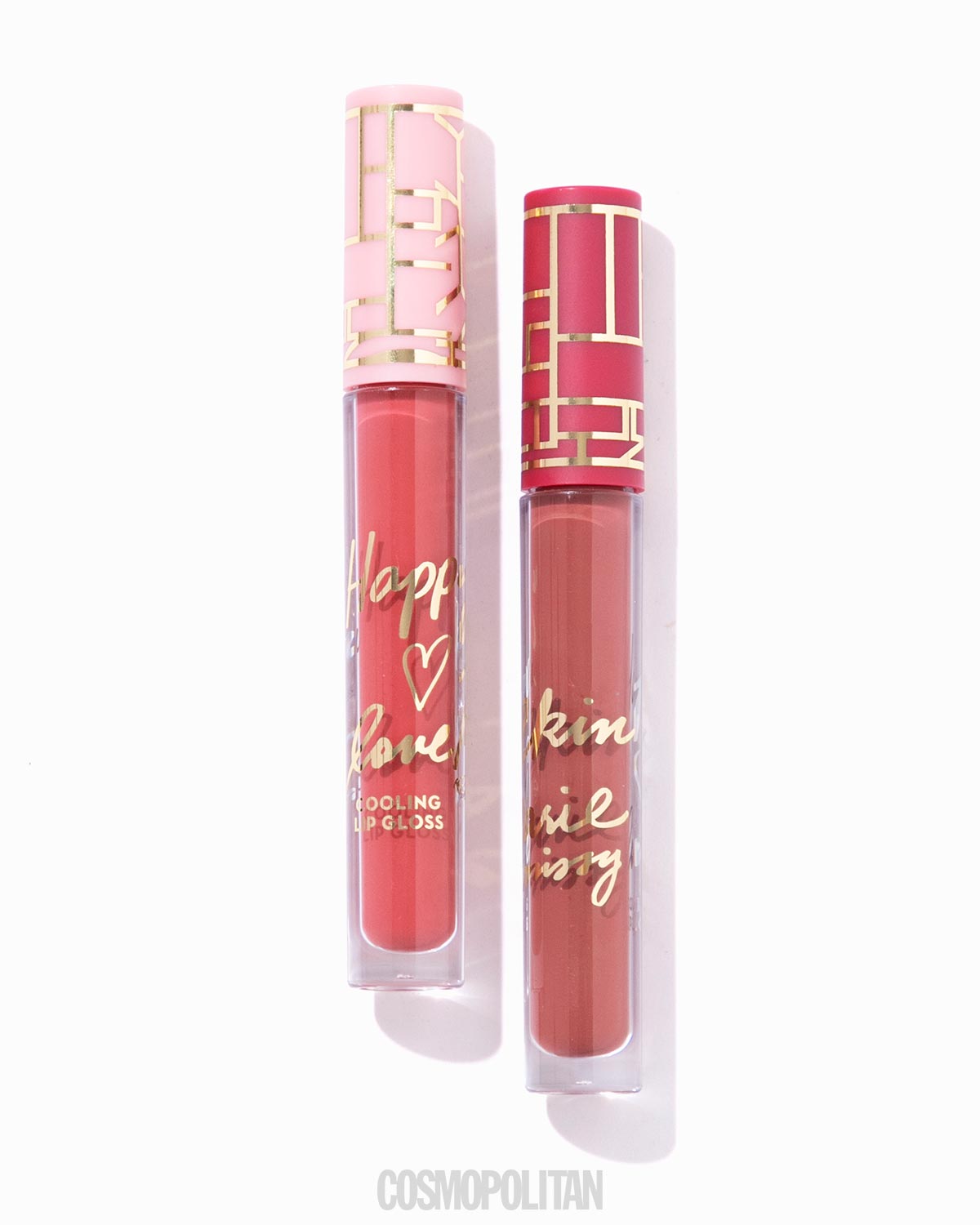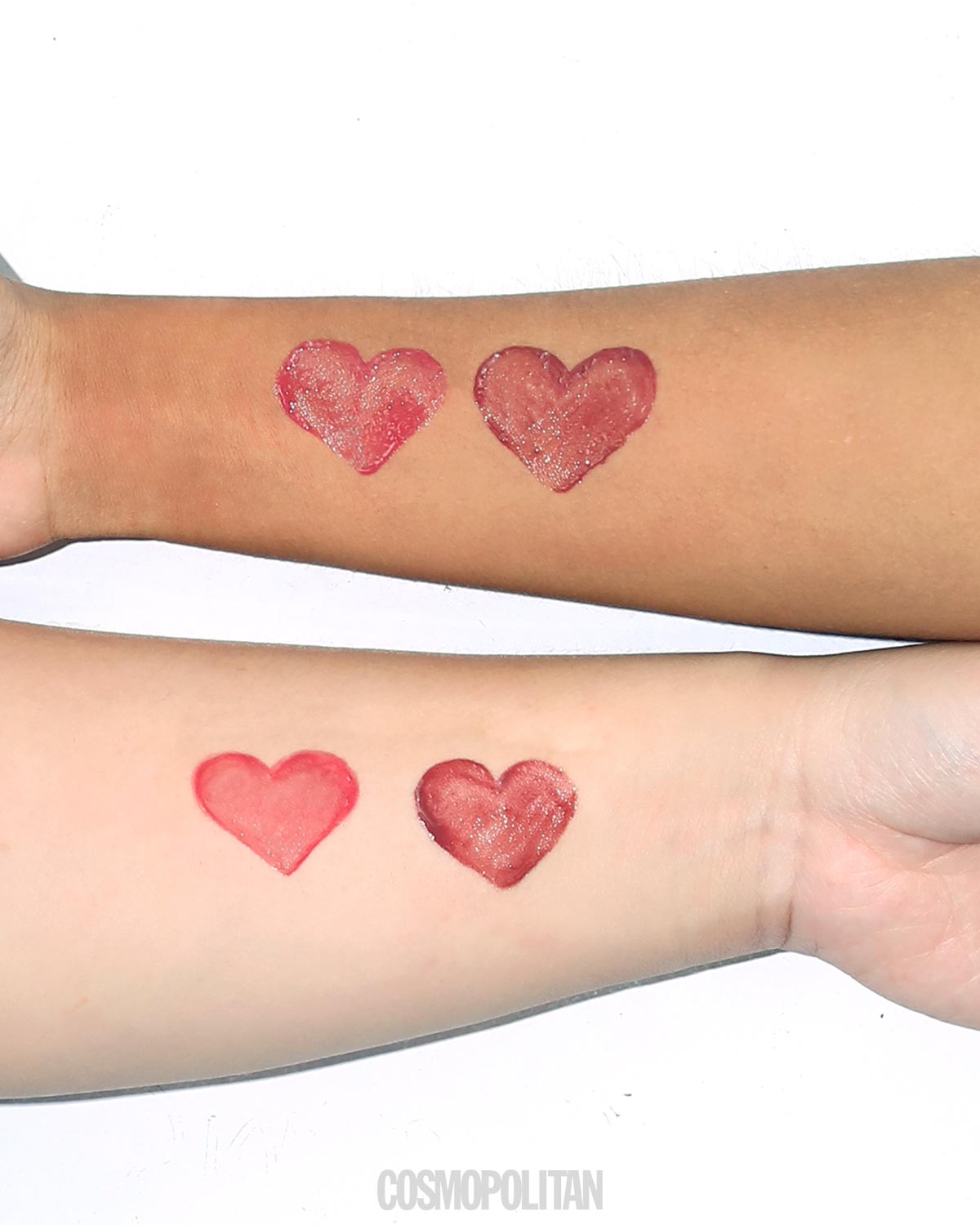 We're freaking out over the shade "Missy" because it was named after her first-ever role from the teen drama show, G-Mik. How cute! As for the second shade name, here's her explanation: "We all have that one special moment that changes our lives forever. So I wanted one lippie to be called 'A Moment.'"
Vivid Cotton Lip Mousse

Happy Skin's Vivid Cotton Lip Mousses have a pigmented, creamy, moussey, and almost-whipped formula. They feel lightweight, and they're comfortable to wear all day.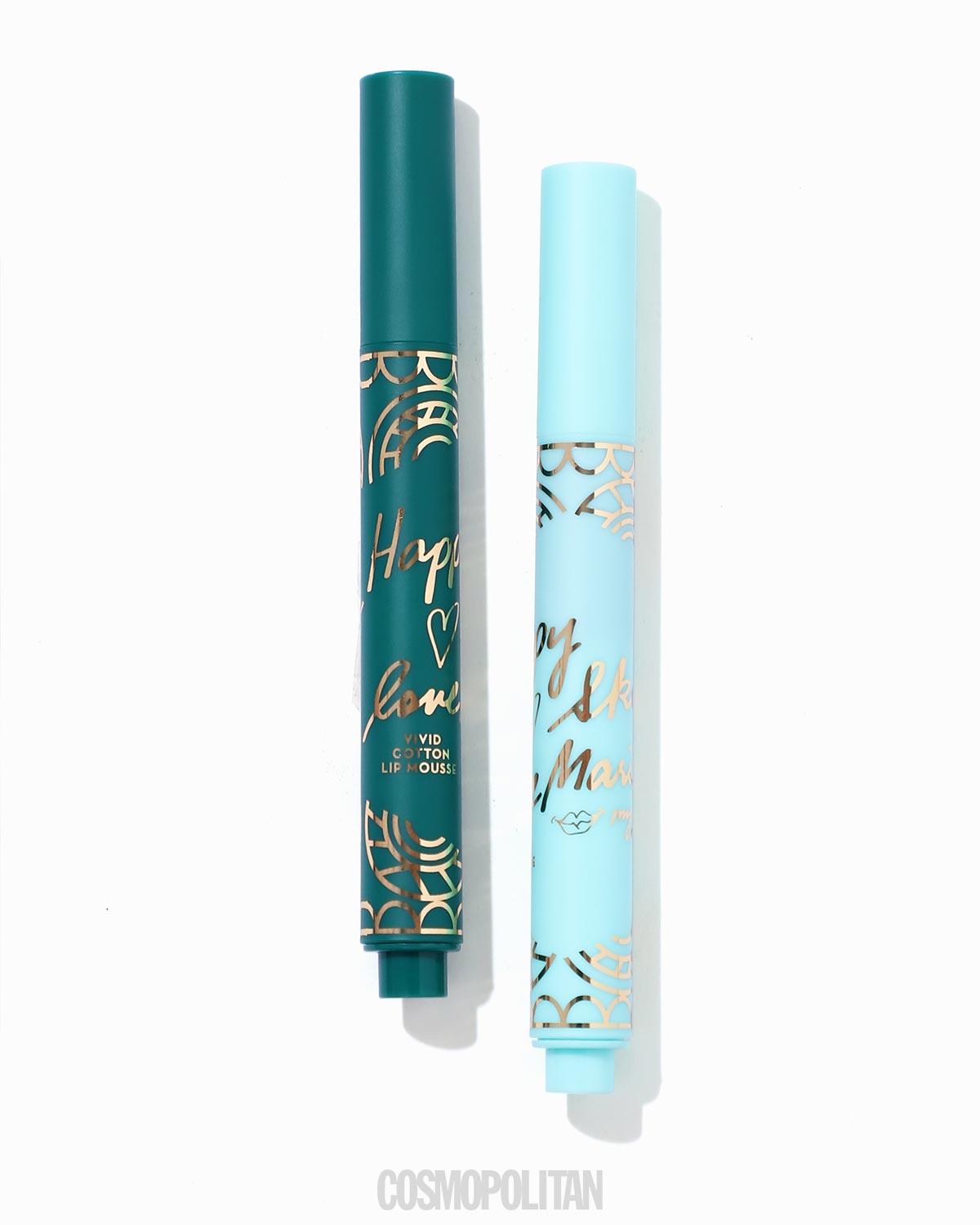 The Happy Skin x Love Marie features Vivid Cotton Lip Mousses in two shades: Heart, a brick red, and My Story, a nude pink.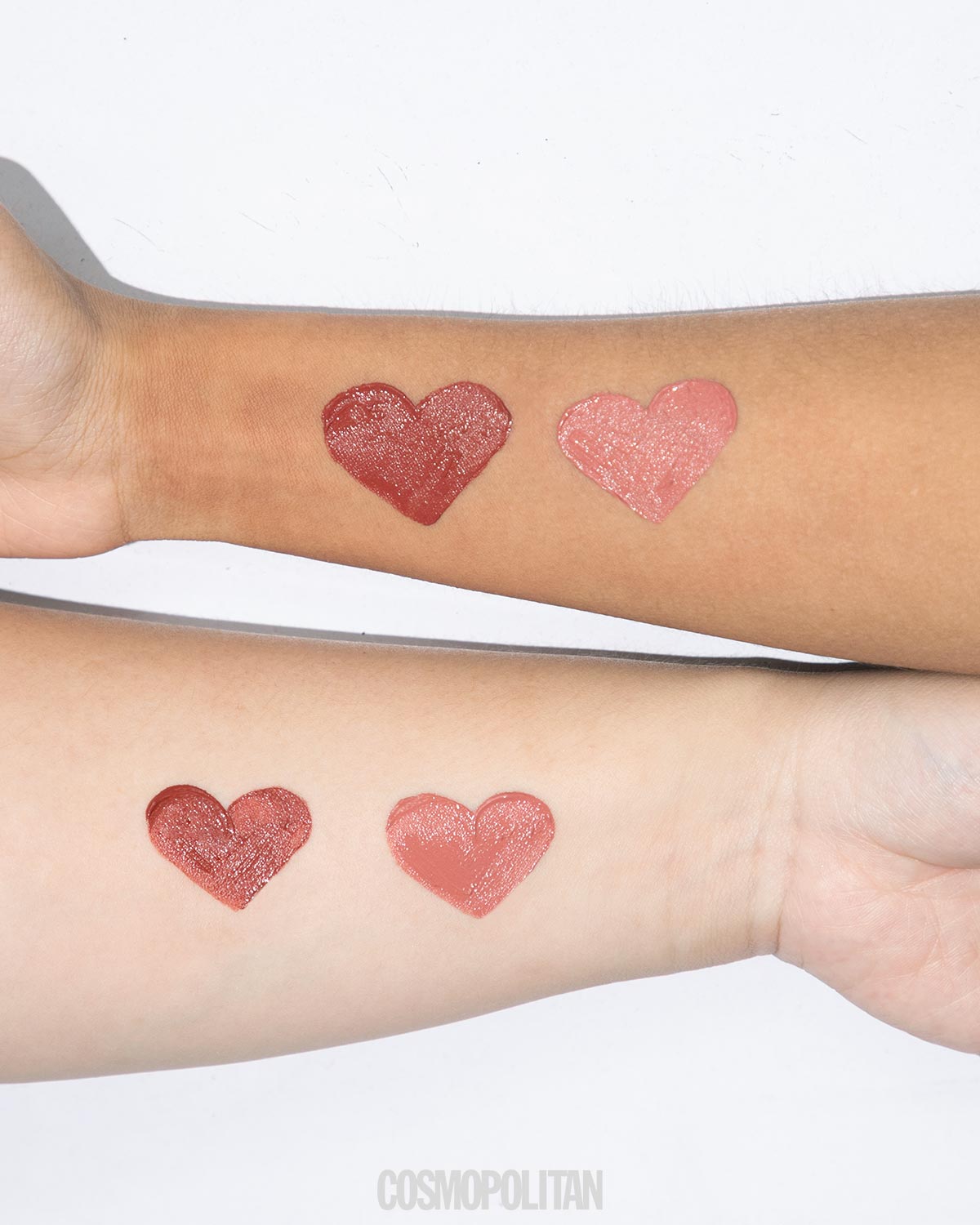 There's a cute store behind the shade name Heart, which is both her screen name and her childhood nickname. "[Heart] That's how my dad would always call me. My mom calls me Love Marie so I guess that's the more formal side and the more kikay side would be Heart," she revealed.
Heart explained how she got the name My Story: "It could be my story or your story. Sometimes, you put something on top of the table and you take a photo of it, and you don't even have to explain it with a caption. That one thing already paints a picture and is just really your story, that's your life."
OUR REVIEWS
Retty
Skintone: Light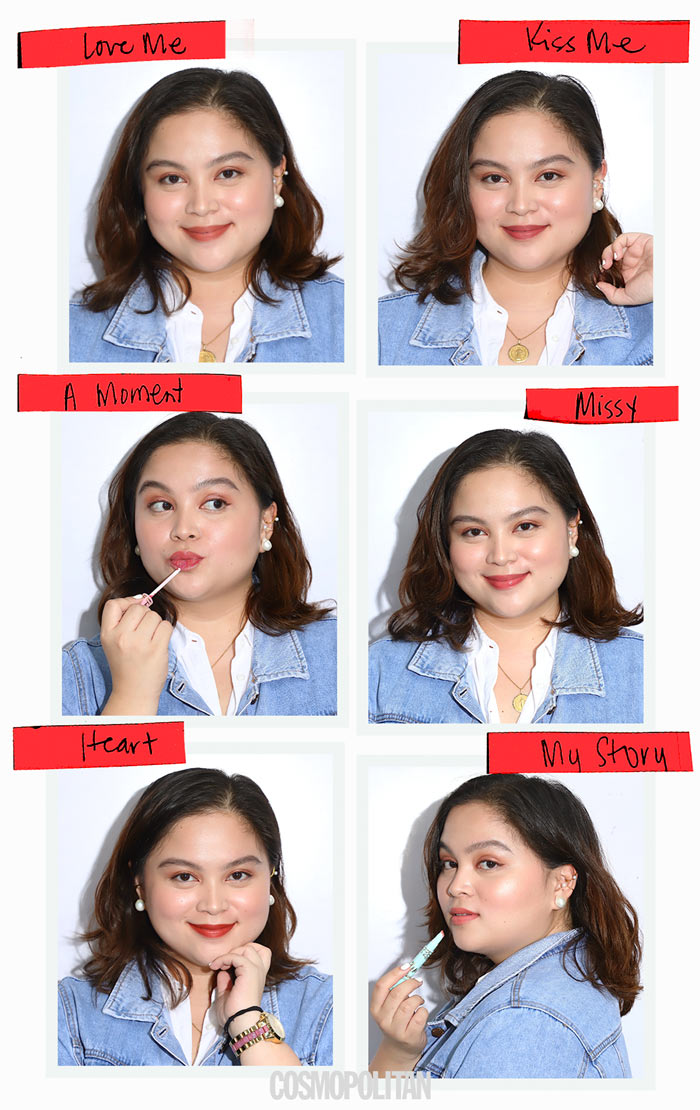 I had high expectations for this line, because Heart's first two releases with Happy Skin were both excellent. This line has the most number of products compared to the other two, so I kind of expected to pick a favorite or two immediately, but that wasn't the case at all. 
After much thought and hours of swatching (LOL), my favorite shades are: Shut Up & Kiss Me Moisturizing Matte Lippie in Kiss Me, Cooling Lip Gloss in Missy, and Vivid Cotton Mousse in Heart. 
Kiss Me is pretty rosy color—I find rosy shades flatter my skin tone more than peachy shades do. It's one of those shades that you can take from day to night without having to worry about it. It's wearable, long-lasting, and not drying. Missy—the character that started my Heart Evangelista fandom journey—is also such a beautiful mauve lip gloss that you can wear alone or on top of the other colors. I'm glad gloss is back, to be honest! I haaate it when lipsticks are too matte. It ain't cute! 
The shade that I really want to talk about is the Vivid Cotton Mousse in Heart—a brick red that's so different from the vibrant reds that Heart previously released with Happy Skin. It's a bit subdued and not intimidating. The packaging of the product also makes it easy to control how much product you want to come out, so you can create different lip looks, from pretty stained lips to a full mouth of color. 
Count on Ms. Love Marie to release a line of lipsticks that are wearable and will look good on everyone. 10/10 would repurchase these when I run out!
Ira
Skintone: Medium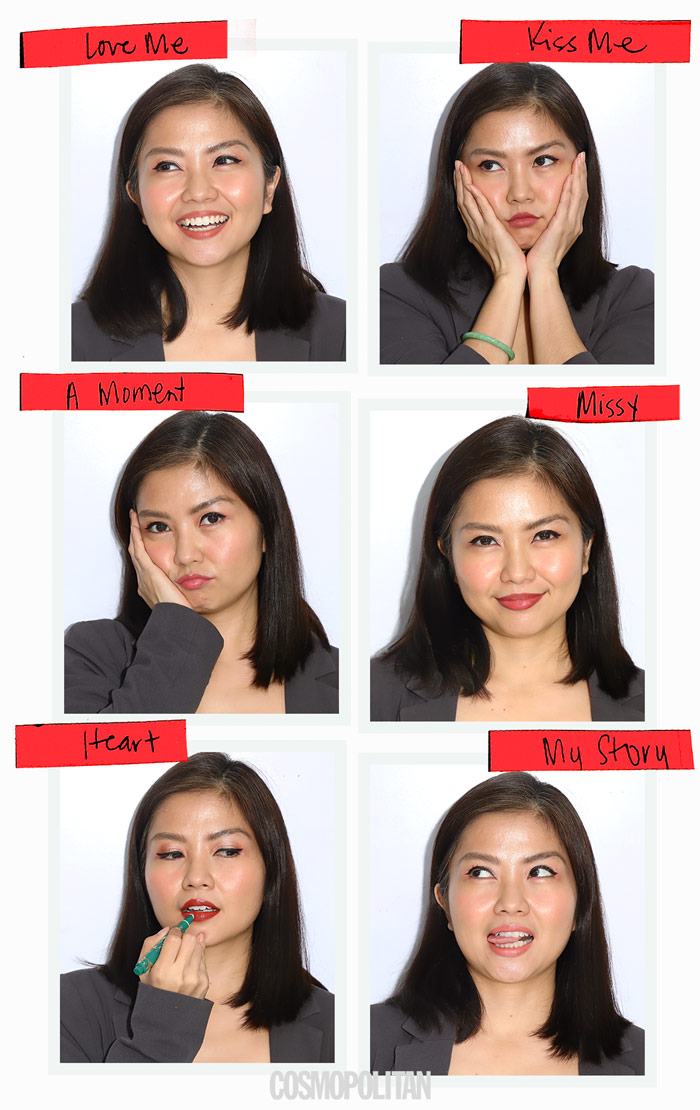 Between the two shades of the Shut Up & Kiss Me Moisturizing Matte Lippie, I love Love Me more because of its peachy hue. I'm a fan of anything in that color spectrum. I like how it brings out the golden undertones of my complexion.
I have my eye on Cooling Lip Gloss in Missy because of a) its name. I grew up watching her on G-Mik; b) I like how it looks on my lips. I find it hard to find an MLBB in a warm rosy hue.
I also like Vivid Cotton Lip Mousse in My Story because it is a nude shade that doesn't wash out my complexion. It can be a great everyday lippie. I was also surprised that Heart looked flattering on my lips: Reds usually don't suit me, but this particular brick red one did. I'm obsessed.
Our verdict
Heart Evangelista's new lipsticks are all wearable. We're sure you'll find one shade to suit you! Plus, you get to take home a piece of Love Marie artwork at a lovely price tag. Make sure to swatch and try out the shades if you're not sure what you'd like. 
The Love Marie x Happy Skin lipsticks will be available for pre-selling at Zalora on July 31. The whole collection will be available in all Happy Skin stores on August 2.
Follow Retty, Ira, and Mixi on Instagram.
***
Don't miss the chance to attend the biggest beauty and wellness festival in the Philippines! Buy tickets to the Cosmopolitan BEAUTYCON on August 31 AND September 1, where you'll find the widest selection of makeup, skincare, hair, and wellness brands with exclusive freebies, offers, and discounts. There will also be sessions with beauty experts, creatives, and celebrity speakers. It's gonna be epic! Get your tix here.