I've always been a big believer that your makeup tools can make or break your looks. (That's why it's better to just use your hands sometimes, tbh!) The brushes you use to buff and blend your products can either make you look flawless or a hot mess—pili ka na lang ng isa, lol. Because of this ~*beauty philosophy*~ of mine, I'm consistently on the lookout for beauty tools to try. My latest discovery: Kind Beauty's Head in The Clouds Brush Collection.
I first discovered the 12-piece makeup brush set while browsing Instagram stories. Cara de Jesus (aka the best enabler when it comes to beauty!) was talking about them and I hopped on to the brand's page to see what the hype was all about. Seeing that it was only P660 plus shipping for 12 brushes, I thought it was a good deal. (That's around P55 per brush, you guys.) I thought about it for a day and a half (because I am a mature beauty addict who no knows to think things over before purchasing, hahaha) and placed my order on Shopee. The package arrived two days later.
Continue reading below ↓
Recommended Videos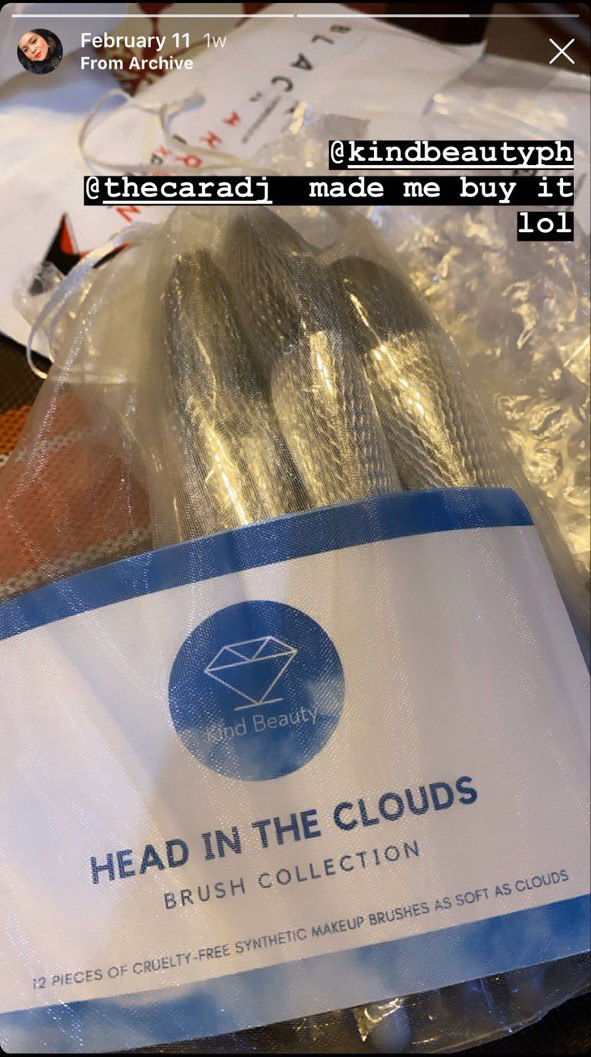 What is the Kind Beauty Head In The Clouds Brush Set?
The Kind Beauty Head In The Clouds Brush set comes with 12 brushes: eight eye brushes (including one spoolie) and four base brushes. According to the card that came with the set, the brushes are made from "high quality modern synthetic fibers derived from corn." They're also cruelty-free. And though they're synthetic brushes, the brand claims that they will still work well even with powder products. (Synthetic brushes usually work better with creams and liquids!)
The brand, Kind Beauty, is proudly Pinoy, and they also carry brow products and a line of microfiber makeup sponges. You can find them on Instagram, Lazada, and Shopee.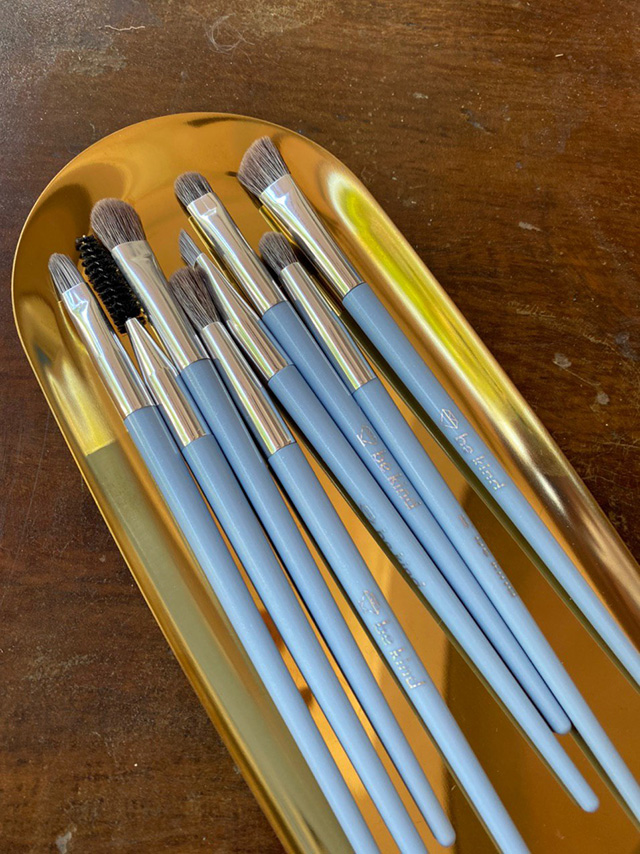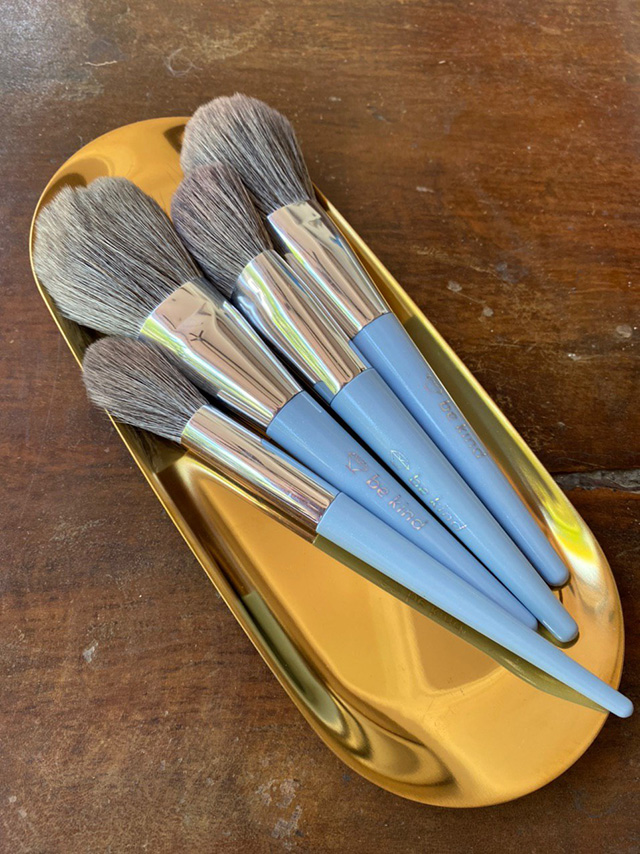 Kind Beauty Head In The Clouds Brush Set Review
The brushes came packaged in a mesh drawstring bag. Each brush was wrapped in plastic, and the complexion brushes had brush guards to keep their shapes. The brushes are lightweight, but they don't feel like they're low-quality. I washed the brushes (as you should) using soap and water and I didn't observe any shedding—a huge plus considering that most of the more affordable brushes I've tried usually shed after the first wash.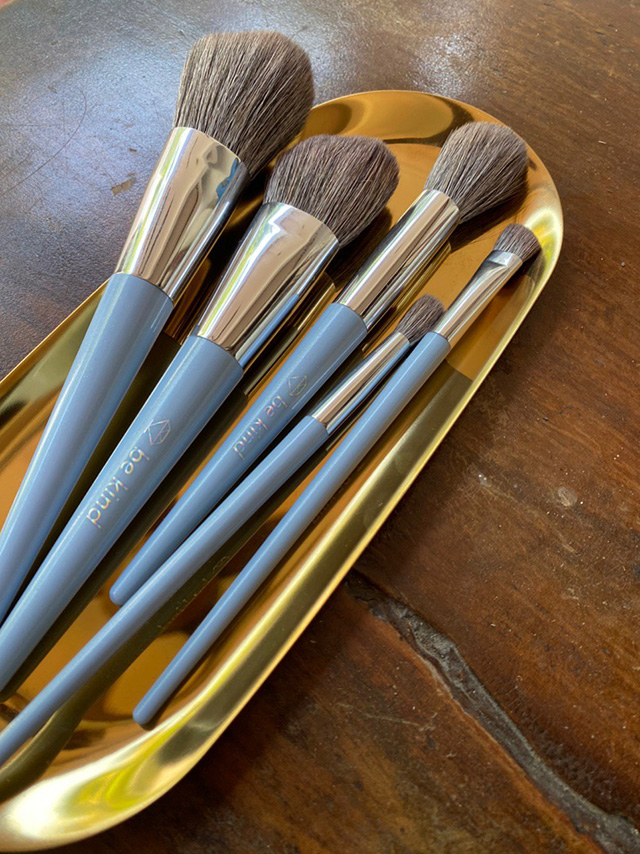 If I were to pick my favorites, I'd have to say they would be: the medium powder blush brush, the angled face brush, the tapered face brush, the angled eye brush, and the blending eye brush.
I particularly loved the angled face brush—it's the best brush I've ever tried to blend out my cream blushes. It doesn't take a lot of effort to buff out the blush to create a pretty flush. It's perfectly dense, so I can see myself using it for light coverage foundations as well.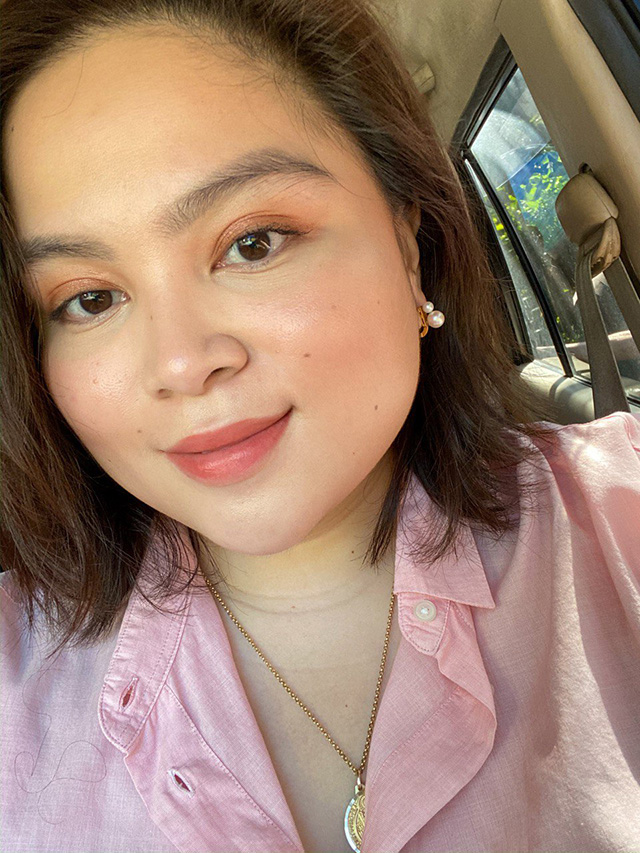 Because I am a highlighter freak, I was so pleased to see that the tapered face brush blended out my highlighter like a dream. No weird streaks on my face! When it comes to eye brushes, I usually prefer natural-haired ones, because I use powder shadows more. The eye brushes from this set, however, exceeded my expectations and actually picked up powder shadows well. The blending brush also deposited just the right amount of pigment on my crease and made eyeshadow look A+.
I loved the brushes, but I think I would've liked it even more if they had another dense complexion brush made for liquid bases. The large face brush worked well when I used it to dust on loose powder, and the the medium face brush is just the right size to diffuse powder blush on my cheeks, but I can't work with them using liquids and creams. And while I love the angled face brush, I'd use it more for cream blush than my base. 
Over all, I'd say this brush set is fantastic.
Is the Kind Beauty Head In The Clouds Brush Set worth it?
Yes! Again, you get 12 brushes for just P660 + shipping fee. With its excellent quality, you're definitely getting your money's worth. I highly recommend this to makeup newbies and enthusiasts alike. It's a great set to keep in your kit, even when you're travelling—they're lightweight, so you don't have to worry about your beauty tools making your bag heavier. Of course, we can't forget that it's a local brand, which makes it even more awesome.
Follow Retty on Instagram.