Something you should know about me: I've only been working as a Beauty Editorial Assistant at Cosmopolitan Philippines for less than a year, but my love affair with makeup started way back when I was a kid.
Growing up, I would always see my lola sporting the reddest of lipsticks even if she was just at home. I regarded her kikay kit and vanity table as a ~treasure chest~ full of cosmetics, and oh, how I longed to have the same things. As I got older, I began exploring with makeup and my collection grew. Seeing myself in a bright lippie or winged eyeliner when I'm just lounging around the house is not an uncommon sight—even my family doesn't question it.
Then, the COVID-19 pandemic struck our country. Life as we knew it changed. There were a lot of enforced rules, and we were all told to stay at home to stop the disease from spreading. In our company, we were instructed to work from home (which is a huge privilege in itself) to keep ourselves and our families safe.
ADVERTISMENT - CONTINUE READING BELOW ↓
As the ECQ took place and the effects of the pandemic became more apparent and widespread, my entire outlook changed. I found myself crying more often. I also noticed that my skin began breaking out more than usual, and my body clock was a mess. I couldn't be bothered to finish my skincare routine. The only thing that was keeping me sane was my job, but even that was stressing me out more than I would care to admit. Being cooped up at home, I found it hard to draw the line between work and rest.
I couldn't even bring myself to put on makeup, either. What once was an enjoyable and relaxing activity for me felt taxing and useless. But then, I was tasked to film a video for our TikTok account. Since I knew thousands of people were going to see my face, I had to look presentable. I brushed my hair and did a full beat. I was fully aware that this was probably the first time I looked somewhat decent since the ECQ began.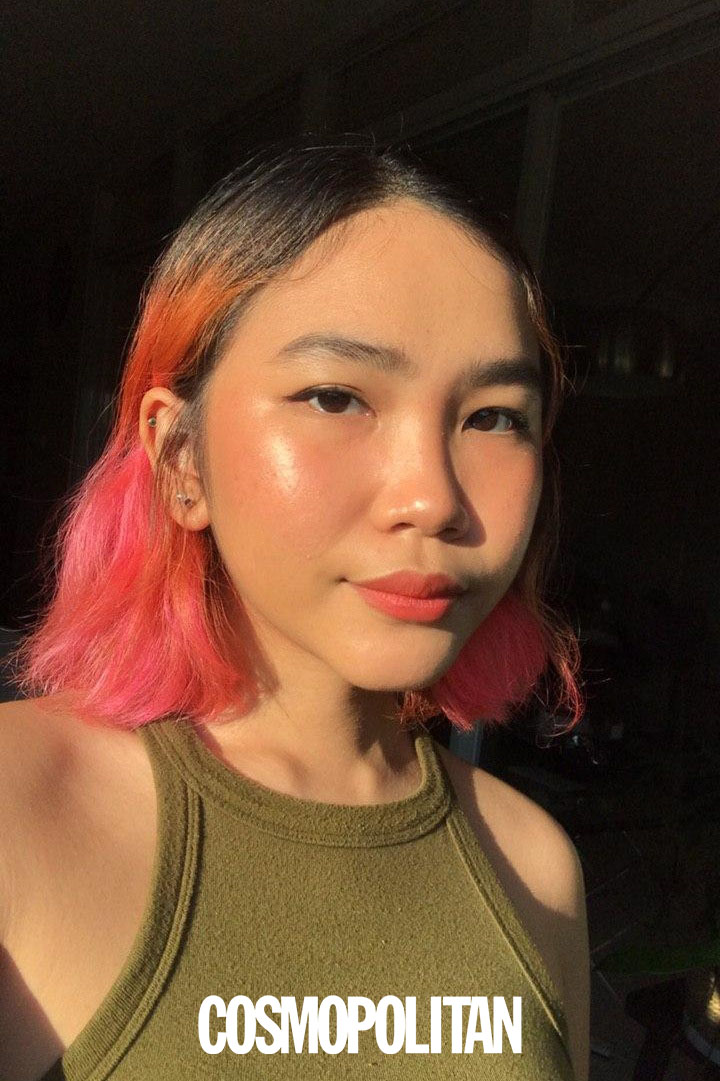 Immediately, I felt so much better. After a month of not wearing any makeup, applying a full face felt soothing to me. I was happier and calmer than I've been in weeks—all because of some foundation, eyeliner, blush, and lipstick.
While it may seem like vanity to some, there is actually a scientific explanation behind it. In 2017, researchers from Harvard University and the University of Chieti in Italy did a study called "The Lipstick Effect" and they found that people who wore makeup felt a lot better about themselves and had a more positive outlook. Of course, we also need to take into account that suddenly changing up your routine can really thwart your sense of self. 
ADVERTISMENT - CONTINUE READING BELOW ↓
When I stopped doing the stuff that made me happy, such as putting on makeup or completing my skincare routine, I felt as if I lost the things that made me me.  It might seem trivial to apply makeup right now, but for me, it's a form of release. The 10 to 15 minutes I spend blending and buffing helps anchor me down and keep my emotions and mental health in check.
With all the things happening around the world right now, sticking to a routine offers a sliver of normalcy. It helps us feel like we are in control of at least one aspect of our lives during these uncertain times.
Remember, self-care looks different for everyone. You could be sweating it out to a YouTube workout video while others might be cooking up a storm in their kitchens, but as for me? I'll go ahead and apply my lipstick. 
ADVERTISMENT - CONTINUE READING BELOW ↓
Follow Cheska on Instagram.
Follow Cosmo PH Beauty on Instagram.
***
We're officially on Viber! Be part of our growing community and subscribe to Cosmopolitan Philippines now!