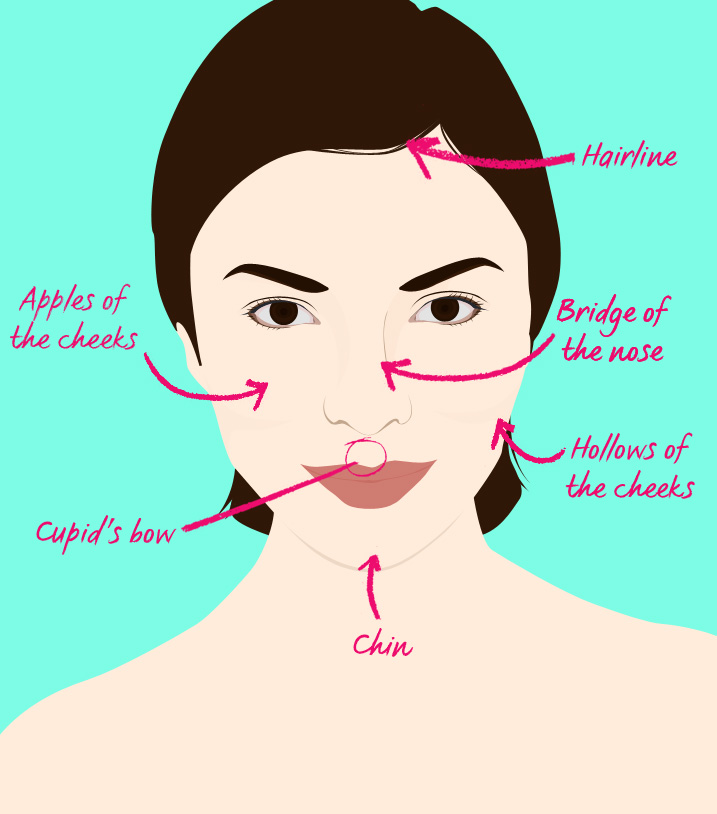 Hairline
What it is: The hairline is the "edge of the hair, particularly on the forehead."
What you do: Apply bronzer around the hairline to make your foundation look more natural. 
Hollows of the cheeks
What it is: The area underneath your cheekbones. While some people are gifted with naturally high cheekbones and hollow cheeks, you can find yours by making a fish face (suck in your cheeks!) and feeling the most hollow area of your facial bone structure. That's it!
What you do: Apply your bronzer or sculpting powder here to instantly shed a few pounds off your face. Apply as little or as much as you want—the more intense your contouring, the sharper your features will look!
Apples of the cheeks
What it is: They're the fleshy part that extends upwards when you smile.
What you do: Apply blush to get pretty rosy cheeks or highlight them to make your features stand out.
Bridge of the nose
What it is: The upper, bony part of the nose.
What you do: Make your nose appear longer and slimmer by contouring the sides and adding highlighter to the bridge—that's how celebs get their gorgeous nose lines!
Jawline
What it is: The lower edge of your jaw.
Continue reading below ↓
Recommended Videos
What to do: Contour, of course!  Applying sculpting powder on your jawline will instantly slim your face.
Cupid's bow
What it is: Your upper lip is shaped like a bow, hence the term "cupid's bow."
What to do: Apply highlight on your cupid's bow to make your lips look fuller. Use lip liner to make your lips more defined, especially when wearing bold colors.
Chin
What it is: The protruding part of the of the face below the mouth. 
What you do: After contouring your jawline, go ahead and highlight your chin. See what happens. You're welcome.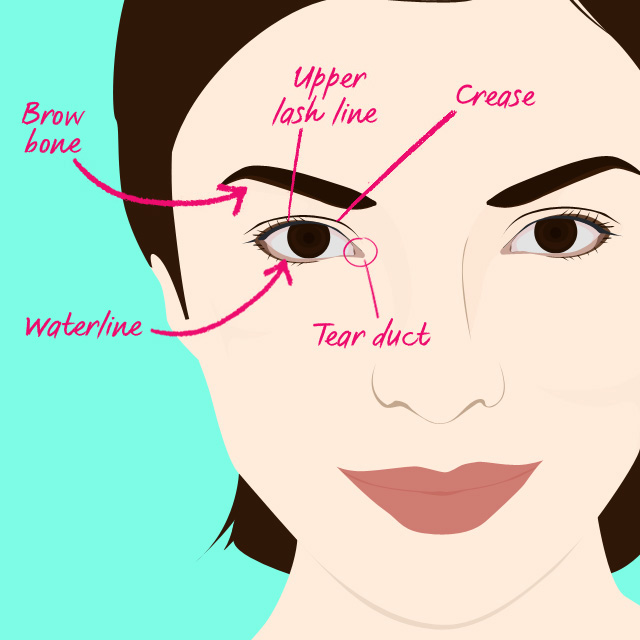 Crease
What it is: The part of your eye that folds when you open them.
What to do: Some makeup instructions divide the crease into three parts: outer, mid, and inner. As long as you know where exactly your crease is, following makeup instructions shouldn't be that hard. 
Waterline
What it is: Sometimes, you'll hear beauty gurus call it the "rim" of your eyes because that's exactly what it is. 
What to do: The upper waterline (under the upper lash line) is used for tight-lining your eyes with brown or black pencil liners, making it look like you have thicker and fuller lashes. The lower waterline is usually lined with white or flesh-colored pencil liners, giving the effect of bigger eyes. (Tip: If you want to look like you got an extra five hours of sleep, line your lower waterline with a flesh-colored pencil liner.)
Lash line
What it is: It's where your eyelashes (both top and bottom) are! It's where you put falsies too, duh.
What to do: Eyeliner is placed on the upper and lower lash lines. The closer you apply the eyeliner to the lash line, the more natural it looks. (Tip: Don't line your lower lash line fully—you might end up looking like a raccoon. Instead, line only a quarter of your lower lash line and then blend it towards your inner corner for a more natural look. You'll look like you have thicker lashes and bigger eyes.)
Tear duct
What it is: It's the innermost corner of your eye near your nose. It's called a tear duct because it's literally where your tears pass when you cry.
What to do: Lightly apply your highlight color (usually the same as the shadow you used for your brow bone) to attract light to your eyes, making your peepers look bigger and more awake.  
Brow bone
What it is: The prominent bone below your brows.
What to do: Apply your highlighting shadow on your brow bone! This will give them an instant lift.