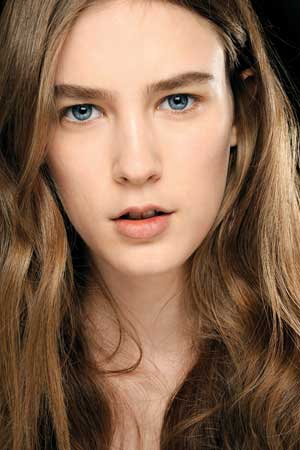 The technique:
1. Apply cream highlighter to the top of your cheekbone with your middle finger. Start just above the apple of your cheek, and follow the outer edge of your eye bone, making a crescent-moon shape. Stop when your finger is in line with the corner of your eye. This will make your cheeks look sky-high.
2. Next, tap highlighter onto your brow bone—underneath your arch—using your pinkie, which lays down the perfect amount of product to this smaller area. Blend by tapping (rubbing removes product). The brow area will catch tons of light, so that eyes appear bigger.
3. Again, dip your pinkie into the highlighter, and place a dot on your Cupid's bow—the skin between the peaks of your upper lip. With your clean ring finger, tap the highlighter down toward your mouth. This normally shadowed area will now catch light, creating a plumper looking pout.
4. Finish by dusting on a light layer of loose, translucent powder with a fluffy brush to lock the highlighter into your skin and make your luminous complexion last for hours.
ADVERTISMENT - CONTINUE READING BELOW ↓
The prep: Apply moisturizer or primer (the texture will help the highlighter stick), then even out your complexion with concealer and base as usual.
Tip: Pinkish highlighter looks gorgeous on mestiza skin, while golden shades make morena skin sizzle.


Source: Mark celebrity makeup artist Mai Quynh