It's nice to have one earring on each lobe, but the idea of cluster ear piercings seems enticing! Having a set of jewelry draped on your ear looks fancy and cool AF. If you've always wanted to have multiple piercings but are clueless with what to expect, read on as we answer frequently asked questions below:
I have no idea where exactly on my ear I should have my piercing. What am I supposed to tell my piercer?
Ear piercings are semi-permanent (we'll talk more about that later), so you will have to be keen on where you want your ear candy to be placed. Helix, anti-helix, tragus, anti-tragus, rook, are just some of the ear piercing styles you can choose from. Here's a diagram that illustrates all your options: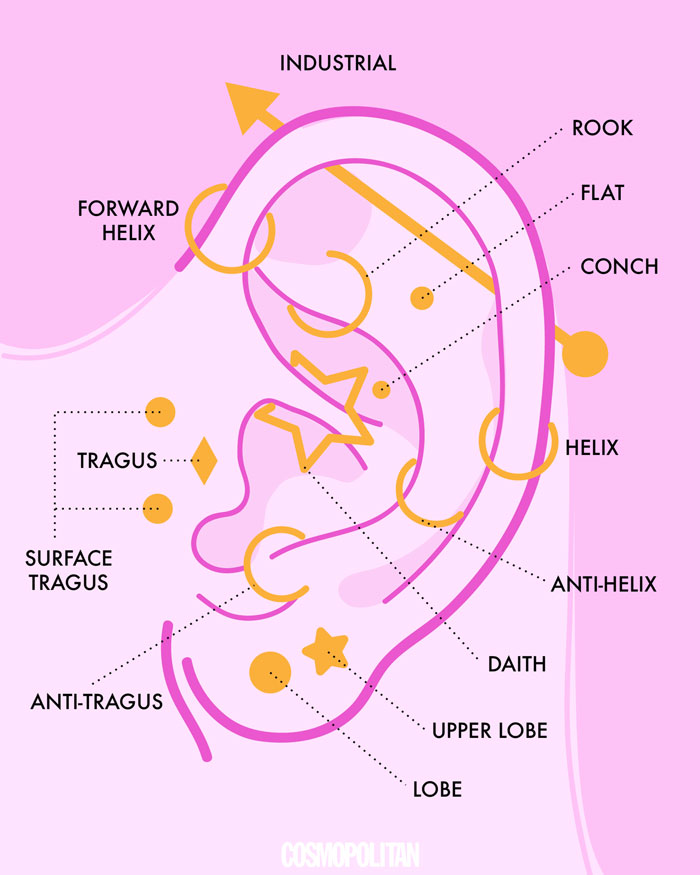 Where can I get ear piercings here in Manila, Philippines?
This is a no-brainer! You're basically asking somebody to puncture your ear lobes, so you have to check the cleanliness of the location + tools and the expertise of the person. Tattoo studios and some jewelry stores offer ear-piercing services. Here are just a few places you can try:
Wild Ones Tattoo

2nd Floor, Arrowhead Plaza, President's Ave, Parañaque City

Price: P800 to P1,500, depending on the ear area

Mobile: 0915-295-9505 or Inquire via their Facebook page ; Piercer is only available on Tuesdays and Thursdays

Triple I Tattoo

#28 JLA Watch Tower Bldg. J.Elizalde St., BF Homes, Parañaque City

Price: Starts at P1,000

Mobile: 0917-792-5588/0917-389-6790 

Silverworks Body

 2nd Floor SM Megamall, Bldg. B., Dona Julia Vargas Ave., Mandaluyong City; Major malls nationwide

Price: Starts at P250

55 Tinta

2nd Floor Luisa Bldg. Maginhawa St., Teacher's Village, Diliman, Quezon City

Continue reading below ↓

Recommended Videos

Price: Starts at P1,000

Mobile: 0908-873-3871

Immortal Tattoo

Ground Floor Tiendesitas Mall, Frontera Verde, Ortigas Ave., Cor. C5 Road, Pasig City

Price: Starts at P1,000

Mobile: 0978-008-3856

P&P Tattoo and Body Art

Unit G1-C, Eastwood Citywalk 2, Eastwood Quezon City

Price: Starts at P1,500

Skinworkz Tattoo Studio by Ricky Sta. Ana

Pasilyo D-19 Cartimar Arcade, Pasay City

Price: Starts at P1,000

Contact via Facebook

Vice Coffee and Ink

7842 Makati Ave., Makati City

Price: Starting at P1,000

Mobile: 0917-8448423
Is it painful?
YES. A needle goes through your skin, so of course it will be painful! But it will be fast—you'll be more shocked than hurt.
How do I take care of my ear piercing?
The after-care depends on where you get the piercing done.

Basically, anywhere within the lobe is the most low-maintenance. It's fleshy by nature, so it can take healing like a pro. Helix and industrial piercings are located in the ear cartilage are a different story. They take time to repair. You have to check on them every now and then to see how they are healing.

View this post on Instagram

Don't remove your earrings for weeks to prevent the hole from closing.

Leave the earring on for a few weeks to avoid the unintentional closing of the fresh piercing. Plus, you'll have to be careful when sleeping—you might shift your weight too much on one side, which may lead to irritation and other problems.

Clean your fresh ear piercing with soap and water.

Contrary to what you see on the internet, it is not advisable to disinfect the piercing with alcohol. It can sting and may be drying! It's better to wash it with gentle soap and water.

Don't forget to twist the earring every now and then.

To ensure that the hole won't close, twist the earring a few times during the day, but only after you've washed it. Moving the earring on dry skin may cause irritation.
Okay, my piercing is red and painful. I think it is infected. What should I do?
If your piercing looks or feels odd, don't turn to Google MD. You might read up on odd advice, and you may be overdiagnosing yourself! If the puncture is too painful, red, or something is oozing, you may go back to your piercer so he can check or you can see a dermatologist. Here's how one Cosmo Girl dealt with the situation.
Where can I buy minimalist earrings for my cluster piercing?
Check out these Philippine-based Instagram shops for the prettiest and most delicate ear candy:
Pranca

This set will surely have everyone wondering what's going on with your ear.

View this post on Instagram

Pulseras By Kim

Wear a cluster piercing version of Catriona Gray's ear cuff.

View this post on Instagram

Nami

This duo is just too pretty not to be worn.

View this post on Instagram

Omii Jewelry

This piece can be placed on the upper lobe, along with your usual lobe earring. Just gorgeous!

View this post on Instagram

Suki Jewelry

We want everything in this photo.

View this post on Instagram

Quielle

This pretty sparkler is a must-have!

View this post on Instagram

Skinned PH

OMG. Tiny and cute!

View this post on Instagram
But if you're a try-before-you-buy or a see-it-to-believe-it type of gal, there are also finds you can buy from retail shops at major malls:
This pastel set makes it easy for you to curate your cluster piercing. 

Parfois Sorbet Hoop Earrings, P490, Glorietta

When you've got 25 pairs, your options will seem endless! 

H&M 25-pair stud earrings pack, P599, SM Megamall

Minimalist studs are easy to mix and match. 

Bershka Set of Minimalist Earrings, P395, Glorietta

Seashell design jewelry is super big this summer! 

Zara Pack of Seashell and Hoop Earrings, P895, SM Megamall

Here's another set of sea-inspired ear candy. 

Stradivarius Set of Sea-inspired Earrings, P695, Glorietta
Now that you know the basics, here are some cluster ear piercing ideas for you!
The lightning stud, combined with the other earrings, make this cluster piercing look a powerful one!

View this post on Instagram

A conch piercing can stand on its own.

View this post on Instagram

Try this one with simple studs, stars, and a tiny hoop.

View this post on Instagram

This proves that edgy and feminine styles create a good mix!

View this post on Instagram

Tiny pearls and gold will always be a classic.

View this post on Instagram

A mix of hardcore and elegant.

View this post on Instagram
Follow Ira on Instagram.