I can't even recall when my last facial treatment was. I just know that it was before the pandemic started. Back then, booking an appointment was so easy. And I could also be a walk-in customer during weekdays—when I had a zit that needed a KI injection. Now, you have to reserve your slot weeks ahead, especially when you want to go on a Saturday.
GLOWING SKIN 101
Let me tell you about with my "quarantine skin" first
When the pandemic started, my skin was awful. My chin and jawline had pimples all over. No matter what spot treatment I tried, the zits won't go away. It turns out, the breakouts were physical manifestations of stress. When that phase ended, I had to deal with maskne, which led me to embrace any skincare product with cica. When dermatological clinics are closed, you have no choice but to get creative and work with what you have.
Why I decided to finally get professional advice + help
Around July, my skin was begging for help so I consulted with a dermatologist online to help address breakouts and dullness. I tried a medical-grade peel under the supervision of a derma. I applied the products on my own, while the doctor instructed me via video call. It revealed a brighter complexion sans the redness and flaking. I was happy, but I miss the facial massage. I also thought about the satisfying feeling of having my whiteheads and blackheads extracted. I promised myself I would get a facial soon.
ADVERTISMENT - CONTINUE READING BELOW ↓
I also won't deny that I got envious of celebs and friends who finally got facial treatments. I'm relieved that they followed safety protocols. At first, I got guilty of dreaming about derma treatments, but a fellow editor said to me: "These services aren't safe to DIY, it's always best to rely on the experts." She had a good point. I must handle my paranoia because it's never okay to self-medicate.
Before I booked an appointment, I stalked the different IG accounts of skin clinics and compared their precautions. Then, I remembered enjoying the pain-free facial treatment before, and it was near where I lived. I recalled that I was impressed with the location's cleanliness. The staff was polite and professional, too. I reserved a slot online and found out that all weekend slots were taken! I got a VL (I needed a break, too, TBH), and booked a Thursday schedule.
Here's what went down in the clinic
A day before my appointment, I was told to sign a health declaration form. A link was sent to me via SMS. (Other clinics may require you to undergo a swab test to be sure if you're free of COVID-19.)
I went straight to the clinic (it was located in the mall) to minimize contact with anyone. I got in earlier than my appointment because they had to check my temperature and examine my current skin condition. The clinic had an air purifier in the lobby and all the treatment rooms. The counter had an acrylic table shield and alcohol was everywhere, The staff wore PPEs, masks, and face shields. I checked my room: It had a sign where it said the time it was last sanitized and cleaned. My bed had disposable sheets.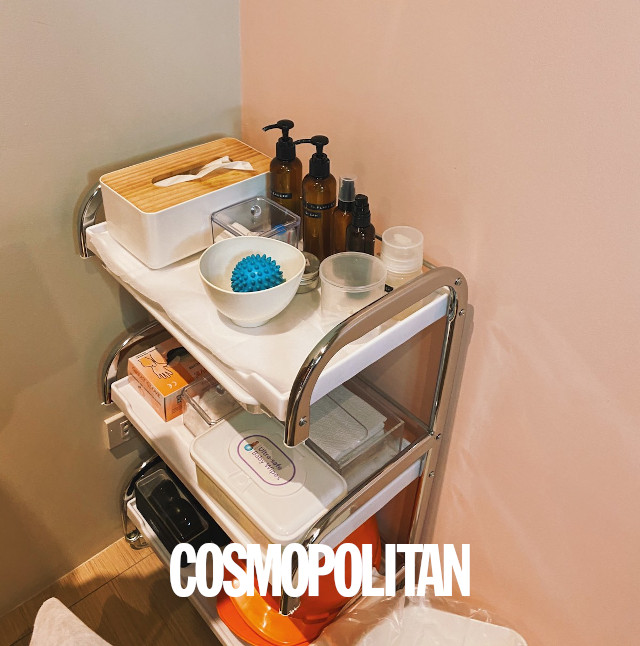 As usual, the aesthetician wore protective gear plus gloves the whole time. She would also alert me every time she would sanitize something or change her gloves. I chose to have a non-pricking exfoliating facial. Personally, it felt safer for me knowing that no body-liquids were squeezed out from me that would come in contact with the person doing my treatment. I have to admit that having someone touch my face felt so foreign to me.
After paying for it via card (cash payments are discouraged to lessen the risk of virus transmission), they spritzed my card with sanitizer. As soon as I got in the car, I sprayed fabric sanitizer on my clothes and alcohol almost everywhere. I also placed my phone and glasses in a portable UV sterilizing box for extra measure.
GLOWING SKIN 101
ADVERTISMENT - CONTINUE READING BELOW ↓
Will I do it again?
Oh gosh, the satisfaction of having my pores freed or sebum and dirt? Priceless. The stress of knowing that I could contract COVID-19 while I'm out? I'm not really sure. I do the groceries for the household, so I'm exposed regularly. I would have to really, really, really need a facial before booking an appointment again.
Follow Ira on Instagram.
Follow Cosmo PH Beauty on Instagram.
***
We are officially on Viber! Be part of the Cosmo Viber Community by clicking here.