In case you weren't online this past weekend, here's a recap of what happened in the world of Philippine beauty: GlutaMAX came under fire for their ad, which seemed to assert that Filipinos should brighten their skin in order to be treated fairly. The ad and their official statement were later taken down from their Facebook page. As of this writing, they have uploaded an apology to their page.
But before this cringey fiasco, another local brand (SkinWhite) released a different, but still tone-deaf, ad campaign. In the video, one half of a pair of twins was obviously sporting blackface.
In the wake of these ads claiming that having a fairer complexion is better, we spoke to a few Pinays about what being proudly morena means to them. (Eds' Note: Cosmopolitan Philippines respects and supports what each person does to his or her skin tone. After all, it's your body, your choice, your rules.)
Alex Lapa
Follow her: @alexvlapa
Continue reading below ↓
Recommended Videos
On being proud of her complexion: I guess I'm lucky because I grew up in a household where fair skin wasn't seen as a special, life-changing characteristic and I think that made all the difference. I was eventually exposed to school and other places where it was implied being light-skinned was something good, but I didn't think much of it because my immediate and strongest influence at home thought brown was just as awesome (even though my mom is naturally fair). Playing outside and enjoying the sun were encouraged because my parents believed it made for strong and smart kids. And then growing up as a teenager, I again lucked out because at that time the Latina craze was happening—being brown and golden became standards of beauty, at least among my peers, and it made you kilig whenever someone compared you to Jennifer Lopez or Jessica Alba.
Over time, I only grew to love it more because I love the beach, I am proud of being an island girl, and my summer tan reminds me of all of the good times I've had and the most beautiful places in my country. My favorite part: being tan gives me a healthy flush and a natural contour that flatters my bone structure—tipid sa funda, and lagi ako napagkakamalang may highlighter.
On the prevalence of skin brightening ads in the Philippines: I was never a fan of how disturbingly popular brightening products are, but I don't think wanting to brighten your skin in itself is bad—you could be doing it in an attempt to even out a patchy complexion, for all I know. But if you choose to brighten your skin, it has to be for healthy, sensible reasons. Likewise, I don't blame brands for wanting to sell their products—but they can do so without being insulting or insensitive (That kind of communication has no place in this day and age.). If you're a brand, it's your responsibility to do your research and be informed. Hindi yung nakakuha ka lang ng kung anong "data" and then hindi mo pag-iisipan paano 'to gagamitin nang mabuti. Remember: Your audience also has all kinds of access to information. Think three times before you decide on your approach.
Her advice to young morena girls exposed to such ads: Morena isn't beautiful just because non-Pinoys say it is—it's beautiful because it's your natural skin and it's who you are. There is no hiding that. You should nurture and embrace it, not try to change it.
Angel Quilang
Follow her: @morenachiq
On being proud of her complexion: I'm a Filipina. I got most of my features from my dad, who is moreno, and I love it and I'm not ashamed of it. Filipinas shouldn't be embarrassed of their tan skin because it's beautiful! 
On the prevalence of skin brightening ads in the Philippines: Sometimes, these ads can make me feel bad about my skin since I don't have a clear and poreless complexion. It's sad how most skin brightening ads target women's insecurities, which can lead to us losing our sense of beauty.
Her advice to young morena girls exposed to such ads: I'm not against people who use brightening products, as long as they do it for themselves and it makes them feel confident (You do you!). If there are people who make you feel bad about yourself, then they don't deserve you. Never forget: Beauty is also a reflection of who you are as a person, and it's something you can see not just within you but in the people who actually love and appreciate you. 
Ayn Bernos
Follow her: @aynbernos
On being proud of her complexion: My morena skin is what I was born with, and the only one I'll have. I live in it every day, see myself in it every day, and I owe it to myself to be proud of it. It took me a long time to embrace what I see in the mirror, but now that I do, I hope more morenas can learn to appreciate their golden glow, too. I'm brown, I'm beautiful.
On the prevalence of skin brightening ads in the Philippines: There's nothing wrong with skin brightening per se, but there is a huge problem when brands use people's insecurities to sell. It's even worse when brands work towards [perpetuating] AND [aggravating] those insecurities. Companies must be responsible [for] the messages they send out. They should be able to sell their product without capitalizing on young, impressionable people's self-esteem.
Her advice to young morena girls exposed to such ads: Unlike what these ads have told us in the last decade or so, our skin color is not "dirt" you can wash away. Neither is our skin color a barrier to love, career, success, or acceptance. You don't need to change yourself, especially not your color. Enjoy the sun, don't allow people to call you names, stand up for yourself when they make fun of you. Times are changing, but the biggest change we could make right now is deciding once and for all to embrace ourselves. When we embrace ourselves, no one can make us feel inferior anymore.
Belle Rodolfo
Follow her: @bellerodolfo
On being proud of her complexion: I love my skin color because it makes me who I am. It represents where I come from, my family, my parents. I'm proud of it because it took a while and a lot to get to a place of confidence in my own skin—especially with the whole Filipino culture of colonial mentality and shaming of one's appearances, especially if you're dark. I grew up being teased, like all other morenas out there. "Negra," obviously politically incorrect, was used a lot! Even when I was a bit older like college, for some reason someone's dark skin was the butt of everyone's jokes. For example, you can't be in a photo in the dark because we won't see you or something. Lame! LOL. Luckily, my mom raised me never to hate my color. She wasn't one to tell me to use brightening products or tell me to stay out of the sun—just take care of my personal hygiene and skin and love myself. She's a morena too!
On the prevalence of skin brightening ads in the Philippines: My stance on beauty, in general, is "you do you." I mean if someone wants to be tan, great. If someone wants to brighten their skin, sure. But for skin brightening ads, it depends on the delivery. My pet peeves are when they use a comparison between light and dark skin, which not just pits women against each other but also encourages the idea that you should be comparing yourself to other people. I mean, stop. Another one is when they use blackface. This shouldn't even need an explanation. Also, another skin brightening ad messaging I hate is calling dark skin "dirty." As someone who writes and edits for beauty, you can go for so many other angles, honestly, and not put down other people in the process.
Her advice to young morena girls exposed to such ads: It's hard, but don't listen to them. I also don't want to sound like a tita, but don't believe everything you read on the internet or in ads, most especially. You're beautiful, no doubt. Look [up] to people who remind [you] of you, physically and personality-wise, because representation really matters! When you see someone who looks like you seen by the general public as beautiful, it's honestly a little validating, too. Like the first time I saw Bianca Gonzales on the cover of Candy Magazine, I was like, "Damn. Morena reppin'."
Lala Cruz
Follow her: @lalacruzer
On being proud of her complexion: Being able to show the true color of a Filipina/Filipino is what makes me proud to be morena-skinned. I'm happy to show everyone where I come from.
On the prevalence of skin brightening ads in the Philippines: It's still disappointing that some Filipinos have the mindset that having whiter skin is better and that's why some companies take advantage of it and feed society with these brightening ads. 2019 is a great time for companies to really change and take part in making the world a better place and that includes teaching everyone how to feel better, not how to look better. In the end, it's up to us to change how we see ourselves.
Her advice to young morena girls exposed to such ads: Whenever you doubt how you look or start to feel insecure because of these brands, you are not alone. All morenas and morenos in the world will celebrate you and your skin.
Paula Abjelina-Dela Cuesta
Follow her: @pink_aloe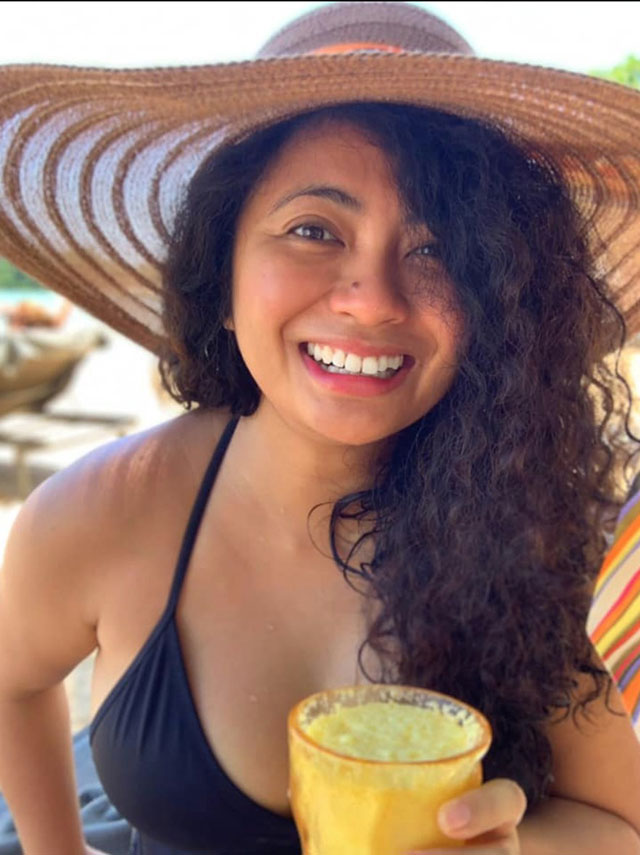 On being proud of her complexion: I have always been mighty proud of my sun-kissed complexion. It is the skin I was born into, and a mark of the land of my birth. Everywhere I go, I am immediately asked if I'm Southeast Asian, and it makes me happy to say yes. I love that my skin ties me to my home.
On the prevalence of skin brightening ads in the Philippines: I believe that the greater conversation should be focused on the demand for brightening products than the availability. Demand and supply are inherently tied. While I believe in the power of choice, the truth is that skin color is often not a matter of decision. I sincerely think we all ought to examine why these products are being bought, and why Filipinos are compelled to buy them.
Her advice to young morena girls exposed to such ads: Nobody can make you feel inferior without your consent. Allow yourself to accept that you are beautiful just as you are. You can do whatever you want with your body, but never forget that it is perfect the way it is.
Trish Terrado
Follow her: @trishterrado
On being proud of her complexion: Being proud of my morena skin didn't happen overnight—it was a long journey before I was able to overcome my insecurity and embrace my skin color. I am proud to be morena because this is a reminder that I have finally decided to define beauty for myself. This culmination of my journey gave me a purpose through my #MillennialMorena platform to be a source of encouragement, reminders, and light to my fellow morena women and men about their worth, value, and self-acceptance.
On the prevalence of skin brightening ads in the Philippines: It's honestly very frustrating. First of all, every skin color is beautiful. Why? Because "beauty" is subjective.
Second, I am aware of the gravity of our colonizers' influence, hence skin brightening is being heavily used by [Filipinos], but come on, we are already an independent country. We have the power to alter and curate "beauty" that can best define Pinays. Filipinas have won world beauty pageants! And guess what—it wasn't solely because of skin color, but their intelligence, confidence, and how proud they are that they are Filipinas.
The skin brightening brands have such big platforms to use to even reach out to the masses. I hope—and I know this can happen, that instead of using their influence to brainwash and change beauty for their consumers, how about teach them the truth? That they can enhance the beauty they already have. Change your formula to empowering the people who live in a tropical country and help them achieve what reality is, instead of telling them to change to something they aren't.
Third, stop using fair skinned and morenas as an example as if it were a juxtaposition. Instead, use your campaigns to be a source of beauty in diversity.
Her advice to young morena girls exposed to such ads: I pray and wish that you find the strength and courage not to let the media dictate what's beautiful for you. The world's definition of "beauty" changes. So I firmly suggest that you define it for yourselves. Look at yourselves in the mirror, shrug off all the negative opinions the world has said about you, and say this, "You are [fearlessly] and wonderfully made. You are beautiful inside and out. You are worth it, you are absolutely loved, and you are more than enough."
Via Gonzales
Follow her: @viagonzales_
On being proud of her complexion: I am proud of my morena skin because it represents my roots as a Filipina who loves being at the beach. I love how it looks when the sun hits my skin and I feel like it really adds more character, especially when I dress up. It's also like a reminder to others and myself that there is not just one type of beauty that we can appreciate.
On the prevalence of skin brightening ads in the Philippines: Honestly, I have nothing against those who want to avail of these brightening products or procedures if they genuinely feel empowered by it and it doesn't harm their bodies. The thing I don't like about these companies or ads is how they portray having brown skin as unpleasant or even ugly (I mean the top players in Miss Universe pageants are usually tan AF!) and one has to use their products to be "more attractive" or to fit in with the usual beauty standards of society. Hello, it's 2019! Haha but really, we just have to learn to respect each other's beauty.
Her advice to young morena girls exposed to such ads: I know there are times these ads can really make you feel "less beautiful" or even make you give in to buying their products, but I hope you learn to embrace and flaunt the skin you're in and know that there's really no reason to feel ashamed of it. When you feel good on the inside, it will show on the outside no matter what your shape or color is (I personally need this reminder too sometimes hehe.). Keep slaying girl!
*Answers have been edited for clarity.
Follow Ira on Instagram.
Follow Tisha on Instagram.