The rainy season has not been doing any wonders for our skin lately. The extremely humid climate, combined with stress, has caused our pores to turn into a clogged-up mess. For weeks, we dealt with whiteheads, blackheads, and rough texture. Good thing we were able to try the Ultimate Modern Facial from Simply Skin. The multi-step facial claims to refresh the skin and get rid of mild blemishes. But did it really? Scroll below to find out.
What is Simply Skin's Ultimate Modern Facial?
Simply Skin's Ultimate Modern Facial is unlike any other facial treatments we've known. It's a non-pricking facial, which means the aesthetician won't painfully squeeze out blackheads and whiteheads. It does clear the skin of buildup via physical and chemical exfoliation using serums and electronic tools. The procedure lasts for an hour.
What are the benefits of Simply Skin's Ultimate Modern Facial?
The Ultimate Modern Facial improves the skin's hydration levels, reduces breakouts and sebum production, unclogs and tightens pores, soothes the complexion, and gently resurfaces the skin.
ADVERTISMENT - CONTINUE READING BELOW ↓
Is the Simply Skin Ultimate Modern Facial suitable for any skin type?
It is recommended for oily, acne-prone, dehydrated, and tired skin. But if you have an inflamed acne breakout, they recommend to let it heal first before doing the procedure. According to Anne, one of the nurses at the Simply Skin Festival Mall branch, this is because the exfoliating products might irritate the blemish and cause the bacteria to spread all over the face.
What happens during Simply Skin's Ultimate Modern Facial treatment?
You will be taken to a clean and minimalist private room, then the aesthetician will brief you about the treatment and explain the precautions and post-care steps you need to know.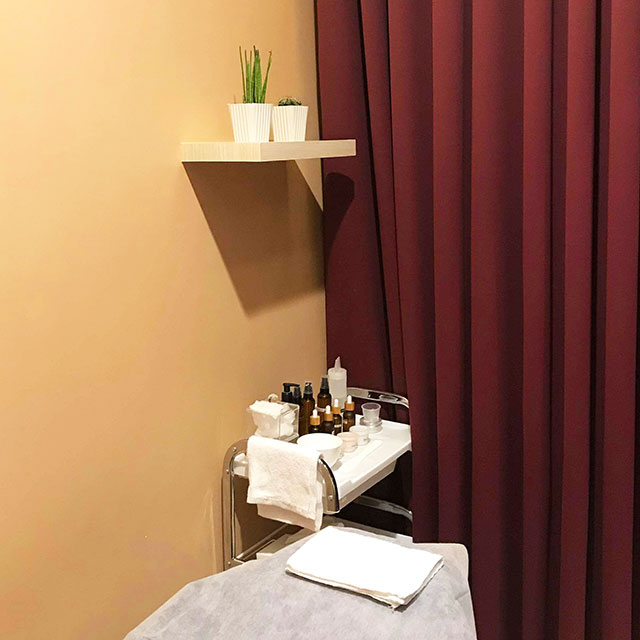 ADVERTISMENT - CONTINUE READING BELOW ↓
Recommended Videos
Since there is no pricking involved, whiteheads and blackheads are vacuumed. The skin is further purified in two serum infusion phases: First is with lactic acid (radiance and gentle hydration) and the second is with salicylic acid  (pore-clearing). Of course, the serum combos will depend on your skin type.
A clay mask is applied (again, it's available in different formulas to suit your skin type). It is followed by an antioxidant infusion to nourish the complexion. A microcurrent device is massaged on the face to boost collagen production and tighten the skin.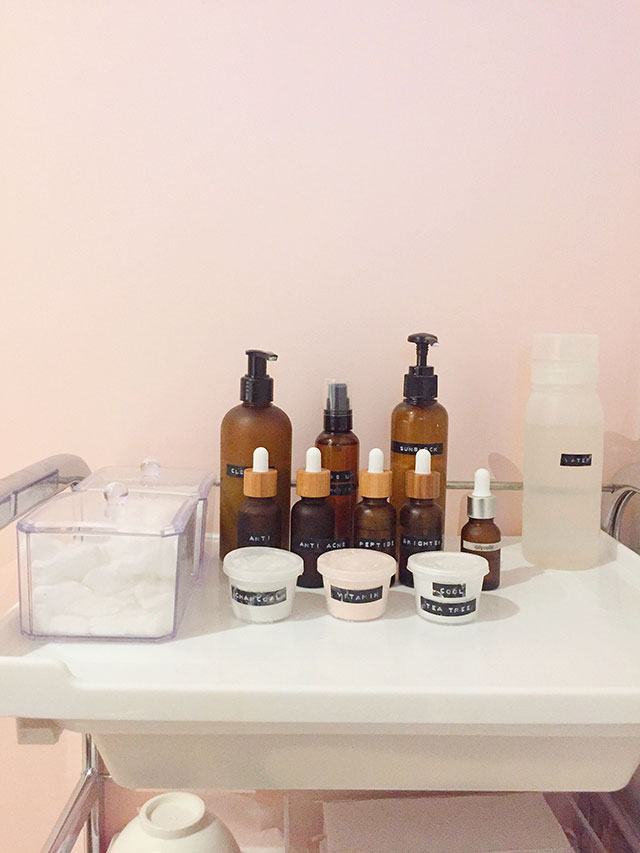 ADVERTISMENT - CONTINUE READING BELOW ↓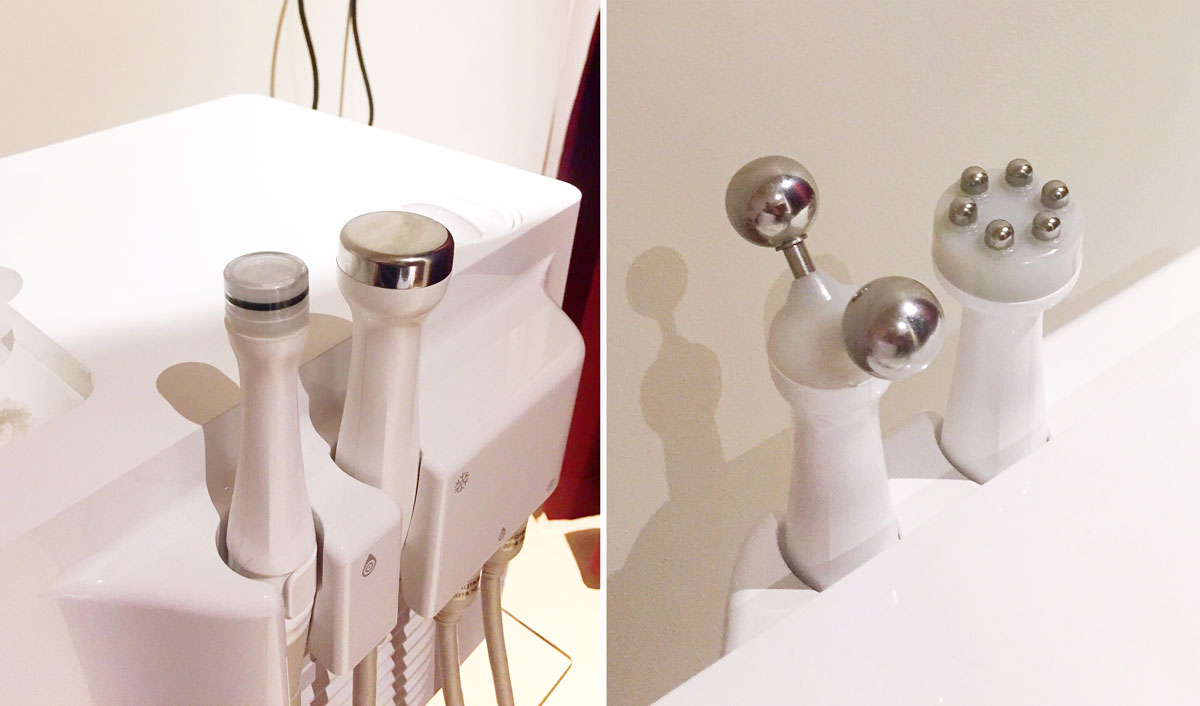 What should I do before I try the Simply Skin Ultimate Modern Facial?
Simply Skin follows a strict protocol before performing the treatment on a client. This is to ensure that the exfoliating products won't damage the client's skin barrier. If you plan on getting the Ultimate Modern Facial, take note of the following:
ADVERTISMENT - CONTINUE READING BELOW ↓
No waxing or tweezing 24 hours prior to the treatment.
Stop using glycolic acid, lactic acid, salicylic acid, Kojic acid, and hydroquinone products three days before the facial.
Avoid laser treatments and retinol products a week before the treatment.
Recall if your skin has been sunburnt two weeks before. If the answer is yes, you can't undergo the Ultimate Modern Facial procedure.
Do not have any ablative laser procedures, chemical peels, dermabrasion, or microdermabrasion done four weeks prior to the treatment.
What should I do after the Simply Skin Ultimate Modern Facial?
Generally, you are advised to avoid excessive direct sun exposure in the first 24 hours, and chemical exfoliating products (glycolic, salicylic, lactic, etc.) after three days. Also, you must always apply sunblock with SPF30 or higher before going outdoors.
How much is Simply Skin's Ultimate Modern Facial?
The Simply Skin Ultimate Modern Facial treatment costs P1,500 per session. There are also bundled packages that allow you to score the facial at a discounted rate.
ADVERTISMENT - CONTINUE READING BELOW ↓
Where are Simply Skin branches located?
Here are the Simply Skin locations: Ayala Malls Cloverleaf, Ayala Malls Feliz, SM North EDSA, Shoppesville Greenhills, SM Bicutan, and Festival Mall Alabang.
Experience
Tisha
Branch: Shoppesville Greenhills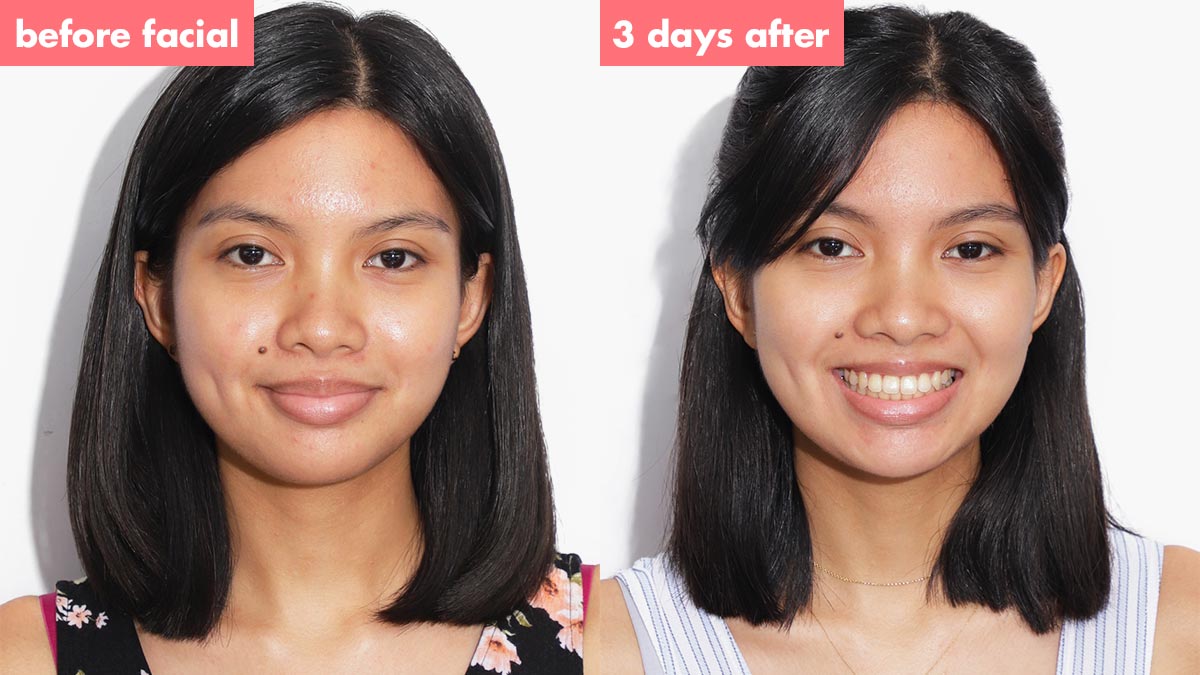 ADVERTISMENT - CONTINUE READING BELOW ↓
Simply Skin's branch at Shoppesville in Greenhills is tucked away in an aisle dedicated to various skin clinics. Upon giving my name and the facial I was getting to the receptionist, I was offered water or tea. I opted for the latter because I was already hungry and thought the tea might help keep me full long enough to survive a one-hour facial.
I was excited to get this facial because my complexion was in a bad state (think texture and clogged pores) and because it's apparently pain-free (no pricking). Almira, my aesthetician, began the treatment by giving me a skin consultation. She asked me about my skin issues and informed me of the possible side effects of the treatment (like mild redness). She then asked me to lie down on the bed and used a cool tool to determine how hydrated my skin was—it was 39 percent, which is less than half so I'm assuming that's bad, but Almira told me it was normal.
ADVERTISMENT - CONTINUE READING BELOW ↓
She proceeded to cleanse my skin with a soothing foaming cleanser that smelled like cucumber. After cleansing and toning, it was time for the *extractions*. Normally, this would involve a metal tool digging into my pores to get the gunk to come out. But for the Ultimate Modern Facial, it's about consecutively using skin acids to melt sebum, dirt, blackheads, and whiteheads. I thought this part would have a stinging sensation but I'm glad it didn't; it just felt like there was a gentle vacuum sucking on my skin—pain-free, indeed!
After the acids and the *~antioxidant infusion*~, it was time for the face mask. I chose a charcoal face mask because it can both clear out the pores and give skin a healthy glow. This was the most soothing part of the facial because it involved a thin layer of gauze placed over my face and a cold mask applied all over (including my eyes and lips). It was so soothing and calming, I actually fell asleep. Once it was removed, the aesthetician put a peptide serum all over my face, which is perfect for hydrating the skin. I love how Simply Skin gives customers options for their face masks and serums!
ADVERTISMENT - CONTINUE READING BELOW ↓
This was followed by a soothing microcurrent facial to lift my skin. Once it was over, my complexion felt super clean, refreshed, and hydrated. Almira checked my skin's hydration levels again and this time it was at 52 percent, yay! While I was still trying to wake my body up, she proceeded to gently massage my back and neck and I couldn't thank her enough for it. 
I love how my complexion felt balanced and healthy after the Ultimate Modern Facial. Usually, after a facial, it either feels super greasy from all the hydrating products they applied or beat up from the heavy-duty extractions. 
It's been almost a week since the facial and my complexion still looks amazing. My pores are tighter and there are no more small whiteheads and blackheads. It actually looks like my skin is still getting better. I'm so impressed and can't wait to go back for another session.
ADVERTISMENT - CONTINUE READING BELOW ↓
Ira
Branch: Festival Mall Alabang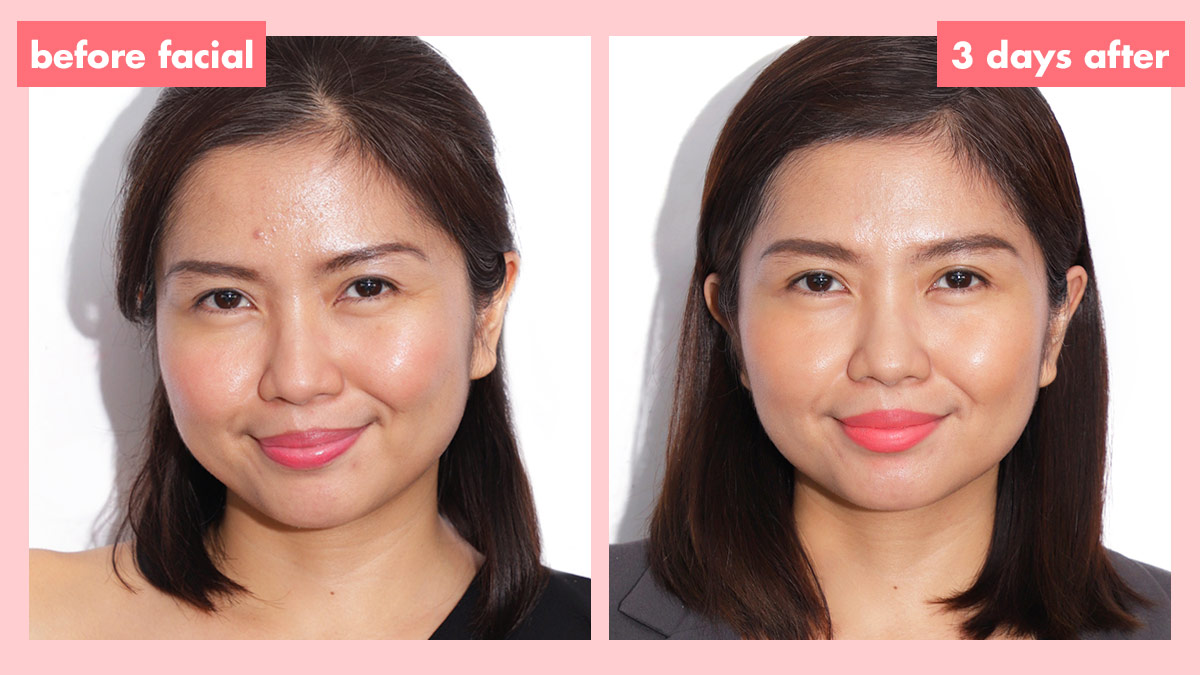 The Festival Mall branch is located in the New Wing near Landmark. The clinic had aesthetically pleasing interiors: Salmon with hints of white and green. I was surprised to be taken to a private room—I assumed there wouldn't be one because their rates are affordable.
ADVERTISMENT - CONTINUE READING BELOW ↓
I was curious to try the Simply Skin Ultimate Modern Facial because it would be the first time I'll try a non-pricking procedure. I wanted my zits to disappear on my forehead sooo badly. My aesthetician, Anne, was accommodating. She answered all my queries—I am (and always will be) an acid skincare addict, so I was into this treatment!
She asked for my skin type, skincare routine, and lifestyle. She also used a small device to test my skin's hydration levels. I forgot the exact number, but Anne reassured me that the result was normal. From there, she customized the serums and masks she'll apply on my face. I have oily skin with anti-aging concerns, so she chose lactic, salicylic, and a collagen-boosting clay mask. I asked if they did pimple injections because I was planning to get one for my superstar zit on my forehead. Anne explained that they didn't. Simply Skin doesn't offer any invasive treatments. 
ADVERTISMENT - CONTINUE READING BELOW ↓
I'll spare you the details: Overall, it was the most relaxing facial I have ever tried. I always brace for painful pricking whenever I have regular facials, but Simply Skin's Ultimate Modern Facial was totally different. A vacuum sucked out the gunk from my pores and an electronic current (which you won't really feel, btw) boosted the efficacy of the exfoliating serums. I think I dozed off during the time Anne left the clay mask to work on my skin. As for my superstar forehead zit, it appeared less red and flatter after the treatment!
Will you recommend it to friends?
100 PERCENT YES. The Ultimate Modern Facial is perfect for a lot of skin types and it doesn't leave you feeling greasy or dehydrated. The facial is perfect for those who want to refresh their skin and get rid of clogged pores and texture.
Follow Ira and Tisha on Instagram.
ADVERTISMENT - CONTINUE READING BELOW ↓
EXPLORE COSMO