While we often get questions from our readers about oily skin and acne, we're also asked about the best way to handle other skin concerns like wrinkles and sagging. It's important to acknowledge that aging is a natural part of life, but it's good to have the initiative to take care of your skin. 
One famous treatment we get asked about is Ultherapy, a non-invasive procedure that uses micro-focused ultrasound to lift and tighten skin by stimulating the body's natural healing process, jumpstarting the production of collagen. I got the chance to try it over at Skin House Beauty and Laser Clinic, one of Ultherapy's accredited partners in the Philippines, and here's what happened: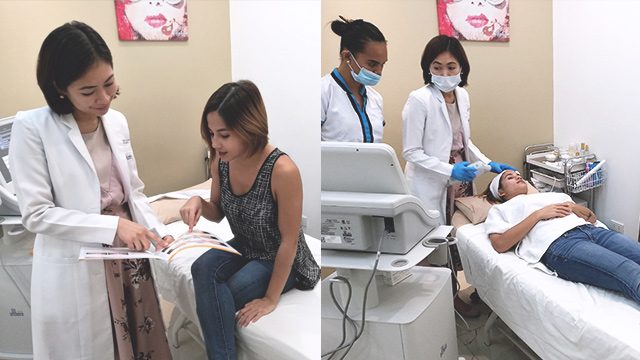 After being briefed about the procedure (where I was asked if I wanted to take a painkiller as it can be a bit uncomfortable for some women) they went on to apply topical anesthesia, which took about half an hour.
Continue reading below ↓
Recommended Videos
"There is not much to prepare before the treatment since it bypasses the superficial layer of the skin, hitting deep dermis and beyond, but one can take a pain reliever if pain tolerance is an issue 30 minutes prior to treatment," says Dr. Lovelyn Daet of Skin House.
Afterward, the staff drew lines on my face to help with the precision of the treatment. Once the procedure started, I only felt very mild, prickly discomfort as they treated my jawline and worked their way upwards.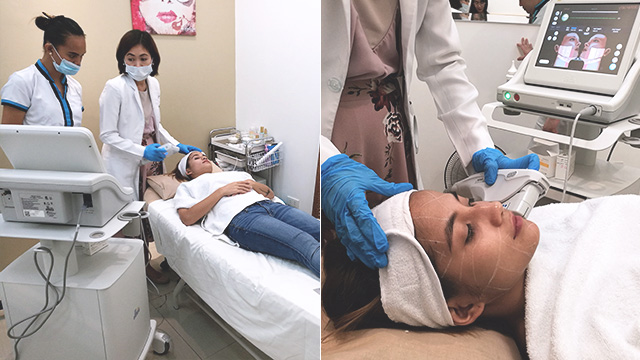 The procedure lasted for a little over an hour, and I felt comfortable and pain-free enough to be able to chat with Dr. Daet and other members of the clinic while it was going on. Some parts of my face were more sensitive than others, but all in all, it was quite tolerable.
My face did seem a bit swollen for about two hours after, but it wasn't painful even after the anesthesia had already worn off. My face felt a little tired and bugbog later on, and some parts remained sore for a couple of days, but it was easy to manage and didn't get in the way of my daily routine. According to Dr. Daet, this is because "it passes directly to hit the deep dermis and beyond without causing harm to the epidermis (superficial layer of skin)."
Before we started, I was already warned that Ultherapy doesn't give drastic changes instantly as the results "improve over two to three months as your body naturally regenerates collagen." Sure, it's possible to notice subtle changes right away, but this is really a long-term investment that stimulates rejuvenation from deep within.
In my experience, I only started noticing some changes about two and a half weeks later, but it was really how sharper my jawline looked that made me confident about the results of the treatment. (It even reached a point where I'd catch myself unconsciously stroking the curves of my jawline for minutes at a time. I felt like a female Brad Pitt!)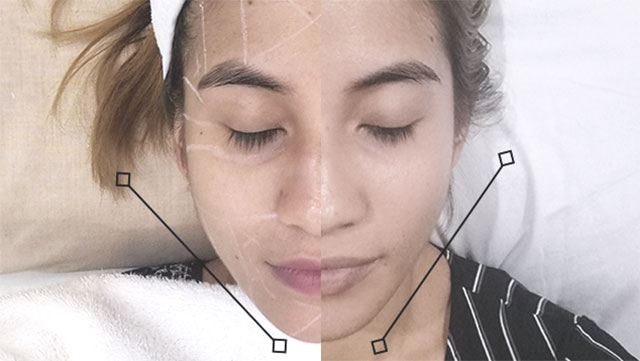 According to their treatment reference guidelines, Ulthera uses DeepSEE technology to ensure proper transducer selection based on the patient's individual skin thickness and target tissue depth, which is also why "the effect of Ultherapy may depend on the patient's degree of skin laxity," says Dr. Daet.
Now, how long will the results last?
"Since the procedure stimulates your own collagen production, how long the results will last depends on the patient. The treatment produces new collagen on the inside, but the natural aging process will dictate how long that translates into visible results on the outside. Most patients would require another treatment after six months to one year."
Keeping reading to learn more about Ultherapy:
Who should undergo this procedure? Are there any age/health restrictions?
Dr. Lovelyn Daet: A good Ultherapy candidate is someone who has mild to moderate skin laxity where the skin begins to feel and look less firm. There is no minimum age for Ultherapy but there should be a start of facial loosening, sagging to identify the patient as a candidate for Ultherapy.
Ultherapy is contraindicated for use in patients with open wounds or lesions on the treatment area like severe or cystic acne, and active implants like pacemakers or defibrillators or metallic implants in the treatment area.
Is there any downtime? 
Dr. Lovelyn Daet: With Ultherapy there's no downtime. You can return to your normal activities immediately after your procedure without any post-treatment restriction or requirement. Your skin may appear flushed or a little red at first but it should disappear within a few hours.
How is Ultherapy different from other anti-aging procedures?
Dr. Lovelyn Daet: It is the only device with FDA clearance that has the capacity to see through the treatment area with the use of ultrasound technology. The visualization aspect of the treatment allows us to customize our treatment to target the right depth for collagen formation. It is not a blind treatment, so patients safety and treatment efficacy are both achieved. 
The price of Ultherapy starts at P35,000 depending on the area of treatment at Skin House Beauty and Laser Clinic. Visit their Facebook page for more information. 
Skin House Beauty and Laser Clinic is located at 2/F 8006 Pioneer Street corner United Street, Kapitolyo, Pasig.