The Fault In Our Stars
The Book: John Green's The Fault In Our Stars 
One of this year's most anticipated movies didn't disappoint. In the hands of director Josh Boone (who also directed the heartwarming film Stuck In Love) and a screenplay written by the team behind (500) Days of Summer, the story of 2 cancer-stricken teens didn't leave a dry eye in cinemas when it premiered last month. It was definitely more than okay.

The Perks of Being a Wallflower
The Book: Stephen Chbosky's The Perks of Being a Wallflower

It was expected that the movie version would be as good as the book, considering Stephen Chbosky directed and wrote its screenplay. From the music used in the film to the coming-of-age story about outsider Charlie (Logan Lerman) dealing with the suicide of his best friend and the chaotic world that is high school, no element was out of place.

Revolutionary Road
The Book: David Yates's Revolutionary Road

It's as haunting and heartbreaking as the book. What made it better on-screen was Leonardo DiCaprio and Kate Winslet's combined performance, which was loads better than Titanic. This heartbreaking tale of a struggling couple in 1950s suburban Connecticut is the perfect second movie for one of our fave One True Pairings (OTP) of all time.

The Time Traveler's Wife
The Book: Audrey Niffeneger's The Time Traveler's Wife

This is a challenging piece to adapt for the big screen because the time jumps can get confusing, but they did it. The story of Clare falling in love with time traveler Henry won't leave you scratching your heads and asking WTF just happened. Still worried that some parts might confuse you? Don't. Eric Bana's exposed abs and ass will distract you during those time-traveling moments, since he can't carry his clothes with him when he gets lost in time. #WIN

The Notebook
The Book: Nicholas Sparks' The Notebook
Ryan Gosling and Rachel McAdams' portrayals of the young and very much in love Noah and Allie are refreshing. Their take on the characters will make you ugly-cry, and leave you fangirling for this couple even after it was confirmed that The Gos is already expecting a baby with Eva Mendes. Sorry, we just had to let that out.

The Harry Potter movies
The Books: J.K. Rowling's Harry Potter series
How do you keep audiences worldwide captivated by the fictional and magical world of Harry Potter for a decade (and counting!)? Give us a story that only keeps getting better and better, whether in the book or the big screen. And that's exactly what HP did.

The Hunger Games and Catching Fire movies
The Books: Suzanne Collins' The Hunger Games and Catching Fire
The urgency in the first film and the grandeur of Panem in the second film just make sense, although others think the first movie was a complete mess. This franchise about Katniss Everdeen a.k.a. the Mockingjay's journey fighting for Panem is one of the best dystopian films ever made. We can't wait for Mockingjay Part 1 to premiere in November!

The Girl With the Dragon Tattoo
The Book: Stieg Larsson's The Girl With the Dragon Tattoo
Comment all you want on David Fincher's adaptation of the best selling Swedish novel about ass-kicking hacker Lisbeth Salander and journalist Mikael Blomkvist. But with a good musical score to boot and a remarkable performance from Rooney Mara—which earned her an Oscar nomination, this is one movie you should totes not miss. Just don't mind Daniel Craig's confusing accents (Swedish to British to American!) in the film and you're good.

The Godfather
The Book: Mario Puzo's The Godfather
Mario Puzo and THE Francis Ford Coppola teaming up for the adaptation of the mother of Mafia-themed stories and memes? What could possibly go wrong? Nothing, especially when the film stars Marlon Brando and Al Pacino as the father and son duo to beat in this crime movie.

She's Dating the Gangster
The Book: Bianca Bernardino's She's Dating the Gangster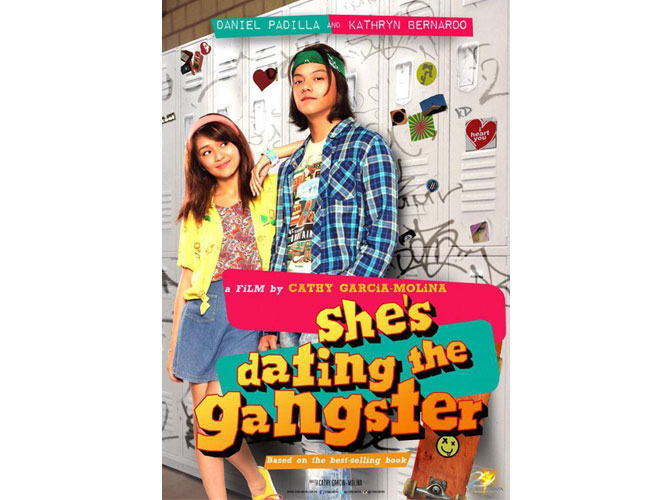 The book gave us a kilig love story, but the changes made in the movie to cater to audiences of different ages made it more memorable. Hey, it's not every day you get to see Richard Gomez and Dawn Zulueta together in the big screen with the help of this generation's biggest love team, Daniel Padilla and Kathryn Bernardo! She's Dating the Gangster is now showing in cinemas nationwide.
***
This just in (07/26/2014): Shameless plug! If you can't get enough of KathNiel, don't forget to grab your FREE copy of COSMO ON CAMPUS at establishments near schools!
***
Comments? Violent reactions? Share more book-to-movie adaptations that you love by commenting below!