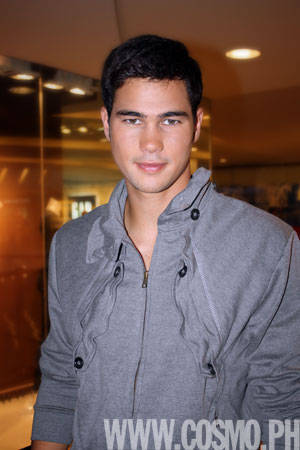 We know how much you love seeing and learning more about the gorgeous Fil-Brit Azkal, two-time Cosmo Centerfold, and 2011 Cosmo Men cover guy Phil Younghusand. So as a special treat, we're giving you an exclusive peek into a day in his life. As one of the hottest, most in-demand stars on the local scene, a day in Phil's life can get pretty hectic—he juggles photo shoots, TV appearances, and football training, on top of spending time with those dearest to him. 

With all his passions and projects, Phil needs plenty of energy and sweet ways to make time for his loved ones. It's no wonder Häagen-Dazs™ chose Phil to be one of their first-ever brand ambassadors, along with the stunning Georgina Wilson, to launch their new campaign "Häagen-Dazs™: Anticipated Like No Other."

We followed Phil through his first Häagen-Dazs™ photo shoot last July 4 at SM Megamall. Just the day before, Phil and his fellow Azklas emerged victorious from their match against Sri Lanka, so Phil showed up around lunch time with a warm smile on his face. He was both friendly and professional as we worked with the whole crew and breezed through six layouts with Georgina. (He even enjoyed lots of bites of ice cream in between takes!) We loved Phil even more for his unwavering enthusiasm: on top of the shoot, he made time for a live TV interview, another video interview with Cosmo.ph (which you can watch here), and an autograph-signing and photo-op with pleasantly surprised fans at the mall!

On days like this, it's hard to imagine how Phil finds time to relax and unwind. Phil shared, "After going through a particularly tough day, knowing that a treat (Ed's Note: Häagen-Dazs™ Vanilla is his top choice!) or a favorite ritual (like dining out with family or friends) awaits pushes me to really do well."
Continue reading below ↓
Recommended Videos

The newest campaign of Häagen-Dazs™ puts emphasis on the "waiting" part―the anticipation that comes before a rare, indulgent experience (like a bowl of ice cream or some well-deserved quality time with friends and family). It's often the wait that makes those experiences sweeter.

And, Phil couldn't agree more. He told us, "There's really something about waiting for that special moment to arrive. The fulfillment and pleasure that comes after becomes even more rewarding."

Launch the gallery to see exclusive outtakes of Phil on the set of his Häagen-Dazs™ shoot, and find out what a regular working day is like for him. And, if you haven't already, watch our video coverage to see Phil in action!


Promo Alert! Make sure to check out the Häagen-Dazs™ Sweet Anticipation Promo. Answer the short and sweet promo question and get a chance to win a Häagen-Dazs™ gift certificate!

Visit the Häagen-Dazs™ branches at SM Mall of Asia (556-1111), SM Mega Atrium (638-2971), and Robinsons Place Ermita (353-2972), or log on to www.haagendazs.com.ph. For franchising inquiries, please call 882-1117 (look for Vega Atienza).
1460