Yesterday on her IG stories, Angel Locsin posted a private conversation between herself and a user who admits to bullying the actress when they were kids.
Angel's University of Santo Tomas Junior High schoolmate wrote in part, "Hi, Angel. You probably don't remember me, but I used to not like you back in USTHS. I remember I bullied you before (when there was such [a] thing as 'kabogan'). I want to say I am sorry."
The schoolmate shared that she's been watching Angel's movies on Netflix, making her "amazed by how good an actress" Angel is. "I can probably say that I am a fan now!"
Angel's projects that are available on the streaming site are Four Sisters and a Wedding (2013), The Third Party (2016), and Everything About Her (2016).
The General's Daughter actress wrote a heartfelt reply: "Hello! Mga bata pa tayo nun hehe. :) Your message made me smile. Salamat. Pasensya na rin kung may nagawa ako para hindi mo ako magustuhan. Sabi nga nila, 'It takes two to tango.' So ayun. :) Pasensya na. Ingat lagi!"
Angel says of the convo, "I'm quite moved by this…. At some point, we've all been bullied, and we've all been bullies. But as a wise Beatle once wrote, 'Life is very short, and there's no time for fussing and fighting, my friend.'"
She continues, "If you have the chance to apologize to someone you've hurt, take it. And if someone asks for your forgiveness, give it to them. In [any] case, if your efforts are sincere, you'll never regret it."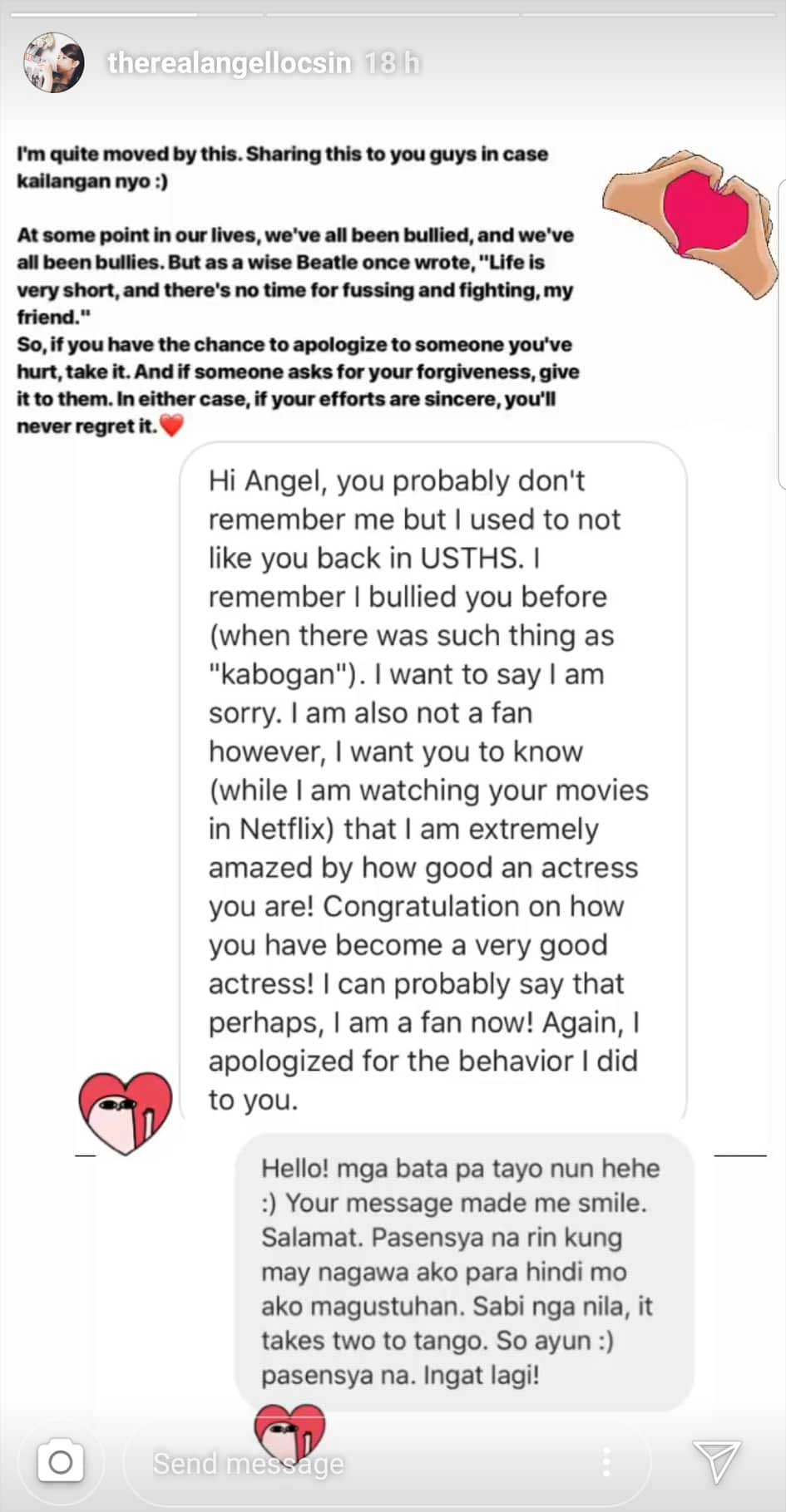 Continue reading below ↓
Recommended Videos