Angel Locsin, a huge fan of U2, got to spend a few precious minutes with band frontman Bono at an event yesterday, December 10. It was at a press con for the Philippine Red Cross' partnership with Zipline, the world's first national-scale drone delivery service, which will enable the organization to deliver medical supplies to remote areas. As a board member of Zipline, Bono attended the event the day before U2's much-awaited concert at the Philippine Arena. 
On the sidelines, Angel, who was just included in Forbes' 2019 Heroes of Philanthropy, was introduced to Bono as "one of the greatest humanitarians." Angel got "teary eyed" as Bono signed her U2 shirt, according to Garlic Garcia, showrunner and VIU Philippines chief creative officer.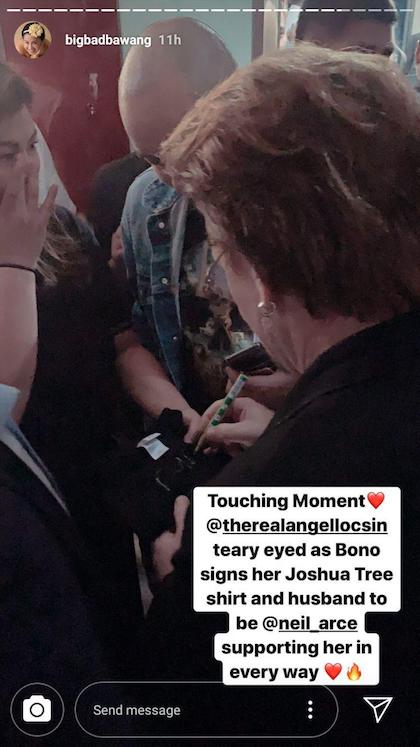 Continue reading below ↓
Recommended Videos
Garlic posted on IG Story, "She gets the biggest smile from Bono when he finds out she is one of the top Filipino humanitarians with the work she does privately for the Philippine Red Cross."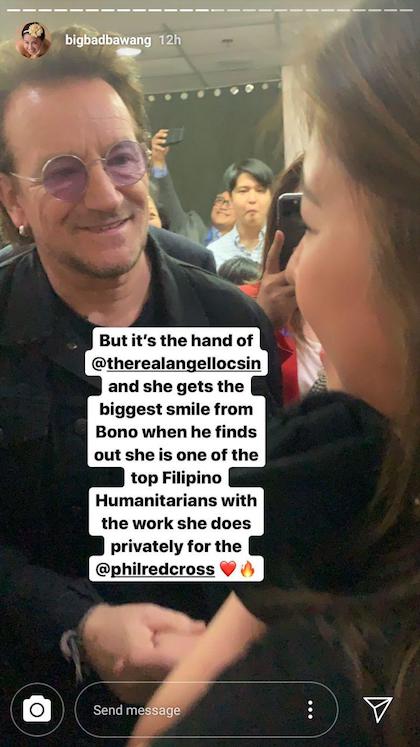 Angel said on Instagram, "High salute to my love, Bono, the multi-awarded U2 frontman, who has also been a frontman for advocating social justice worldwide. Despite his tight schedule, he chose to accommodate the Philippine Red Cross' invitation and introduce us to this new technology of saving human lives through aerial drones. Looking forward to this faster, easier, and hi-tech way to get blood where it's needed, especially to remote places with poor road infrastructure and those devastated by calamities."
At the event, Bono said in a Spot.ph report, "Music's my passion, but Zipline is where all my other passions come together, which is the idea that commerce should serve people, not people serve commerce. The idea that the brightest minds shine even brighter when they work for the vulnerable."
Last week, Angel watched the U2 concert in Japan, fulfilling a lifelong dream. She posted on Instagram, "Buong buhay kong pinangarap to! Maraming salamat, U2! Mahal kita, Bono!" She added, "Noong lumabas sila, bumaha ang luha ko na iyak bata talaga, LOL."
Follow Dyan on Instagram.