Super-smart zombies with their own king and queen? Yes, please. Army Of The Dead is currently the number one movie on Netflix Philippines, and it's about a group led by Scott (Dave Bautista) who enter a zombie-infested Las Vegas "to pull off the greatest heist ever attempted." I'm not joking when I say that the zombies they encounter are pretty *extraordinary*: there's even a ZOMBIE TIGER and a ZOMBIE HORSE.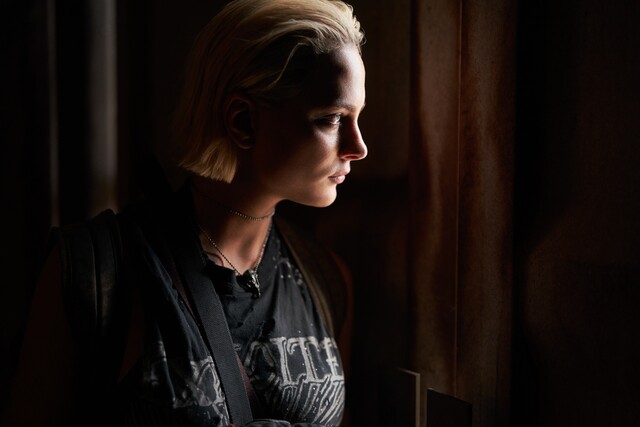 ADVERTISMENT - CONTINUE READING BELOW ↓
During a Netflix press con, creator Zack Snyder talked about casting Dave, his admiration for the actors who played the zombies, and his very own cameo! 
Here's a bunch of facts about Army Of The Dead: 
1. Why they chose Las Vegas as the setting: 
Zack: The best zombie movies have social commentary, and I just felt like casinos and humans...it's a pretty good zombie origin area. It's also a place where there's a lot of money.
2. How Dave Bautista ended up playing the lead role: 
ZACK: I love Dave. Dave and I had been talking for years about trying to make movies together. And I asked him about this. He wasn't sure. 'Cause he's like, "Yeah, I don't really want to do another action thing." I go, "Read the script." And after he read it, he called me and goes, like, "I didn't realize that it was like this—that I had this huge emotional journey to go through." And I said, "Yes." Scott's journey is really an emotional journey. I'm gonna take it for granted that he can kill a zombie, these other things are gonna be the hard part. And I really sensed in Dave, there's this vulnerability. He plays this really broken character that wants to reconnect with his daughter. And that part of it, he does an amazing job at. So that was why I chose him.
ADVERTISMENT - CONTINUE READING BELOW ↓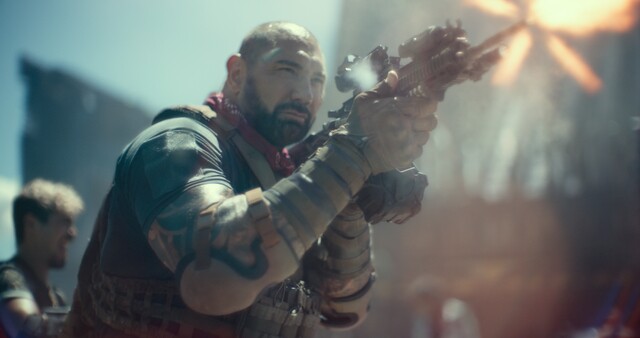 3. Here's what sets Army Of The Dead apart from other zombie movies: 
Zack: More than anything, when I did Dawn Of The Dead, it was based on another film. And Army Of The Dead is based on original IP. So it's really a chance for me to blow out a world and create a world, frankly. And I think that getting a chance to start this world from scratch was really fun. And I think for an audience, they're gonna get to just sort of go into a zombie world that you've never seen before.
ADVERTISMENT - CONTINUE READING BELOW ↓
4. Yes, Zack Synder has a cameo! 
Zack: You can certainly watch it 100 times over to find Zack Snyder. And you will, if you're super observant. It's a very tricky moment. But I'm in there, but I'm operating the camera. It's in a mirror. You have to really be careful when you see it, because it's only for a few frames. But it's in there, for sure. We were gonna take it out, and I was like, "Oh, leave it. It's good."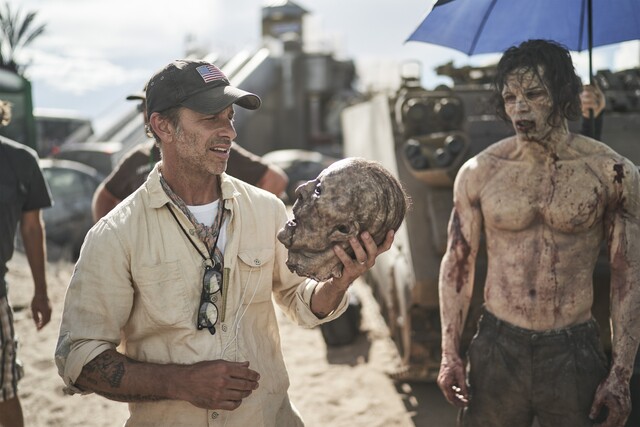 ADVERTISMENT - CONTINUE READING BELOW ↓
5. Army Of The Dead was made specifically for TV. 
Zack: I did make it specifically for your TV. But my approach to it was, I want to make a big giant movie for you regardless. Like, you're gonna watch it on your TV...but you're basically seeing a movie that if it had been in a normal world, you'd be seeing this on a big, giant, blockbuster, worldwide, theatrical opening. But I said, "No, I want that quality, that feeling of a movie, but you're getting it at home." 
6. Zack's experience with his children played a huge role in creating Scott and Kate's storyline.
Zack: The father-daughter relationship has always been kind of the core of the movie. And frankly, it's evolved quite a bit as I've evolved. When I was writing those scenes between Kate and Scott, my own experience with my own children played a huge role. And just the catharsis, you know, your children can hurt you worse than anybody, but they can also bring you joy. Your greatest sorrow and your greatest pain can come from your children. Your greatest highs and your greatest lows. I just brought all of that pain and joy to writing this relationship between Scott and Kate.
ADVERTISMENT - CONTINUE READING BELOW ↓
7. This isn't exactly a secret, but the actors and actresses who played the zombies are pretty amazing. 
Zack: I think Zeus is pretty scary, and also Athena. That's the actress's name: Athena, who plays the queen. And Spider, who plays the general, the one who's with the zombie queen when they come out. Those guys are stunt people I've worked with for years. And they're like, physically, amazing. Well, Athena, I met actually on this movie, she was new. But Spider and Rich Cetrone, who plays Zeus—he's been in every movie I've made, so he's great. There was a huge acting element to the performance that Rich gives as Zeus.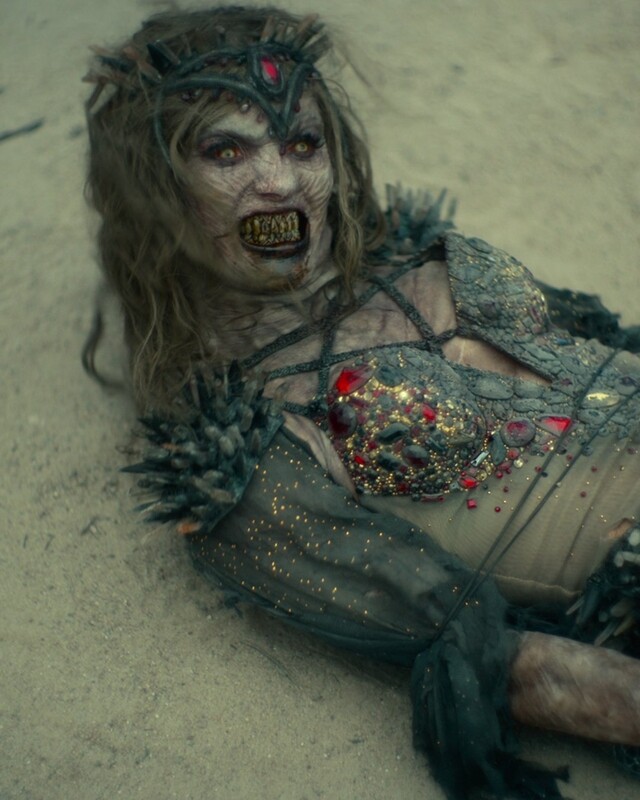 ADVERTISMENT - CONTINUE READING BELOW ↓
8. If you're looking for easter eggs, here's one related to the zombies' origin: 
Zack: One of the opening shots in the movie, if you look carefully at it...you'll see something in the sky. And that's kind of...where all the zombies come from, you know, is probably Area 51. I think that's what that is. And the dialogue among the guys in the truck [is] kind of what's starting to tell that story a little bit...If you're looking for it, you'll find more clues to that within the context of some of the zombies.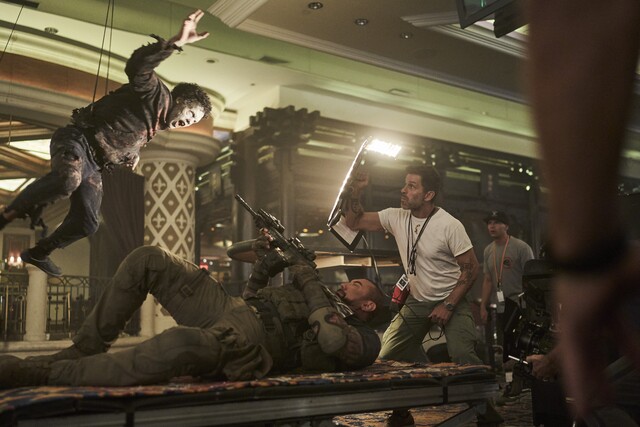 ADVERTISMENT - CONTINUE READING BELOW ↓
9. There are going to be several prequels!
One is an animated prequel that "tells the origin story of the zombies," while another one will star Matthias Schweighofer AKA Ludwig Dieter! 
Zack: Matthias does an amazing job as the safecracker...We've already shot with him—a movie that he directed. It's a prequel to Army Of The Dead, where we learn all about Dieter's backstory and why he loves these safes and particularly the safe that we see in the movie, he knows it. And why he knows it.
10. Here's why "The Gambler" by Kenny Rogers was used in the trailer. 
Zack: I love the song, and I pretty much know all the lyrics. The reason how you know I know all the lyrics is because we watched the first trailer with it on it [and] I said to the guys: "You know, you missed it." And they were like, "Well, what do you mean?" I'm like, "You don't have 'the best that I can hope for is to die in your sleep.' You don't have that line in it." They had cut the trailer and used the song, but they hadn't put that. I was like, "It's like, completely related to our movie." And so, they were like, "Oh sh*t." And then they came back, and were like, "How is it?" And I was like, "Okay, now. There you go."
ADVERTISMENT - CONTINUE READING BELOW ↓
*This interview has been edited for length and clarity.
***
We're officially on Viber! Be part of our growing community and subscribe to Cosmopolitan Philippines now!
EXPLORE COSMO