Ayn Bernos isn't one to back down. The TikTok star recently made it in the Top 16 of Miss Universe Philippines, fulfilling her childhood dream to join a pageant despite the odds. And a peek at the comments section of her latest TikTok shows that same fighting spirit. 
Ayn posted a short clip of her walking in a bright pink dress—the chosen color of VP Leni Robredo's 2022 presidential run—on October 7, the same day VP Robredo announced her candidacy. It was clear the TikTok star posted it in support of the VP's decision to run; just check out the #LetLeniLead in the caption. The clip has more than 100,000 views as of writing with 11,000 comments—and not all of them are nice, to say the least.
ADVERTISMENT - CONTINUE READING BELOW ↓
Ayn gave hateful commenters a quick lesson in the art of the clapback. She responded to accusations of having been paid to show support with hilarious snark, patiently explained her views, and was just a general masterclass overall. 
Meanwhile, over on Twitter, Ayn explained what her drive was to respond to comments. She was "thinking about the young impressionable minds" reading what the comments were saying. If you want to see how she clapped back, check out some of the snarkiest and level-headed responses below.
ADVERTISMENT - CONTINUE READING BELOW ↓
Recommended Videos
Ayn Bernos Claps Back At TikTok Haters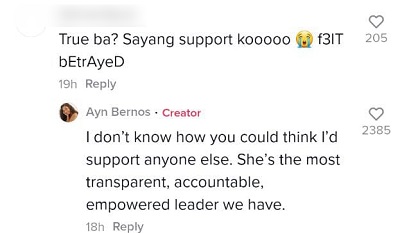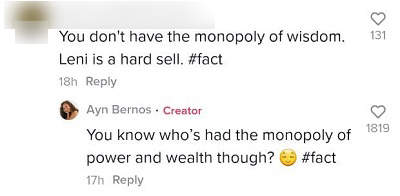 ADVERTISMENT - CONTINUE READING BELOW ↓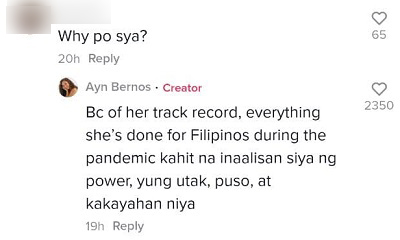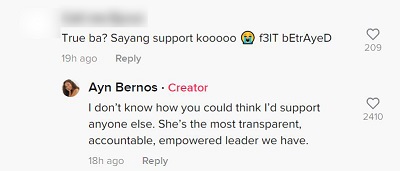 ADVERTISMENT - CONTINUE READING BELOW ↓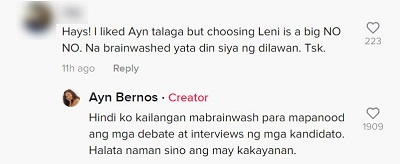 ADVERTISMENT - CONTINUE READING BELOW ↓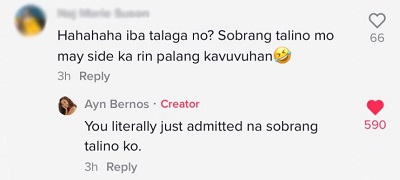 ADVERTISMENT - CONTINUE READING BELOW ↓
***
EXPLORE COSMO