To many of you, she is "Teacher Ayn," but Ayn Bernos has actually been changing the game for years now. The 26-year-old started creating content before the term "content creator" really became a thing and it all began with a blog called Sun-kissed Somewhere. In 2016, she launched a YouTube channel under the same name before switching to "Ayn Bernos" later on. Fast forward to 2021, Ayn is now also an entrepreneur, podcaster, and most recently, a Miss Universe Philippines 2021 candidate. Keep reading to know more about this morena beauty. 
Who is Ayn Bernos?
An entrepreneur
Ayn is the founder of the brand Morena the Label, which aims to help "morenas become more vocal about their skin color pride without having to say much." But it became more than just a clothing brand, it was a conversation starter.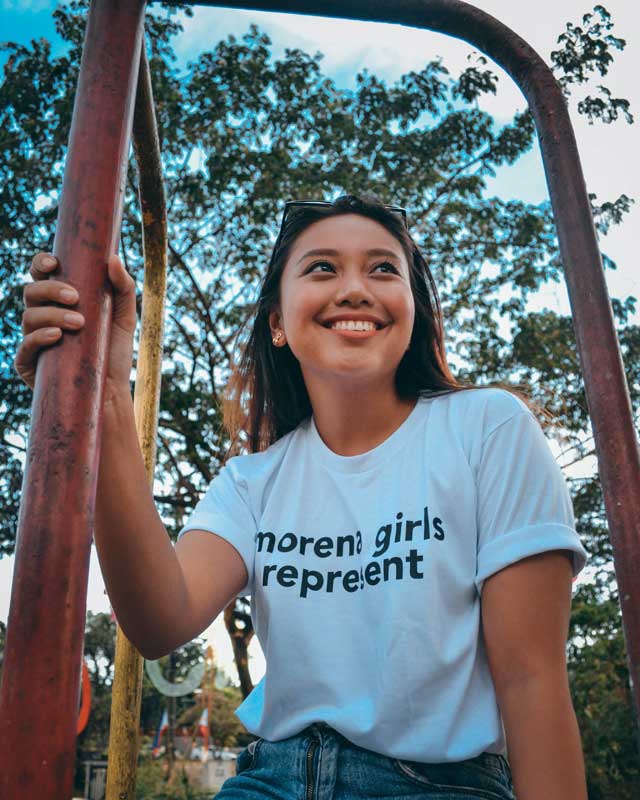 In an interview for Cosmopolitan Philippines' 2021 Fun, Fearless Forward (FFF) feature, Ayn said that she launched Morena the Label while she was working as an English teacher in Spain. She found a supplier in the Philippines and worked on the clothing line remotely—and yes, as a one-woman team.
ADVERTISMENT - CONTINUE READING BELOW ↓
Can you believe there was a time when Ayn was burnt out marketing professional? As part of our Cosmo Coach series, she recalled how manifestation helped her career: "Every morning, I would walk from the MRT station to my office and during that walk, I would see a huge store window and I would [look at] myself. Every morning, I would tell myself, 'I am not an employee. I'm the CEO.' And it was so funny [to think] that at 21, with my backpack, being all sweaty. But I truly believed it!" 
Recently, Ayn collaborated with Talaala PH on a jewelry collection featuring self-love affirmations: Check 'em out right here.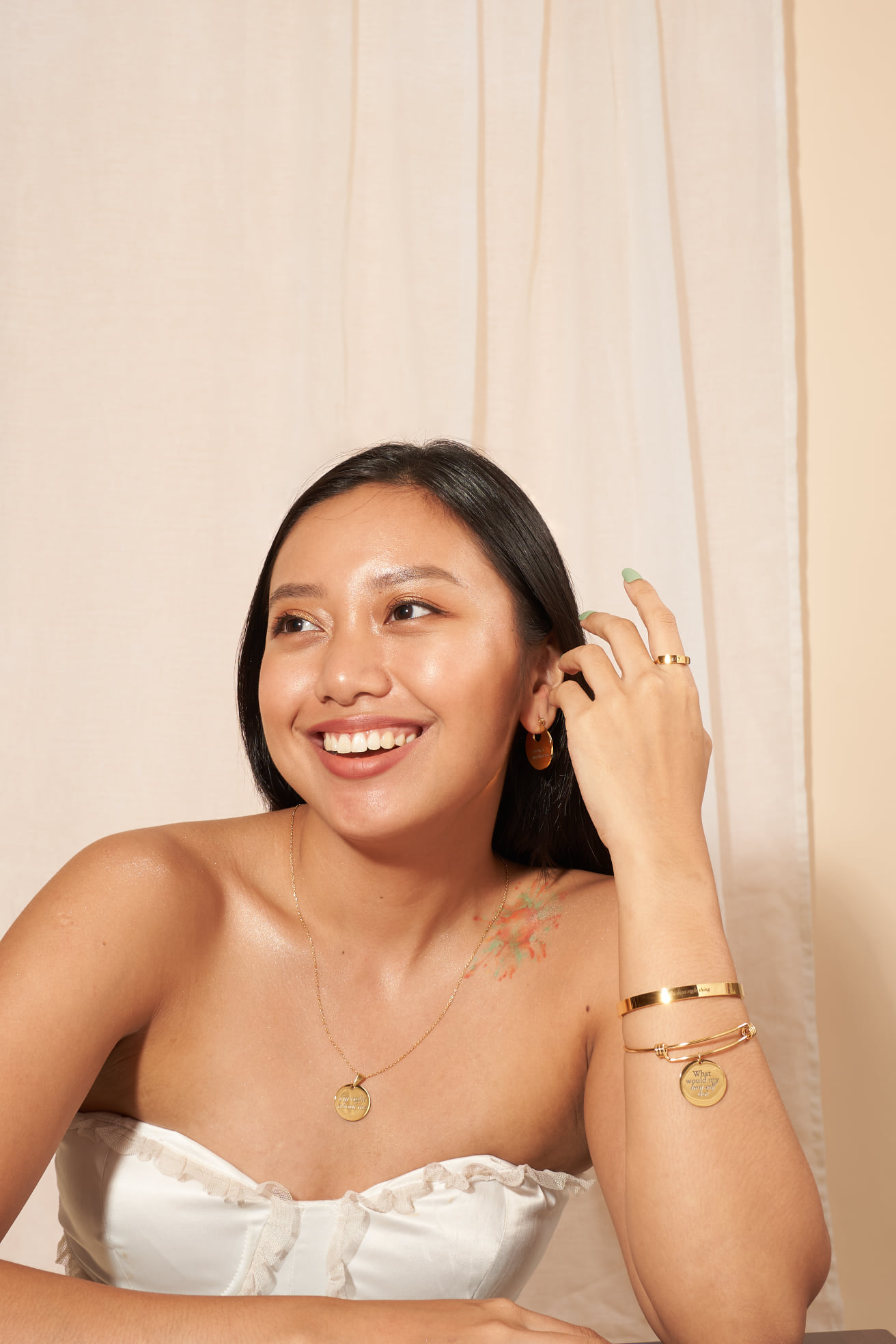 A podcaster
In July 2019, Ayn introduced Camp Confidence Radio, a podcast that tackles issues she's always been vocal about and advocacies like self-love, confidence, success, body image, and more. During the pandemic, Rizza Lana-Sebastian came on as a co-host, and they're now on their fourth season! 
A TikTok star: AynPeroTagalog
Ayn found more success on a new platform: TikTok! ICYDK, the content creator has two accounts: Her personal TikTok account (@aynbernos) is where she posts about her advocacies, general interests, and lately, Miss Universe Philippines updates. AynPeroTagalog, on the other hand, is where she teaches people the basics of the English language. In our FFF interview, she told Cosmo, "Now I get to understand a whole different group of Filipino learners and viewers. This one is still about confidence but confidence about learning that English isn't as intimidating as you thought and breaking the barrier that English is a status symbol." As of writing, she has 2.5 million followers on this account alone. Wow!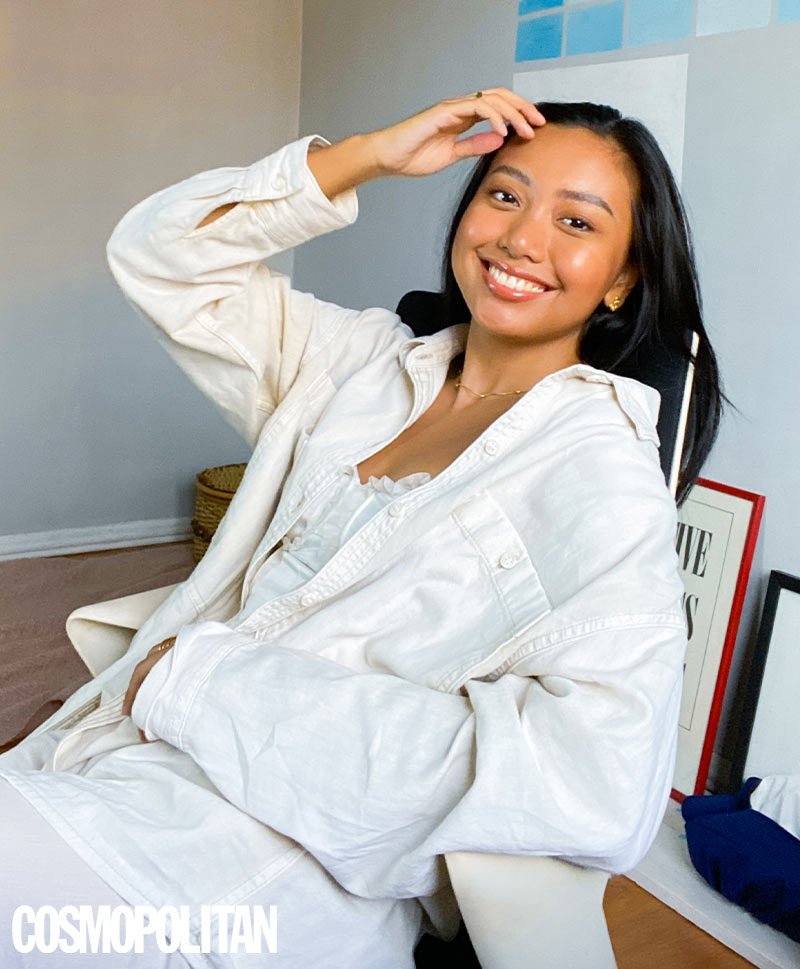 Ayn started focusing on TikTok in January 2021 and already, she's learned so much from the platform: "What I learned through TikTok is if their initial impression of you is somebody they need to fight, then they won't listen. The path to education and progress is through understanding, 'Bakit sila ganito?'…What is the root of this ideology and how can we address that in a way na we get to have them on our side? You have one shot to get people to listen to you."
ADVERTISMENT - CONTINUE READING BELOW ↓
Joining Miss Universe Philippines 2021
Ayn took everyone by surprised when she was part of the Top 100 list of women vying for the Miss Universe Philippines crown this year. Shortly after the announcement on July 19, 2021, Ayn took to Instagram to express her excitement, "When I was a kid, I would always stay up late to watch major pageants. I looked up to these beauty queens. I have so much respect for them. I admired them so much and I've always wanted to be like them. But at the same time, as a pageant fan, I always knew that I was not qualified."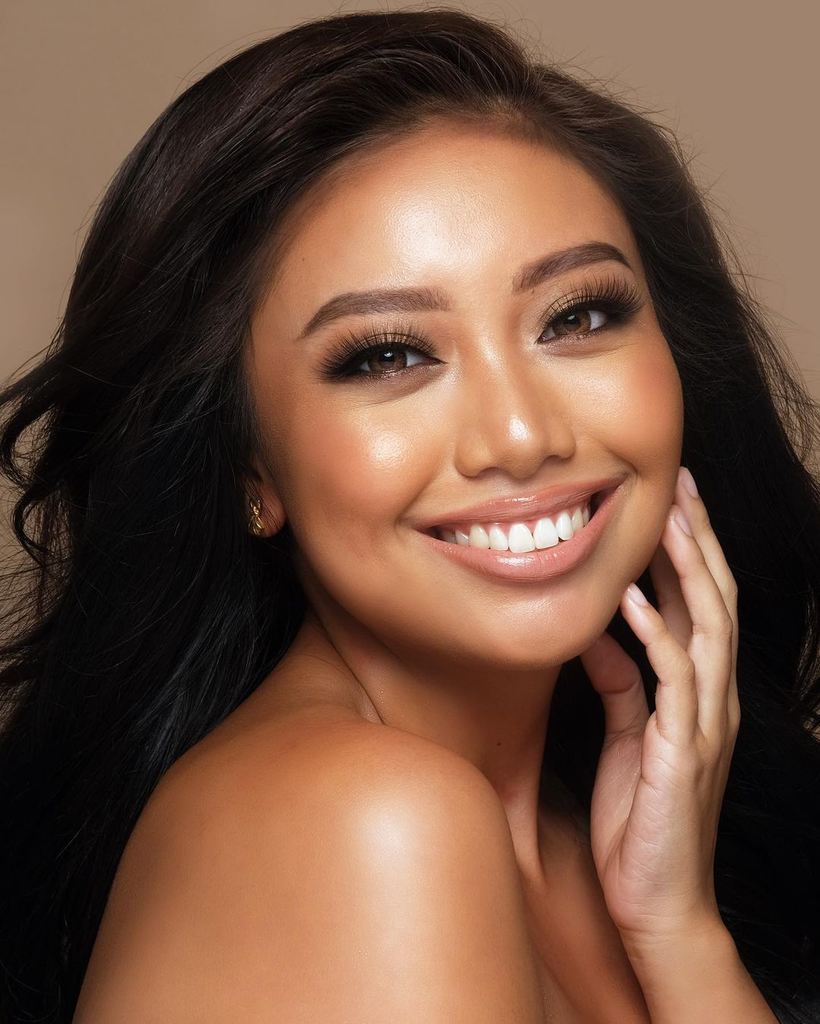 But when the pageant decided to remove the minimum height requirement, Ayn took that as a sign to immediately send in her application. She is currently training with beauty camp Kagandahang Flores. A crowd favorite, the 5'3" beauty has been dominating the challenges so far. Recently, she made it to the Top 50. Unfortunately, this also means the Ayn has had to deal with a few negative comments, including where she was told she "must have a mental health problem for even thinking I stand a chance against taller, smarter, and more beautiful women." 
She posted about it on social media, clarifying, "I did not join Miss Universe Philippines because I believed I was the beauty standard. I joined it because I KNOW I'm not, and it's about time girls like me are allowed to try, too."
We're rooting for you, Ayn!
MORE ABOUT AYN:
Ayn Bernos On Joining Miss Universe PH 2021: "I was always dreaming of this, I always planned for this"
This Pinay Started A Clothing Line That Celebrates Morena Pride
Ayn Bernos On Not Being The Beauty Standard: "It's about time girls like me are allowed to try, too"
***
Follow Vivien on Instagram.