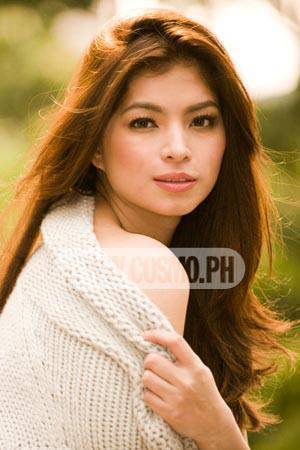 Though we all love to see our favorite celebs looking stunning in glam outfits, it's nice to see them dressed down sometimes to glimpse what they might be like outside of their glitzy careers. That's why when we shot Angel Locsin's fifth Cosmo cover for this month's issue, we made her wear the comfiest outfits and shot her in a setting that would really allow her to let her hair down, to show you just how she pretty she still is when she's enjoying some downtime.

You've seen her as a sweetheart, good girl, bikini babe, and bombshell--now's your chance to see her as a real-life girl-next-door. Cosmopolitan editor-in-chief Zo Aguila said, "It's really exciting that we have her again on the cover of Cosmo for October because it's her fifth cover, and every time, we know that the readers will appreciate seeing her. Seeing her on this cover in a new light will be super exciting also."

The Cosmo team was indeed really excited to shoot Angel, not just because this means finally giving in to your request, but also because Angel is so much fun to shoot! Zo shares, "I think our readers can really relate to her vibe. She's super friendly, parang super kabarkada. Every time we shoot Angel, it's the same way. She's comfy with us, we crack jokes, we can dance around her, and it's super fun."

Her shoot took place at the Ronac Art Center, where photographer Xander Angeles made use of both indoor and outdoor settings to capture Angel's natural beauty. Xander, who has photographed Angel so many times throughout her career, said that this particular shoot "was really fun. She's inspired, so everybody was full of energy. She's really glowing. She's so confident and she's very beautiful."

We couldn't agree more! See for yourself what happened behind the scenes at Angel's cover shoot when you launch the gallery. Also check out Angel's What's In My Bag? feature, cover wardrobe gallery, and behind-the-scenes video from the shoot!


Don't forget to grab a copy of the October issue of Cosmopolitan Philippines, with Angel Locsin on the front cover and John Lloyd Cruz on the flipside--in stands NOW!
Continue reading below ↓
Recommended Videos
1570