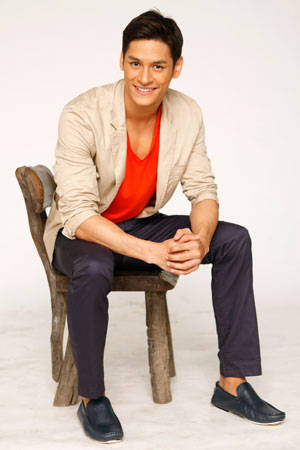 Brapanese hottie Hideo Muraoka walked into his July Cosmo Man On Fire shoot wearing a warm smile and bearing his bubbly personality. Not only did the Cosmo team love his professionalism as a model, but also the playful energy he brought to the set.

Shooting this Brapanese model for the spread aptly themed "boy-next-door" was a breeze for the team for, as photographer Doc Marlon Pecjo said, "it's always easy to work with someone who knows what they are doing."

But, don't be fooled: Hideo never really planned on becoming a model. Born and raised in Brazil, Hideo was in the middle of studying law when he decided to drop it all for a traveler's life instead. He explored many places in Asia before finally wandering onto our shores--and aren't we glad he did?

His modeling career here came as an "accident" a lot of model wannabes probably wish they had. A modeling agent spotted this hottie on the MRT, of all places. Hideo narrates that the agent kept staring at him (no surprise there) before asking him if he wanted to become a model. Hideo's rise to local supermodel status began in 2009, when he became the face of Folded and Hung. Since then, we've seen him on the covers of several magazines, including Cosmo's bro mag Men's Health.
Continue reading below ↓
Recommended Videos

It was only a matter of time before we put him on Cosmo's pages. Cosmo's deputy managing editor Camyl Besinga says, "We got Hideo for July's Man On Fire [since] he's one of the biggest [models] in the country. We've seen him in Philippine Fashion Week, opening and closing a lot of shows. We wanted to share his good looks and charisma with all our readers."

Given Hideo's modeling chops, Cosmo's associate fashion editor Happy Lopez found it easy to style him for the shoot. Happy picked out "a lot of relaxed pieces and smart casual get-ups that are boy-next-door and very bagay to Hideo. "

Launch the gallery now to see behind-the-scenes photos of Hideo's Cosmo shoot (oh, how you'll love the sneak peeks you'll get in this one! Hint: gorgeous abs!) and learn why the camera (and the Cosmo team) just loves him!

If you've seen our video interview with him on Cosmo TV, you'll know that Hideo's charisma is undeniable. He good-naturedly answered all our questions and openly talked about his dream of exploring the natural wonders of the world. Watch the video interview and grab the July ish of Cosmo to know more about him!
1361