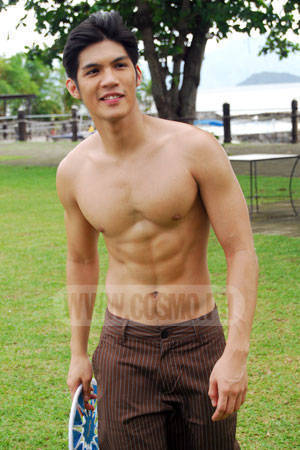 We hope we made your first month of summer exciting with our March Cosmo Online Hunk Jommy Teotico's hot, hot, hot photo galleries and interviews! Reading the comments you wrote about the first of three summer hunks, we saw how much you enjoyed seeing him bare that ripped bod of his in all his shirtless photos. It helps that he has a charming, very real personality to match.

We know you can't get enough of him, so even if we've showed you all four of Jommy's layouts, we are saving his behind-the-scenes photos for last, of course.

The Cosmo.ph team, together with Jommy, February Online Hunk Andrew Wolff, and Jommy's close friend September 2010 Cosmo Online Hunk Jose Sarasola, drove all the way to Club Balai Isabel in Talisay, Batangas for a back-to-back shoot. It was a breeze working with Jommy, who laughed at the team's side comments and just as easily put his game face on for shots. He kept the team amused with his own side comments and brand of humor, too. During the interview, he gamely answered all our questions--even those that made him blush!

Get an insider's peek at what went on during our shoot when you launch the gallery. Watch behind-the-scenes footage here, too.
1897