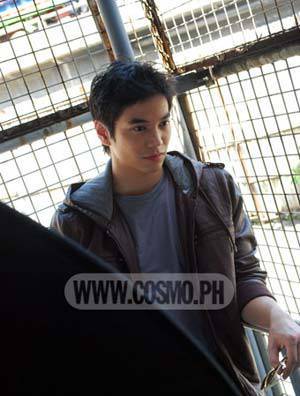 We have received loads of feedback--whether online, offline, through Facebook or Twitter--that you loooove our October Cosmo Online Hunk Andre Justin. Comments all fall along the lines of "He's sooo cute!" and "I have a major crush on him!" to "He's so mysterious, love it!"

Well, before we end Andre's month and introduce our November hunk, who we're hoping you'll all love just as much, we want to show you how much work we put into making Andre's cool four-week tough-guy feature, and just how much fun we had working with this professional and outgoing hottie.

Photographer Dairy Darilag, Cosmo.ph managing editor Trixie Reyna, videographer Chaps Ongchap, stylist Camille Santiago, behind-the-scenes photographer Jico Joson, and makeup artist Christine Rojas-Lavina all had a blast making every single one of Andre's layouts picture perfect--and the work lightened up with Andre's jokes, quips, and antics exchanged with the whole team in between shots.

Launch the gallery now to view behind-the-scenes snapshots of Andre's Cosmo Online Hunk shoot, and watch for his behind-the-scenes and interview video in CosmoTV this week! Watch for our November hunk on Wednesday, November 2!
Continue reading below ↓
Recommended Videos
1587