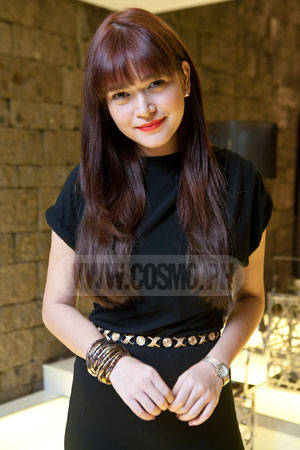 Bela Padilla has definitely risen above that controversial "racist" magazine cover. "As with anything in my life, when bad stuff happens to me, I face it. And then when it's done, when I can't do anything about it anymore, I move on," said the actress, who just finished taping for her soap, Hiram na Puso, and is quickly moving on to her next, where she's excited to play a kontrabida. An action movie with Robin and her other Padilla kin is also in the works.

Proclaimed No. 8 hottest at the FHM 100 Sexiest Women in the World Victory Party last July 12 at the World Trade Center, Bela appreciates the confidence boost. "It makes me feel sexy. It's nice to know that people think so."

Sexy for Bela is a state of mind. "You can't tell a person who's already a 36-24-36 that she is sexy if she doesn't feel sexy. I know it's a cliche. People say beauty comes from within, that sexy is all in your head, but it actually is. If you don't feel good about yourself, you won't look pretty to other people." It comes as no surprise then that what this stunner considers to be the sexiest part of herself is the way she thinks.

While Bela showed up to the FHM 100 Sexiest press con in an elegant black pantsuit, she says she feels sexiest when clad in really short shorts. "I like my legs. That's what I accentuate the most. I'm not as confident with my upper body, so I try wearing short dresses." On a regular day, high-waisted denim shorts, a loose top, and a pair of boots are enough to make this certified babe feel good about herself.

The sexiest female celebrity in Bela's book? Natalie Portman. Bela considers her to be one of the smart actresses she can look up to. "I don't want to be a person without substance, so I try as much as I can to learn new things, and I think Natalie is a good role model for me."

Launch the gallery to view exclusive photos of Bela Padilla at the FHM 100 sexiest press con!
ADVERTISMENT - CONTINUE READING BELOW ↓
2075