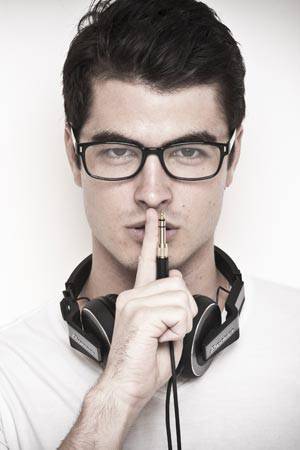 In the spirit of Halloween and the month dedicated to the men we love, why don't we shine a light on the concept of the alter ego? Men have innate fantasies they wish to fulfill but are discouraged from doing so by a range of factors such as lack of time, scarce resources, creativity lapse, or simply the fear of failure. But as the saying goes, "Don't knock it 'til you try it!"

Take Callum David, for example. This handsome trader/model/DJ from Brisbane, Australia is living proof that merely putting on a pair of Clark Kent specs can get your career prospects rolling...or shall we say, spinning?

Get to know Callum (who provided the tunes at the finale of this year's Cosmo Bachelor Bash!) in our interview with him below to see how he lives out his passion via his alter ego.

What brought you to Manila?

I initially came to Manila for a couple of modeling jobs I had pre-booked through Elite Model Management. I was making my way down to Australia from Korea and wasn't planning to stay long-term. I gave it a chance and I fell in love. People here have been so welcoming, I feel lucky to be here.

Apart from modeling, what else do you do?

Most people know me as DJ Vinimal and as a model, but I am actually a futures trader, too. In fact, I have been one longer than I have been modeling or spinning. It is what I love doing, but right now I am taking a break from it. Modeling has proven to be such an incredibly interesting part of my life, and I am very fortunate to be able to do it.

What do you think of the modeling industry here versus other countries in Asia?

The industry here is small and there are only a handful of international models. However, that isn't necessarily a bad thing. It's like a big family, everyone knows each other, and everyone is friends with everyone. As for the work produced, there is a wide spectrum of quality, just like everywhere else. Some are incredible and have some creative geniuses behind it.

Many assume male models are all the same, like they all like to party and are just pretty faces. What do you have to say about that?

There is some truth to that, but when it comes down to it, male models have a body that needs to be maintained. Going to the gym is certainly not fun or even productive when you are hungover all the time. Everyone has a stage in their youth when they probably partied too much, and most people get over it. The best male models I know are too busy working, they don't have time for partying.

What do you think of the Manila club scene?

I actually don't get a chance to go out too often. Almost every time I do, it's for work or work-related, but from what I have seen, I'm impressed. The crowds are good, the venues are clean, and the DJs really know what they are doing.

How would you describe your DJ persona?

I try to separate the two [sides of me], which starts with wearing glasses whenever I'm in DJ mode. It's a gimmick that gives my DJ side a bit more character and changes my look. As for personality, I'm normally a quiet guy; but on DJ nights, I'm a lot more energetic and I always try to engage the crowd. The DJ is the life of the party after all. The music I play in the clubs and at home is generally the same, but at home I get to play more of my chill-house songs, which I absolutely love.

What type of music do you play?

Chill-house inspired by Cafe del Mar to progressive house from Berlin. What exact style I spin depends on where I am, but it will always be some form of house. I don't play top 40 [songs], but I'm not going to play such underground house that people are going to be stranded on the dance floor.

Can you tell us some of your more notable gigs?

In Manila, I've played at Seventh High, Time, Opus, Bond (formerly Tabu), and I was also the DJ for this year's Cosmo Bachelor Bash at the World Trade Center.

Do you have a certain gimmick for your gigs?

[Aside from wearing] glasses, another thing [I'm known for] is playing little known, unheard of remixes or mashups. Finding them is an art form in itself and very time-consuming. I also try to sneak in little edits and effects from other songs to give the main song more depth.

What advice can you give those who wish to try juggling DJing with a more conventional job?

I started off using DJing programs on my computer, which allowed me to get a feel of everything and let me know I liked it. The next step from that was to get a simple two-channel mixer to plug in, giving me a hands-on feel. Nowadays, I have migrated from DJ programs and use CDs exclusively.

[They should also know that] marketing is hugely important. There are thousands of DJs out there--what makes you different? Are you extremely good technically? Do you have a good following? Are you charismatic? Do you have a style people associate you with? Do you produce your own music?

[Lastly,] never put all your eggs in one basket. If an opportunity shows itself in another field, go for it!

What do you think of Filipino women?

Well, I like petite girls and most Filipinas are very petite. So yeah, I'm quite into Filipinas! (Laughs.)

What qualities do you look for in a girl?

I'm constantly trying to learn new things from everyone around me, so intelligence is quite important to me. Can you teach me something new? Do you have a different way of looking at things? Intellectual conversation is appealing to me.

What kind of woman catches your eye in a club? Why?

The small, cute, shy girls--I don't know why, they are just so cute! (Laughs.)

Launch the gallery to see the different sides of Callum David, a.k.a. DJ Vinimal! Check out where he's spinning next or listen to his latest mixes by liking his Facebook Fan Page or visiting his website.
Continue reading below ↓
Recommended Videos
1586