Over the weekend, the Internet quickly jumped on a social media post detailing very private conversations—Instagram DM exchanges and Facebook messages—between actor Carlos Agassi with different women. RBreezy, a Facebook page with over one million followers, exposed the messages which contain Carlos asking them either on a date or a one night stand.
Following the weekend discussion of his overpopularized "sneaky" social media techniques, the 38-year-old former TV host and rap artist took to his Instagram account to air his side on this incident. In a lengthy post, he wrote "I'm single and enjoying my life as long as I follow by Gods rules and mans rules TNx for making me famous on social media ;) some of them may be true and most not ;) I'm only human and a man :-) so again thank you and if the people I care about are affected I'm sincerely sorry, didn't want any of u to get hurt :-) I'm just a single man living life and hopefully I find my soul mate :) funny thing most of the women there are the ones who messaged me and They just screen shot what makes them look good some stories u hear may be true or may be not true :) enjoy and do what makes u happy :) God bless u all."
Continue reading below ↓
Recommended Videos
But it didn't end there. He followed it up with: "Learned a lot from this so to all the people direct messaging me sorry would love to meet u [sic.] but can't baka mamaya u just wanna be famous :) Kanye famous :) love u peace out #tirador #lodi #petmalu #fuckboi just making fun of the stupid situation I put myself into. To those dealing with depression or contemplating to commit suicide, please remember you are loved, don't let the negativity of the world or other people affect u, remember everyone makes mistakes no one is perfect, so please love yourself you are loved.
To those trying to put others down especially u don't know them I hope di Po kayo makarma as in Baka di nyo kayanin. And what's worse u might be the reason the person commits suicide, I pray for your enlightenment even if your catholic or not, there is one true God :) to those haters this is me not making malinis but stating facts :) haha fuck you love your Pambansang fckboi and just so u know I'm a straight forward honest man that respects women :) #hatersgonnahate #loveit lover not a fighter the art of deadma life goes on Inspired to inspire Pls like and share to win prizes :)"
Not long after, he posted yet another statement about what happened. He wrote: "Thanks for this weird feeling of embarrassment and happiness. Embarrassed cuz the people I care about are affected and happy cuz I truly now know the people who actually truly care about me."
At the end of his long post, he said, "If asking a single girl's cell number or asking her out on a date is wrong. I should just probably wait for the right one all in God's time."
While it was clear that Carlos did not coerce anyone to say yes to him, netizens are quick to react and shame him for his "online conquests," mostly calling out on his persistence to ask someone out for a one-night stand.
One netizen even commented that Carlos was continuously asking her mom for a date and a tryst to his condo unit, while other unverified accounts mushroomed in the post's comments section.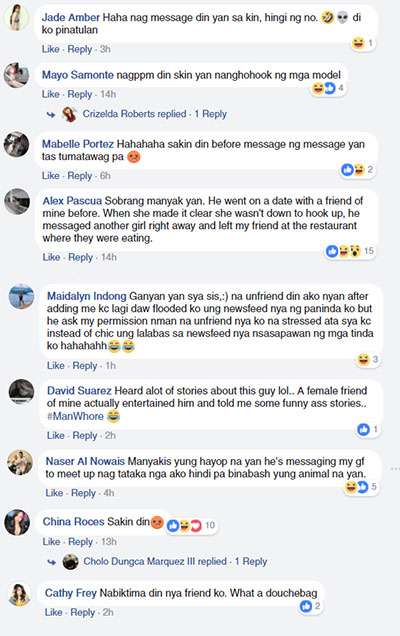 Follow Leo on Instagram.