Yesterday, Miss Universe 2018 Catriona Gray posted a teaser video on Instagram. The clip shows Cat walking down a street, where she's surrounded with insults like "You're not deserving," "Not good enough," and "Insecure."
She captioned her post, "I've been waiting for the moment the rest of the world gets to finally see this. I feel like you will all relate to the story and message once you watch this gorgeous film. Soon!" What could this mean?
Two months ago, Catriona was body-shamed by Thai beauty queen Coco Arayha Suparurk. Coco called Catriona fat on her IG stories.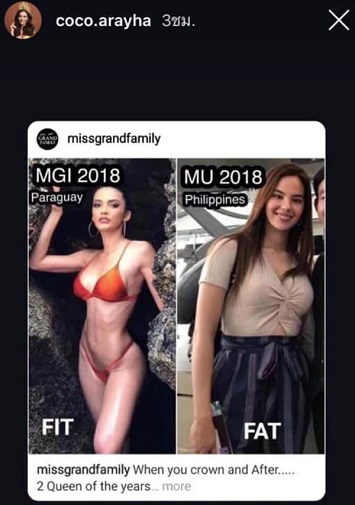 While people called Coco out, Catriona made a statement on body shaming on Twitter. "Body shaming is hurtful and [should] never be tolerated. If anyone reading this too has been [body-shamed], I know how it feels. I'm sorry you've had to experience that. But [know] that you are more than your appearance. You are a capable, unique, and worthy person. And you are never alone."
Continue reading below ↓
Recommended Videos
Catriona has also been vocal about her low points. A few weeks after the fat-shaming incident, she wrote, "It's been a really challenging [past] couple of weeks. I've felt really low in my spirit. I just wanted to write this post to share that low moments happen to all of us."
Catriona ended that post on a positive note. "If you're feeling down in the dumps, you're never alone. Situations and life are tough, but so are you. #KeepCalmAndLavaWalk"