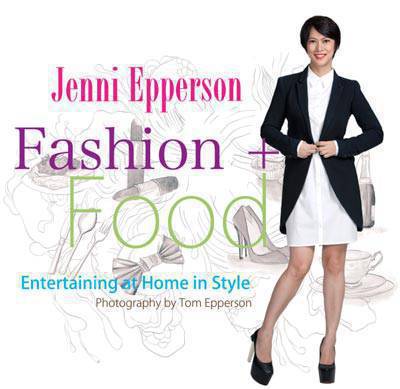 Stylists are celebrities' answer to looking great on a whim at any budget, anytime, anywhere. But come on, who can really afford to have one? As we know, living the celebrity life isn't exactly the cards dealt to everyone, unfortunately.

However, that doesn't mean we should feel deprived of their celestial wisdom, especially when it comes to looking good while saving enough for the new year! We tapped Jenni Epperson--celebrity stylist, contributing fashion editor at the Philippine Daily Inquirer, and blogger--for holiday-savvy tips that those of us who don't have a celebrity budget can use. The newly published author of the book Fashion + Food: Entertaining At Home In Style offers her advice on shopping, fashion, holiday bonding, and more! We got to chat with her at her recent book launch; read on for excerpts.

When celebrating with friends, what are your tips for maximizing a small budget?

Skip expensive exchange gifts and use the money for a potluck! Keep the exchange at a budget agreed upon by the group, and then use the rest of your money to bring some food that would help make dinner more festive. Not only will it force you and your friends to get creative and personal with your gifts, but they will also love the sumptuous meal!

What's your best holiday decorating tip?

Personalize it. Don't make a generic Christmas cut-out. Personalize your decor and make Christmas truly yours or your family's. Christmas is not [just] a generic green and red; theme your tree purple if it's your kid's favorite color.

If you're living alone, have a limited budget, or are just too lazy to decorate, what's one thing that can make your place a bit merrier during the holidays?

A Christmas wreath or mat at the door and a cinnamon-scented candle inside the house. You would love coming home, plus you will help give cheer to your neighbors' holidays. You would literally smell Christmas in the air all month!

When on a budget, what's your best holiday fashion tip?

LBD, baby! Girls, everyone has one. That little black (or white) dress is a great palette for so many possibilities. Go festive with the accessories--it's a much cheaper alternative to buying a brand new ensemble.

What's the biggest holiday fashion faux pas one can commit?

Here's a fashion don't during the holidays: something too tight and restricting. Although no holiday is ever an excuse to allow yourself to bloat, make room for that possibility. After all, if you're going to have another serving of that cake or lechon, you want to be ready.

Other than red, what other colors are great to wear to holiday parties? What's the best way to style them without going overboard?

The best holiday style, as I mentioned in my book, too, is jewel tones. With colors like sapphire, ruby, and emerald, it's not even necessary to accessorize all that much. Keep the makeup simple and polished.

What are your tips for saving money while holiday shopping?

It's a tried and tested no-brainer necessity: a checklist. Make yourself one, ladies! Focus, focus, focus! Plan ahead and think of items that you need already or gifts that would fit the character or needs of the people you love. It's coming into a mall with no idea what to get that makes it harder to take control of your wallet.

What's your tip for finding cost-efficient yet still personal gifts?

Use either your moments or your talents. Try to look back on the moments you had with the person and find something significant to both of you. Did you have a great time at the spa one time with a close friend? If you can't afford a gift certificate, buy her some massage oil or a massager, letting her know that you remember your favorite moment of the year with her, and also giving her the impression of another spa session coming up in the year ahead!

It's not hard to find a cheap alternative to a gift if you're creative. Is your boyfriend a car person? Since you can't buy him a car, get him something he can put inside his car to remember you by. The simple things stick. This holiday season, despite the cliche, you must always put this principle to good use: It's the thought that counts. So put some thinking into it and you will definitely make it super special.
Continue reading below ↓
Recommended Videos