The world has been keeping its eyes on Indian model/actress/singer/producer Priyanka Chopra. (We were all in awe when we saw photos and clips from her wedding to Nick Jonas and she was absolutely breathtaking in the Jonas Brothers' new music video!) Now, she's starring in a new Netflix film called Isn't It Romantic! 
Isn't It Romantic tells the story of an architect and cynic named Natalie (Rebel Wilson), who wakes up one day to discover that her life has suddenly become her worst nightmare—a romantic comedy—and she's the leading lady. It's not your typical rom-com—it's actually a satire that makes *fun* of film stereotypes! The film also stars Liam Hemsworth, Adam Devine, and, of course, Priyanka!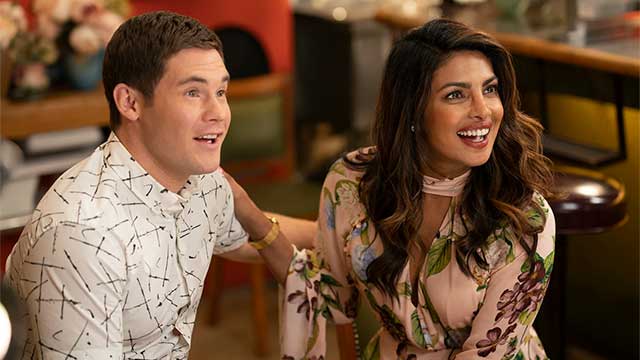 Cosmo.ph got to talk to Priyanka (who plays a ~yoga ambassador~ named Isabella in the film) about her favorite rom-coms, shooting that incredible karaoke scene, and what she loves most about her character: 
You've done romance films before, but what drew you to being part of this film, in particular? 
I joined the film in solidarity with Rebel [Wilson]—the producer and leading lady of this movie. I shot the movie when I was on my hiatus, so I had about a month and a half, and this movie was filming in New York while I was in New York. It was very convenient to do.
Plus, I thought that it was a really funny script. I wanted to come on board to support Rebel because it was a really cute movie and it fit into my timelines. It was just about supporting a female colleague of mine, who has not only produced this movie, but has also dreamed of starring in it after being in the business for 20 years. It's just so amazing to finally see, so that was the biggest reason for me.
Continue reading below ↓
Recommended Videos
You play Isabella, who's a yoga ambassador and somewhat gets into a love triangle. What was your favorite part about your character?
I loved that Isabella's character is very self-assured. She obviously comes from old money, so money's not a problem for her. I love the fact that she's a spoiled brat and that she's used to getting what she wants. Then here comes this woman [Rebel's character Natalie] who could disrupt her perfect life, and she can't handle that. I love that she has spirit and that she's feisty, but at the same time, she's [still] a nice girl. She's not insecure in the beginning, but when somebody tries to get her man, she stands up for herself.
The cast has amazing chemistry and comedic timing together. What was it like filming with them on set?
I wasn't there for the shoot the whole time, but I've made friends for life. I mean, we stay in touch, we have a group chat where we text each other and support each other. It's really nice when you go into work as colleagues and come out as friends. Whether it was [bonding with] the director or the cast, it was just a really amazing experience in that way—very positive.
Adam is an amazing writer and actor. He has this amazing comedic timing that it was really easy feeding off of him. We had to do a lot of improv, and we came up with a lot of things last minute. He was just an amazing guy on so many levels that I loved working with him.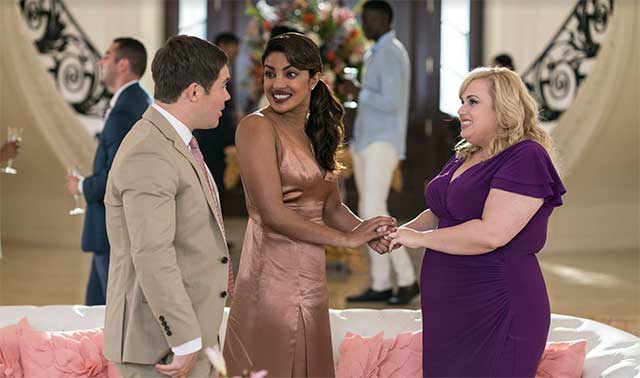 What was your favorite scene to shoot?
My favorite scene to shoot was the karaoke scene. It was so much fun to do! "I Wanna Dance With Somebody" is one of my classic favorite [songs], and then to actually be able to do a pop song in a Hollywood movie instead of a Bollywood movie was a culturally interesting [thing] for me to do.
How was it like filming the karaoke scene?
It was only for two days, but it was a lot of work, it was also a lot of dancing. We all didn't [want to] hear the song anymore after like, the next three weeks, because we had heard it at least five hundred times in just two days of filming! But it was just so much fun [to film], because everyone was together, and we all just got to bond and perform together.
What are your favorite rom-coms?
Oh my God, I love rom-coms. I love Jerry Maguire, I love Love, Actually, Pretty Woman... there's just so many of them!
Since you love rom-coms, are there any rom-com tropes or stereotypes that you particularly love?
I mean, look, we all have rom-com cliches that we loved over the years, like when the girl wakes up and she suddenly has perfect hair and a face full of makeup. Or like the guy always does this big, massive gesture at the end. Everything always has to be soft-focused and beautiful, they always have to kiss in the rain…those kinds of things are really funny, but they fit in romantic comedies.
And that's what I loved about doing this movie because it was so clever in calling out all of those things, and that for us—you know, our generation who grew up watching these amazing romantic movies—we can definitely recognize them and make fun of them. Whether you hate romantic comedies or love them, you will like Isn't It Romantic because it's meant for both of those people.
Isn't It Romantic is now available for streaming on Netflix! 
*Answers have been edited for clarity.
Follow Lily on Instagram.