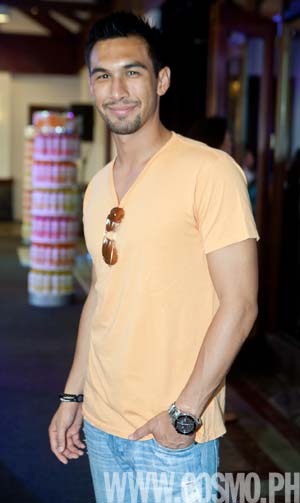 Pro footballer Anton del Rosario gets asked a lot of questions about the Philippine Azkals, football in general, and occasionally, that steamy turn as a 2011 Cosmo Centerfold. But leave it to Cosmo to throw the hard-hitting questions our readers love us for, like how a regular chick can catch his eye and how we should dress on a date with him. (We can always dream, right?)
At a launch event last year, we chatted with the Azkal center-back to pick his brain about what he thinks of women's fashion. Read the interview below to find out what Anton had to say!


For a guy, how important is a girl's fashion sense?
A girl who can maintain herself means a lot. A girl who can put herself together, that's the kind of girl that guys are looking for.

Would you ever let your girlfriend meddle with your style?
Yes, sure why not? Help out. 

How could a girl suggest fashion to her guy? What way would be effective?

Just tell me or point out the stuff that she likes and I try it out if I feel comfortable in it.
ADVERTISMENT - CONTINUE READING BELOW ↓
What kind of outfit on a girl catches your eye?

Not necessarily fashionable and sexy. Something sexy, but not over -sexy.

What's the best way for a girl to dress on a first date?

Whew! This is a thinking question, I need to sit down and start writing it down. I love heels, so I guess heels.