The last time Paulo Avelino worked with Cosmopolitan was way back in 2014, when he was both in the centerfold and on the cover of the COSMOMEN issue, and strutted down the catwalk of the Bachelor Bash in World Trade Center.
"What changed in the last four years?" we asked the notoriously reserved actor.
"Well, I definitely lost the muscles!" he said. "I'm skinnier now." Paulo turned 30 this year, but he hasn't seemed to age at all. He could still pass for a college student, albeit not the alpha male jock who's always the life of the party. Paulo comes off as the shy, brooding type—the good-looking but mysterious guy who's not easy to stalk on social media because he doesn't give away all the nitty-gritty details of his life.
Between interview questions, he took his time to really think about his answers. There were long, pensive pauses before each reply. It was a refreshing change from other actors hamming it for the camera and giving canned showbiz answers.
"I try not to talk about it as much when at work and outside of work," he said when we asked how he's able to keep his personal life private. We also discussed the pros and cons of social media. "You know the nice thing about it is you can express yourself," he said. "[The] bad thing about it is sometimes we tend to not filter what we say, and we tend to be inconsiderate of what others would feel about what you say and what you post."
"Sometimes it gets out of hand. They get to bash the person you love. But it's all good. At the end of the day, I'd still love to believe that our viewers are smart enough to understand reel from real."
Fans who follow the actor on Instagram know that he's managed to maintain his black-and-white theme for years. These days he shares mostly work-related photos, like movie posters and endorsements. Once in a while there are glimpses into his personal life—like travel videos and artistic photography, all carefully curated into his Instagram grid.
As for his love life, all you need is to Google to know that he's been in a relationship with Filipina-Australian model, Jodie Elizabeth Tarasek, since last year. We asked Paulo if it's difficult to be in a relationship when you're a celebrity. "In a way, yes, especially here in our country, because the fans always hope for you to end up with the person you've worked with or your love team," he said. "Sometimes it gets out of hand. They get to bash the person you love. But it's all good. At the end of the day, I'd still love to believe that our viewers are smart enough to understand reel from real."
Speaking of reel life, he spoke fondly of his onscreen partners. When quizzed on his top three leading ladies, he mentioned Bea Alonzo, Maja Salvador, and Lovi Poe. Why? "Because [they] feed me!" he joked, referring to Bea and Maja, while admiring the talent of all three.
In his upcoming film, Goyo: Ang Batang Heneral, Paulo reprises his role as Gregorio Del Pilar and is paired with a new leading lady—Gwen Zamora. Although Goyo has a reputation of being a womanizer, the film focuses on Goyo's last great love, Remedios Nable Jose, played by Gwen.
Goyo is the second part of Jerrold Tarog's trilogy—the first being Heneral Luna, which received critical acclaim back in 2015. It's the most successful historical film in Philippine box-office history, grossing more than P200 million. In the mid-credits scene, Goyo gathers Heneral Luna's remaining men and tells his aides to choose 60 of them, clueing in viewers on what part two would be about.
"You always have your good side [and] your bad side. It's nice to show that no one's perfect. You have flaws and all."
In 2017, Jerrold released a 20-minute short film, Angelito, exclusively with Paulo and Maja's romantic-comedy, I'm Drunk, I Love You. The short film served as a spinoff to bridge the events between Heneral Luna and Goyo: Ang Batang Heneral.
The upcoming Goyo centers on the leadership and struggles of Gregorio Del Pilar after the death of Antonio Luna. In 1899, Goyo was only 24 years old, the youngest general during the Philippine-American War. In the historic Battle of Tirad Pass, Goyo led 60 Filipino soldiers from President Emilio Aguinaldo's rearguard against the 33rd Infantry Regiment of the United States under Major Peyton C. March.
"It's the biggest film I've done to date, not just in terms of my role but also in terms of the whole production," he said about Goyo. A few months ago, TBA Studios released a behind-the-scenes preview of Goyo's production, showing viewers exactly how grand the sets are, plus some of the challenging scenes, including one where a shivering Paulo does an underwater scene.
For the casting process, Paulo revealed that he was invited by Jerrold to audition as Del Pilar even before Heneral Luna started. "I remember reading a love letter from one of Goyo's girls," he said of the audition process.
To prep for his role, Paulo took horse-riding lessons, attended lectures by Philippine historian Ambeth Ocampo, and read piles of history books. He also recalled one of the hardest scenes they had to film. "Shooting on that mountain," he said, referring to the Battle of Tirad Pass scenes. "Logistically it's hard going up the mountain. Only 4x4 cars [could go up] and if it rains, no one could really go up the mountain. [We'd] have to walk or hike in our costume."
These days, aside from promoting Goyo, Paulo continues to play Gael in the ABS-CBN TV series, Asintado, and is currently working onThe General's Daughter, a new series with Angel Locsin. We also saw him in the recent hit, Kasal, opposite Bea Alonzo.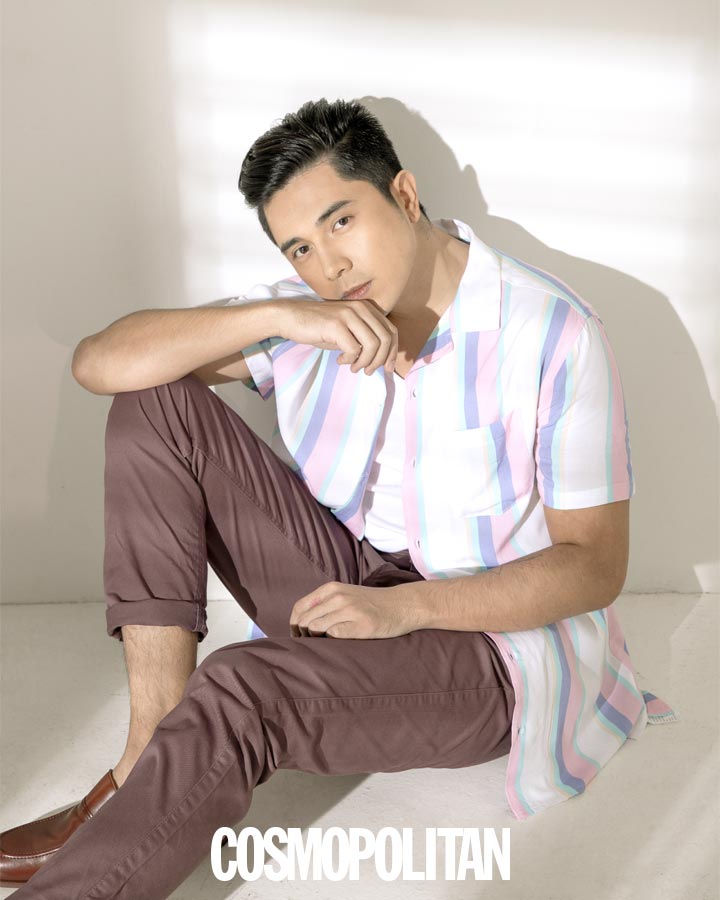 Does he prefer playing the good guy or the bad guy? "I like to play something in between, you know. It's like yin and yang," he said. "You always have your good side [and] your bad side. It's nice to show that no one's perfect. You have flaws and all." It sounds just like the characters he's played. You're not entirely sure if he's the good guy or bad guy, and this complexity makes the character different from the usual.
So how does Paulo take a breather from his work? If you look at his Instagram, it seems to involve a lot of motorbiking, which he admits is his way of escaping from reality. "It gives me time to assess what's happening… I'm like being my own psychiatrist. It gives me time to think and to reflect," he said. "To unwind, I play a lot of computer games. I read books here and there, but basically, that's it. It's my life right there!" he said with a laugh.
When at home, there are four-legged cuties keeping him company. "I have two bulldogs—one French and one English," he shared. He's thinking of getting another pet, this time a cat—a British Shorthair, to be exact. It's the one that looks like a teddy bear with big round eyes. "But I'm still thinking because my dogs might maul it!" he said.
Aside from his loves, what makes Paulo truly happy? "Actually, I feel happy when I'm not pressured with anything," he said. "I'm not pressured with work, with bills to pay, [and] with time. Parang it's hard, especially now, you come from working and you have a shoot again later. Tomorrow you have an early shoot, and you get pressured in a way. You'd always want to sleep early. You always want to squeeze in everything you'd like to do within the day."
We couldn't end the interview without asking one final love-related question: "How has your view on love changed now that you're 30?"
"It's pretty much still the same. I definitely appreciate a more chill relationship. No pressure. No pressure on anything in the relationship. That's it!" he said with a laugh, and then added, "Word of the day: No pressure!"
Goyo: Ang Batang Heneral will be released in Philippine cinemas on September 5, 2018.
Visit Kate on KateWasHere.com and follow her on Instagram and Twitter.
ART DIRECTION & PHOTOGRAPHY: Jico Joson
ART DIRECTION ASSISTED BY: Mixi Ignacio
PRODUCED BY: Jacinda A. Lopez
SHOOT COORDINATION: Lou Ferrer
SOCIAL MEDIA: Andie Estella
STYLING:  David Milan
HAIR:  John Valle
MAKEUP: Lala Flores
VIDEO SHOT BY:  Jean Saturnino and Coleen Oliva
VIDEO EDITED BY:  Sam Navalta