In 2017, CNN published an article titled "50 Reasons Why Seoul Is The World's Greatest City." Of course, you'll immediately expect the list to include how great the food is and how scenic the tourist spots are in South Korea's capital. But one person stood out as the sole K-pop idol mentioned in the article: G-Dragon (or GD). It's a name that needs no introduction. But in case you don't know him yet (really?!), allow us to introduce him to you, how influential he is, and how much $$$ he might have in the bank.
G-Dragon as a K-pop superstar
Born Kwon Ji Yong, G-Dragon started his career at the young age of six. After years of training, he led the legendary K-pop group, BIGBANG, who made their debut in 2006. Since then, the quintet has solidified themselves in the Hallyu world as the Kings Of K-Pop. In 2012, they were highlighted in a story by The New York Times, a rare feat for an idol group during those days. BIGBANG's popularity continued to rise throughout the years, with multiple world tours and an impressive 140 million records sold worldwide. This gave them an estimated total net worth of $33.2 million (around P1.6 billion) in 2016, according to The Korea Herald.
GD has also embarked on a successful solo career while still being a member of the group. His world tour Act III: MOTTE is listed as the "largest-ever world tour conducted by a solo Korean artist" and he consistently tops the charts with his singles. He is not just a performer with a magnetic stage presence but also a songwriter and record producer. The K-pop idol reportedly receives $700,000 (around P34 million) annually in royalties alone. Wow, fantastic baby.
ADVERTISMENT - CONTINUE READING BELOW ↓
G-Dragon as a trendsetter 
Apart from being recognized in the music industry, GD is also known as a fashion icon, with his superior taste in trends and cutting-edge, androgynous style that not anyone can pull off. He can don a multi-colored hairstyle or wear women's clothes and look so, so good while doing so. GD sets the trends, everybody else follows.
In 2016, GD launched his own fashion brand, PEACEMINUSONE, with limited edition items that flew off shelves, as seen on its website. A padded denim jacket is priced at $702 (around P33,708) and the infamous Bulldog Clips (with his brand engraved on them) are worth $34.20 (around P1,600) for a pair. You can now imagine how much he received in sales.
GD is also one design genius. Did you know that he released one of his albums in the form of a flash drive instead of the usual CD? Aside from this surprising move, fans were also*shookedt* when the red coating of the device started rubbing off, only to find out that it was intentional. Soompi revealed YG Entertainment's explanation: "Rather than mass printing the red on the USBs, YG had to simply have the USBs hand-colored in red ink to get the red smear and vintage scratched look that G-Dragon wanted for the "birth" concept, which is furthered by the print on the USB, which says "Kwon Ji Yong, Blood type A, 1988, August 18"; the print was handwritten by G-Dragon's mother when he was born." ONLY GD!!
Speaking of design, GD is also known to be a top art collector, with an impressive collection that we can get a glimpse of on his Instagram. And those pieces don't come cheap, you guys.
G-Dragon as a brand's dream endorser
As a pop culture icon, brands are sure to line up to have GD promote what they sell. Some of the international names that he endorses include the luxury fashion house Chanel, the shoe brand Nike, and AirBnB. It is said that he earns at least $2 million (around P96 million) for his endorsement deals. This may seem like a hefty amount but that's because of his steady following (he's the most-followed K-pop idol on Twitter, btw).
His collaboration with Nike in 2019 for the Air Force 1 PARA-NOISE sold out in 30 minutes WORLDWIDE and each pair cost $200 (around P9,600)! Cute trivia: GD gave our krung krung Sandara Park not just one or two, but three customized sneakers from this collab! 
ADVERTISMENT - CONTINUE READING BELOW ↓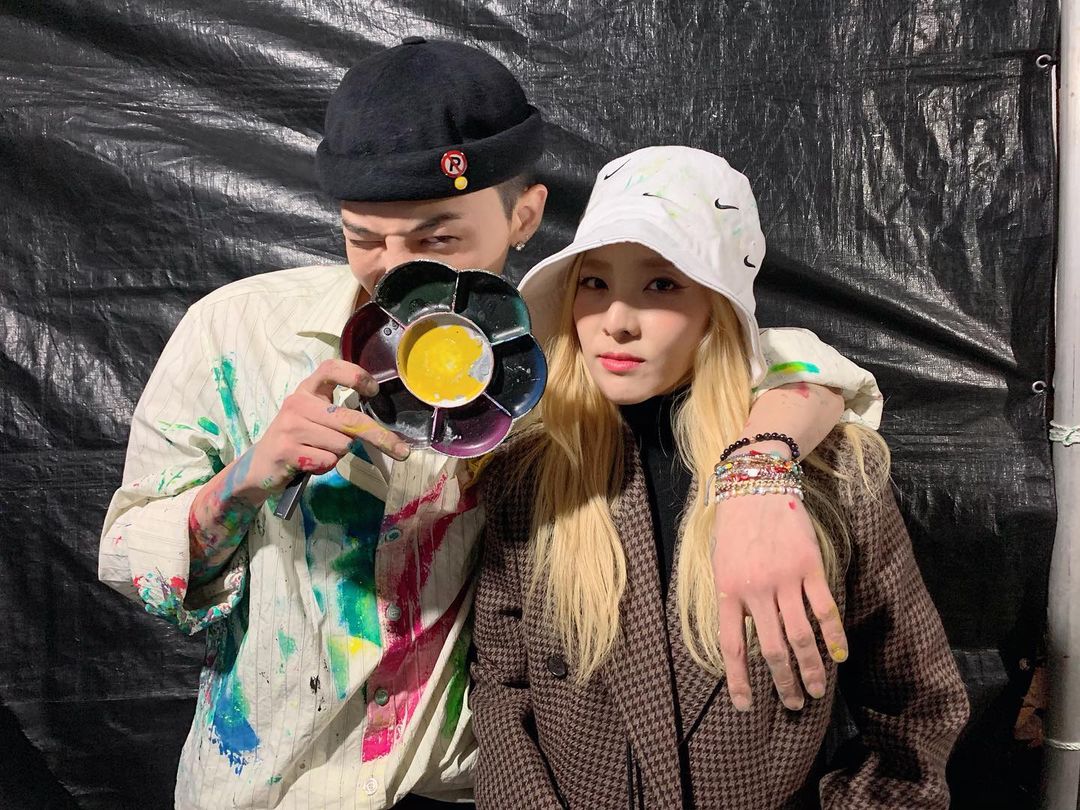 In November 2020, GD graced the covers of Vogue in head-to-toe Chanel, and lemme just drop another bomb: It's the magazine's bestselling issue so far with more than 28,000 copies sold in the first three days alone! I have no words anymore for this king.
G-Dragon's many, many assets
You may ask: With that amount of money, what does GD like splurging on? Well, lavish suites lang naman in the most expensive areas in Seoul! Earlier this year, it was reported that he bought a penthouse (I repeat: A PENTHOUSE) and is currently enjoying the ~sunset glow~ in Nine One Hannam, worth $8 million (around P385 million)
Aside from where he currently resides, GD is also a building owner. He built two cafes in Jeju, and one of them is said to rake in at least $13,900 (around P667,000) per day. Some of his other real estate investments also include: An Alice In Wonderland-inspired building in Cheongdam worth $8 million (around P385 million) and another one called Galleria Foret which he purchased for $27 million (around P1.3 billion).
GD also has expensive taste. He owns a Lamborghini worth $489,000 (around P 23 million) and a gold iPhone case that's worth waaaaay more than his actual phone. Did I mention that his refrigerator is stocked with truffles, caviar, and foie gras? He probably pays for these using his elusive black card! Fun fact: This specific credit card isn't available for everyone and it's strictly by invitation only. Very Sky Castle feels!
ADVERTISMENT - CONTINUE READING BELOW ↓
G-Dragon is with no doubt "The King"
GD may have the most expensive stuff but he is not one to forget his loved ones. He apparently bought his parents a pension hotel years ago amounting to 1 billion won (around P44 million) He has also been secretly giving to charity, and it was revealed that some of his donations include an $89,600 (around P4.3 million) contribution to the Seoul National University Children's Hospital and another $81,800 (around P4 million) to patients with Lou Gehrig's disease. The artist is also loved by his fans because he influences them to do good. On one of his birthdays, he told them that he will not accept gifts. Do you know what they did? They donated $20,000 (around P960,000) to a hospital instead and GD was so touched by this gesture that he added $50,000 (around P2.4 million) to the same cause. Awww!
So how rich is G-Dragon?
With all that's mentioned about his huge AF assets, really, how rich is he? Based on reports, GD is part of the top three richest K-pop idols and his net worth is...taah-daah! $55 million or P2.6 billion. I think my eyes went bigger after typing this.
I read somewhere that not all artists have "it." This means that not everyone can be caught in controversies (GD has had a number of them over the past years) and still return as the same star that never lost its shine. And GD has "it"—you see, no matter the issues he faces, he comes back stronger than before, and the love he receives multiplies. What's the reason behind this? It's his fierce dedication to his craft and the amount of effort he exerts in everything he does. This makes G-Dragon undisputed, unrivaled, and truly~one-of-a-kind~, a perfect description for the King of K-pop.
Follow Hanna on Instagram.