On February 24, 2021, MTV UK posted a video of BTS performing their cover of the Coldplay classic "Fix You." The clip, which was shared on YouTube, is part of an MTV Unplugged special, and it got a lot of people emotional. 
Watch BTS' "Fix You" Cover:
But German radio host Matthias Matuschik wasn't the least bit impressed with the South Korean group's rendition. According to Soompi, while on air at the radio station Bayern 3, Matthias said (in German) that BTS' performance was "blasphemy" and then compared the artists to COVID-19: that they are "some crappy virus that hopefully there will be a vaccine for soon as well."
Matthias' comments fueled criticism from BTS fans all over the world, all of them accusing him of xenophobia and racism. Insider.com points out that the comparison "echoed the racist discrimination and harassment that people of Asian descent have faced over the course of the pandemic," and it links this to hate crimes.
Initially, Bayern 3 issued a statement defending Matthias. They said that he has the tendency to "express his opinion clearly, openly, and unvarnished," and that it was a "hallmark" of his program. Matthias "just wanted to express his displeasure over the aforementioned cover."
But fans argued that racism is not an opinion, and they slammed the radio station's half-hearted response. Fellow singers MAX, Lauv, and Halsey also joined in condemning Matthias, and they defended BTS in the process.
MAX tweeted, "BTS is one of the hardest working and most humble groups in the industry. They deserve all the success they've earned. Hearing such hateful words used against them by the radio host at Bayern 3 made me sick. The hate to them and the Asian community as a whole is unacceptable."
Continue reading below ↓
Recommended Videos
Lauv wrote, "[S]tanding by my @bts_bighit brothers and everyone continuously [affected] by racist remarks as hurtful as what we heard on Bayern 3. [N]o one should have to endure this and together we must stand up and stop it."
Halsey took to her Instagram stories, expressing, "I am horrified to read the comments made by Matthias Matuschik. Racism and xenophobia cannot be thinly veiled as 'on-air humor.' Irresponsible and disgusting statements in a time where hate speech and violent behavior towards Asian communities are skyrocketing. This is unacceptable. I hope a better apology to BTS, and the Asian communities across the world, is on its way."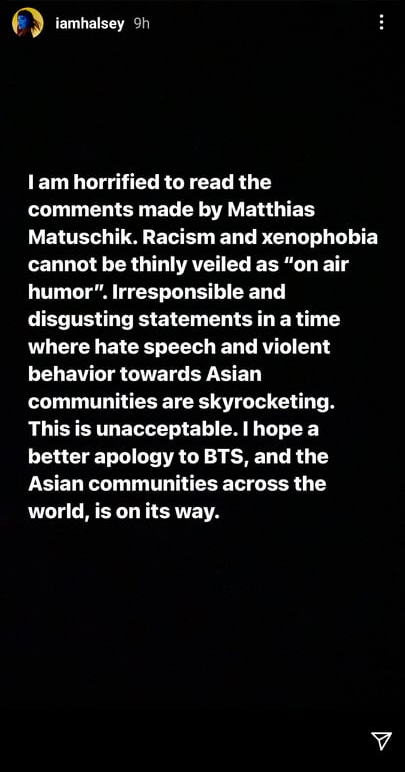 Today, Bayern 3 and Matthias each issued another apology. Bayern 3's statement reads, in part, "We apologize unreservedly for the remarks made by presenter Matthias Matuschik in his live broadcast. His choice of words to comment on BTS [was] unacceptable. Both he himself and we at Bayern 3 know that it is not enough to simply intend a different meaning…We will work through the issue in more detail with Matthias and the entire team, and ensure that such serious mistakes will not happen again in the future."
On his part, Matthias states, in part, "I am very sorry and I would like to unreservedly apologize. In my presentation, I was primarily annoyed by the fact that the boy band BTS covered the song 'Fix You' by Coldplay, which I hold in high esteem. The nationality of the seven boys should not matter—mentioning it and making the connection with a virus was completely out of line…I realize that, in the end, what matters is only how words are perceived—not how they were intended…I have made a bad mistake from which I will learn. I am very sorry."
K-UPDATES