If there's one thing lockdown has given us, it's time to reunite with our favourite TV characters like Gossip Girl's BFFs Serena van der Woodsen and Blair Waldorf.
While we relive all the juicy drama, relationships and who Serena is dating next, we were surprised to learn that even a pro like Blake Lively could have a mishap on set.
The show's killer fashion was a big draw for viewers, with B and S single-handedly turning headbands and long preppy socks into the only must-have accessory in our school uniform. But, that didn't mean there hasn't been a few wardrobe malfunctions along the way.
Just last month GG viewers spotted Serena wearing tracksuit bottoms underneath her coral Roland Mouret dress while having lunch with Dan Humphrey. Like, what? We needed a minute to process this, or like five. How did we miss this after re-watching the show for the millionth time?
If that took time to sink in, be prepared for another OMG moment to add to your GG trivia history, as another Upper East Sider has been spotted having a hilarious wardrobe fail on the show.
Fast-forward to Season Five, Episode Three, The Jewel of Denial, where Penn Badgley and Leighton Meester (AKA Dan and Blair) are attending a Jenny Packham fashion show and you'll spot the series' latest wardrobe mishap.
Continue reading below ↓
Recommended Videos
In a blink-and-you-miss-it moment, you'll spy a party goer in the corner of the frame who was, let's just say, not very well heeled, wearing only one shoe in the scene.
How producers could of missed this is anyone's guess, as the scene went on for six whole seconds, where the woman was on her tip toes to make it appear as though she had both shoes on.
Don't believe us? See the photo for yourself: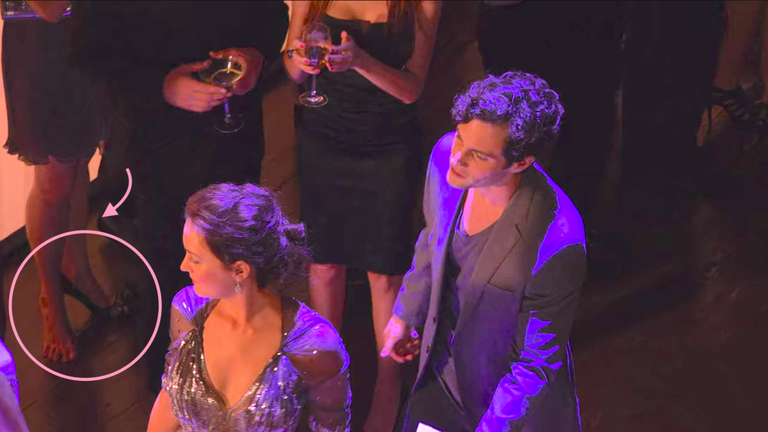 The epic wardrobe malfunction was spotted by TikTok user @triciaerb3, who captioned the newly re-surfaced footage, "someone messed up":
The video, which has been liked over 24 thousand times, received a slew of hilarious comments from fans.
We feel that last comment, who's still not over the coffee cup fiasco from Game of Thrones?
Another TikTok user came up with a pretty good explanation for the filming gaf, saying, "I bet her other shoe broke... they were ready to shoot.. they probably told her it wouldn't be in the shot anyway lol."
Sounds pretty reasonable to us, especially considering how many extras there are on set and how quickly scenes get filmed, but still, someone in the crew should of picked it up, amiright?
Ahhhhh another day of lockdown another filming mishap to uncover, let's just hope the producers take more time in the editing room when they start filming the reboot.
Follow Nathalie on Instagram.
***
This article originally appeared on Cosmopolitan.com/uk. Minor edits have been made by the Cosmo.ph editors.