Body hair is a funny old thing, isn't it? As someone on the hairier end of the spectrum, at times I've felt the invisible pressure to wax my bikini line or shave all my leg stubble off (and have embraced doing so as a personal preference too).
These days, I'm a lot less bothered and let the pits go wild from time to time. But whatever you choose to do with your body hair is exactly that: a choice. So, it's always great to see when high profile names go au naturel and show that beauty comes in all forms—hairy or not. Here are our favorite empowering pictures of celebrities embracing their body hair.
1. Rihanna
When our long-time favorite and Fenty CEO, Bad Gal RiRi, posted these cute summery shots, featuring a peak of her leg hair, the comments section showed some serious love in response.
2. Miley Cyrus
The singer has long been an embracer of body hair, regularly posting pictures of her armpits and pubic hair dyed different colors and performing on stage with her natural fuzz on display.
Continue reading below ↓
Recommended Videos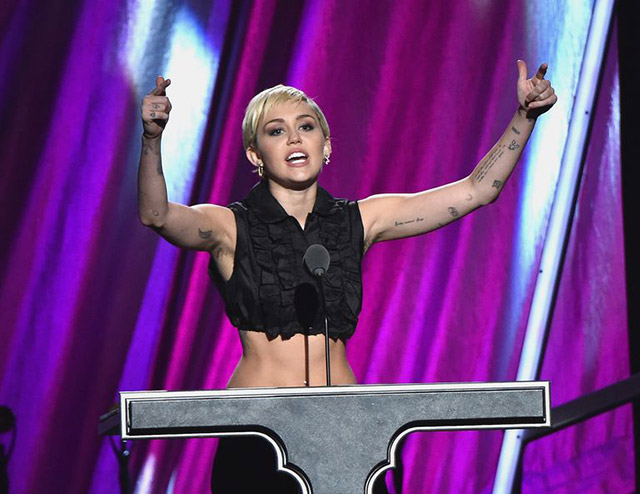 3. Scout Willis
In a cute snap of her lounging around with a friend, Bruce Willis and Demi Moore's middle daughter (who has also dabbled in acting) showed a flash of her armpit hair. She's spoken out against Instagram banning nipples in the past too, so clearly enjoys using the site to tackle taboos. We're fully here for it.
4. Julia Roberts
When the Notting Hill actress rocked up to the film's premiere (looking stunning, might we add) with unshaven pits, the world had a meltdown. Reflecting on the picture several years later, Julia revealed that she hadn't intended to make a statement but had miscalculated her sleeve length: "The picture is vivid in my mind. I just hadn't really calculated my sleeve length, and the waving, and how those two things would go together...It wasn't so much a statement, as it's just part of the statement I make as a human on the planet, for myself."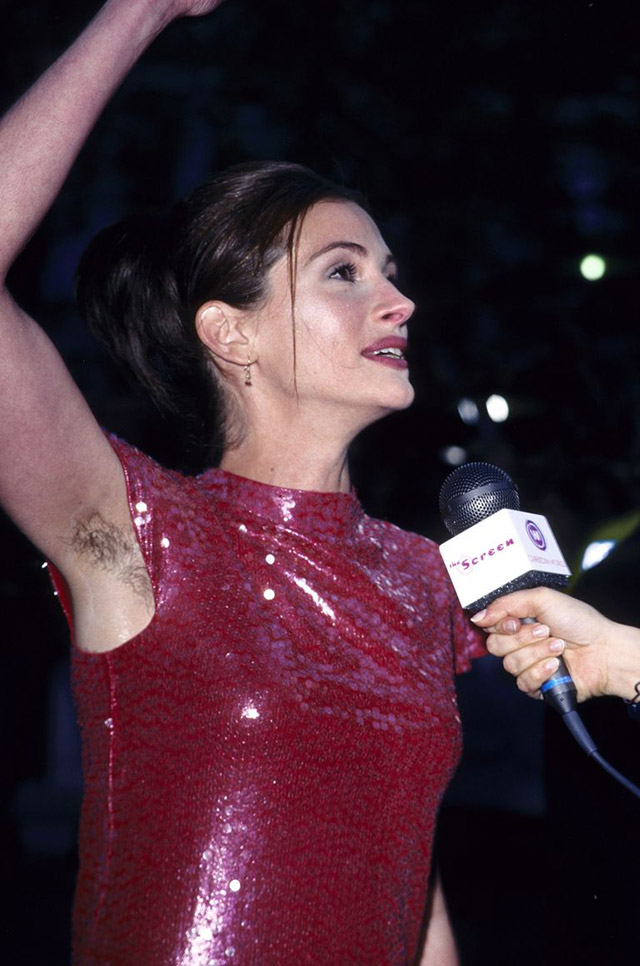 5. Jemima Kirke
Pictures of Jemima (who in the past has appeared in an anti-airbrushing lingerie campaign) on the red carpet with hairy pits made headlines, but we think Jemima looks awesome.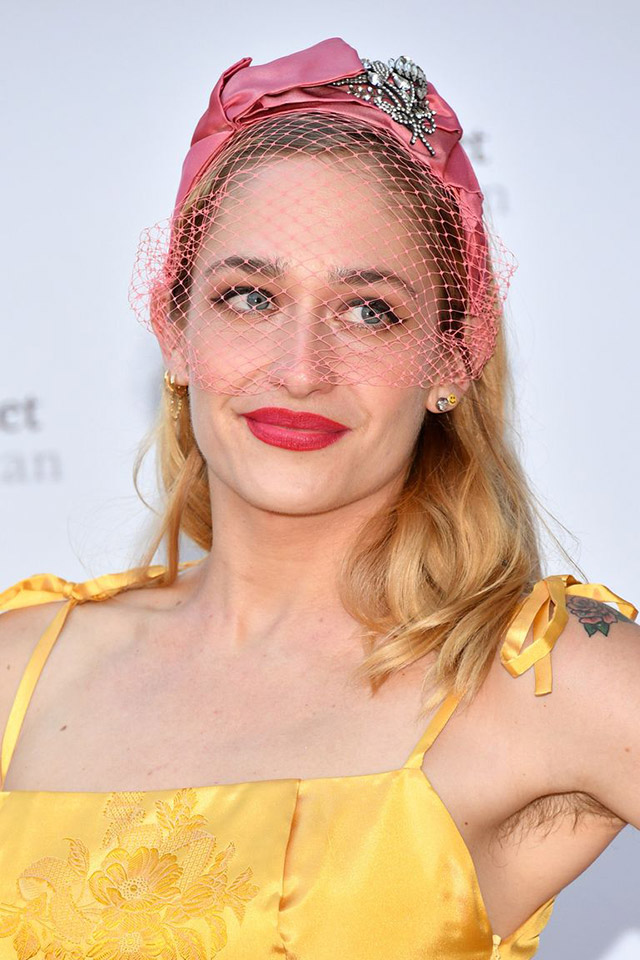 The Girls star even took to Twitter to explain that having longer armpit hair was her "personal preference" and to clap back against the haters with a picture of the OG hairy icon, Sophia Loren.
6. Paris Jackson
Paris has proudly embraced a variety of body hair, from armpits to legs, and proudly posted pictures on Instagram showing so. Three cheers for you, Paris!
And another bonus picture, just because the caption is iconic.
7. Lady Gaga
Never one to conform (we all remember the meat dress), the legendary Lady Gaga let her lady garden take a turn in the spotlight when she graced the front cover of CANDY magazine back in 2013. She's rocked body hair on plenty of other occasions too, looking equally as glam and gorgeous.
8. Kelly Rowland
The Destiny's Child singer and X Factor judge has ditched her razor multiple times, proving you don't have to go through the effort of body hair removal in order to look fabulous.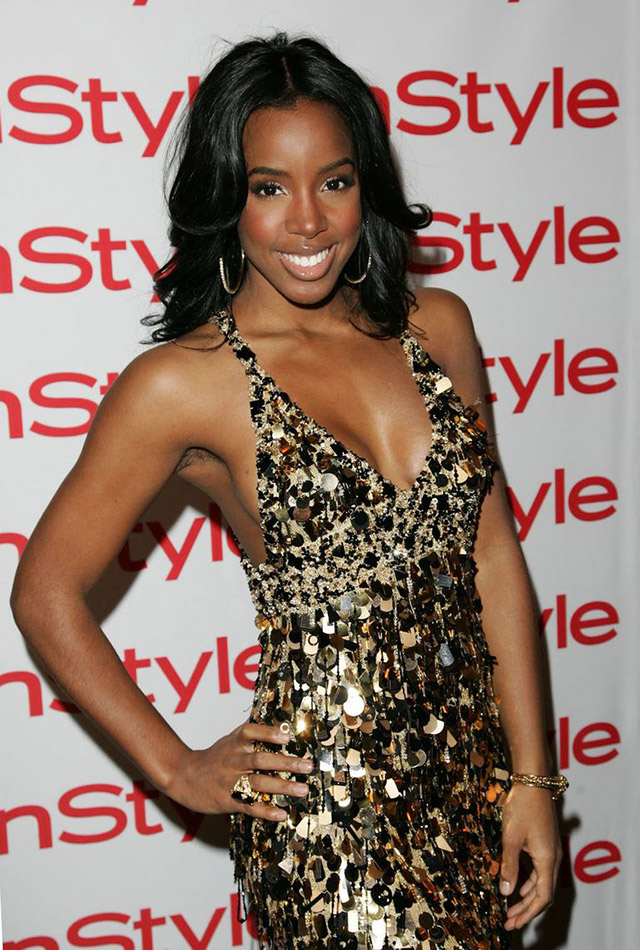 9. Beth Ditto
From posing with her arms raised on the front cover of her band's, The Gossip, first album cover, to bringing a dose of realness to Instagram, the "Standing In The Way Of Control" singer is all over the natural look. Hashtag pit hair, indeed.
10. Bella Thorne
Bella, who has openly spoken out about losing roles over her being bisexual, posted an Instagram video in which her pal randomly pours beer over her hair (explaining in the caption that she believes it lightens it). The other way her hair was the star of the show? Those glorious pits.
11. Lourdes Leon
Well, I mean if your mom is Madonna you're definitely not going to be afraid of challenging the status quo. Right?
We love that Lourdes works a hairy underarm like it's no big deal (and it absolutely shouldn't be either!). This picture posted by Madonna, who herself has flaunted body hair aplenty, is too good.
***
This article originally appeared on Cosmopolitan.com/uk. Minor edits have been made by the Cosmo.ph editors.