You know that *proud feeling* you get when you see Filipinos shine at an international level? Well, that's kind of how I felt one June afternoon when I visited the set of Netflix's Insatiable in Atlanta, Georgia. The Philippines is made proud once again by no other than Miss Universe 1969 Gloria Diaz. This time, she takes on a guest-starring role as pageant coach Miss Gloria Reyes in the second season of the black comedy-drama TV series.
Insatiable stars Debby Ryan as Patty Bladell, a formerly overweight high school student who has suffered years of bullying from her peers. After an entire summer of going on a liquid diet and losing 70 pounds, the new Patty is now thin and seeking revenge on all those who fat-shamed her in the past. She meets lawyer and pageant coach Bob Armstrong (Dallas Roberts), and together they team up to conquer the pageant scene.
Here's the trailer for Season 2, where our very own Gloria Diaz will be guest-starring in a couple of episodes!
Continue reading below ↓
Recommended Videos
The first order of business during the set visit? Lunch, LOL! After a few introductions between the Philippine press and Netflix staff, we headed over to the area where everyone had their meals. The setup was like a typical high school cafeteria, but better. There was a drinks station, a salad bar, and a whole table full of fresh fruits and dessert. If you ask me though, the best part about lunch was getting a juicy, beefy burger patty fresh off the grill. It was just like being at a summer cookout!
After lunch, we were led to a viewing room where we got to watch the cast shoot some scenes of the second season's last episode. We couldn't really take photos inside but from my observation, there were a bunch of TV monitors where you could see how the setup was for each camera. I would actually consider it as the "VIP Room" because that's where the director, writer, producer, sound technician, and even glam team stayed. With our headphones on, we got to listen in and watch the production go by scene after scene, take after take. And let me tell you, Gloria was a natural! Off cam and during her break, she generously took her time to hand us chips and gummies. In true Filipino hospitality, she made us feel at home and points to the snacks. "Kuha lang kayo 'dun. Marami pa 'dun," she said. On screen, she wore that elegant white suit and delivered her lines like a true diva.
Read on to find out more about at happened when we got to spend more time with the Netflix guest star herself.
On how she got the part:
"They Vibered me," Gloria said. She mentioned that when she watched the show for the first time, she thought it was for "teenyboppers" but after a few episodes she was surprised to find out that it had sex and violence.
Showrunner and writer Lauren Gussis also shared, "We knew we had such a huge fan base in the Philippines and we wanted to kind of reach out and include somebody that people would resonate with. We were excited and we felt like it was a good way to show a woman of strength because Gloria has such gravitas. When she talks you believe it."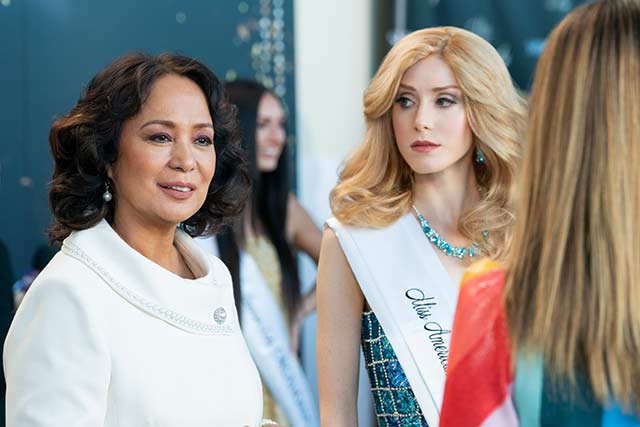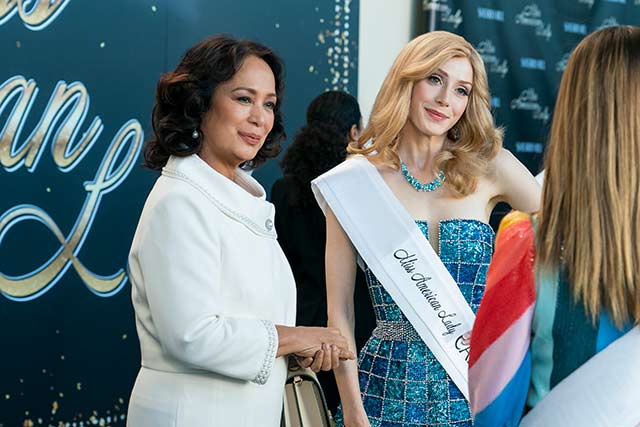 On how she first felt being on set:
"I was totally amongst strangers. And I noticed everyone comes to the set with nobody. They just take care of themselves so I was very uncertain. But it was okay I brought my daughter, I brought my sister, [and] I brought my assistant. Then I felt a little secure."
"So nice, very exciting. It's very funny because actually my first language is almost English—but I was so nervous I didn't know if I was going to make a mistake, or [speak] in Tagalog."
On how different the show was to her own pageant experience:
"I was telling them it's funny because here [in the show] the girls themselves are the ones having catfights and stuff. In the beauty pageants now I can see the ones who are really involved are the people around—you know the mothers, the mentors, the stylists, [and] the coaches. It's a whole big story. It's actually bigger than the contestants themselves. They can't do anything unless their stylists say...so it's really a different ball game."
On the evolution of the pageant industry since she won Miss Universe in 1969:
"A lot of things [are] different now. When I joined the pageant 50 years ago, the point of the whole pageant is scholarships, fitness, and wholesomeness. No ads for cigarettes. No ads for alcohol. No casinos. Usually [contestants were] 18, 19, or 20. [If you were] 21, you were [already considered] an older woman. But now usually the girls who are in the contest are 24, 25, 26—so it's changed a lot. They come along with boyfriends. Before we always had a chaperone. You don't even go to the bathroom on your own! They [used to] talk about scholarships, education, but now it's not like that. It's totally commercial. It's about making money and stuff, which is good. Once you work with a pageant now, I think they have a modeling agency. They discuss with you that even after the pageant you can work with them. Many of the girls are much older now and they can join [pageants] many times."
On being a pageant judge, especially during the Q&A portion:
"Actually the truth that people don't realize is that the candidates are given, or rather [are rehearsed with a few questions] that will be asked. But what happens with me is if you ask me to be a judge, I always want to know something. I don't want to ask them something they kind of already know. It seems like they're always surprised but my questions are very very simple. As a judge, they give you all the questions. Suggested questions. And many of the judges use those questions. But I never do. I mean, I always have my own."
On the similarities and differences between American and Philippine pageants:
"[For similarities, it's] ambition and the desire to win. The difference is of course economics. In the Philippines, the presentation of the smaller pageants [are different]. If you belong to a small town, it's very fun because it's a big celebration. But otherwise, it's almost the same. It's the same character —the mother, the father, the stylist."
On her biggest learning and realization as a beauty queen:
"Never be vain about yourself because there's always somebody better looking right behind you."
On what it feels like to be a Netflix guest star:
"Thrilled of course. Awesome. I hope they have more Filipinos [on] Netflix shows."
With extreme confidence, Gloria says, "I'm a real bitch here!"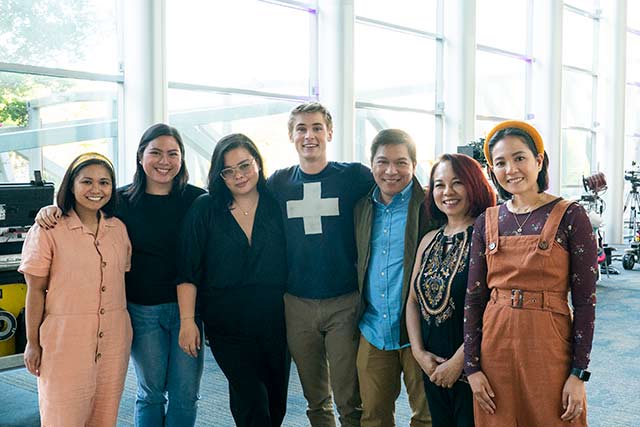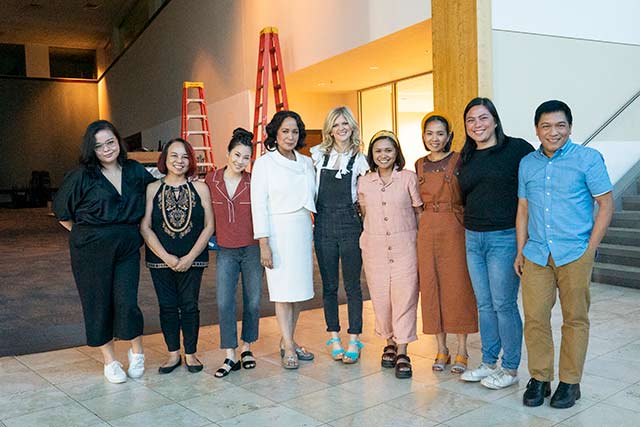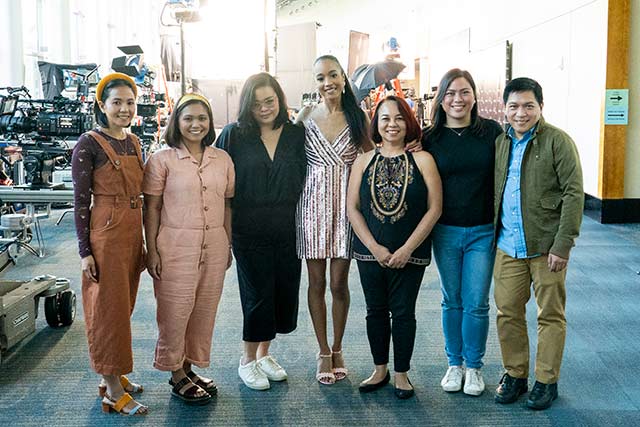 You can now watch Seasons 1 and 2 of Insatiable on Netflix.
Follow Lou on Instagram.