I've been a K-pop fan for quite some time now, and my focus has always been on the idols that I love seeing perform on stage. I used to not be so interested in K-dramas because: 1) They take *lot* of time to finish 2) My attention span is really short. That is until I stumbled upon a series that did not just open my eyes to a different side of K-entertainment, but also to a topic that eventually became important to me.
MORE K-DRAMA REVIEWS, RIGHT THIS WAY:

Being an EXO-L (EXO's fandom name), it's automatic that whatever project the members are taking part in, I will surely support. When I read in the news that D.O. will star in this drama titled It's Okay, That's Love, I was kind of unsure if I should watch it at first because of the reasons that I mentioned above. But since I'm a fan, you bet that I did end up searching the series online and binge-watched until 2 a.m. (even if I have an exam the next day). And boy, was it one of the best decisions I've ever made.
ADVERTISMENT - CONTINUE READING BELOW ↓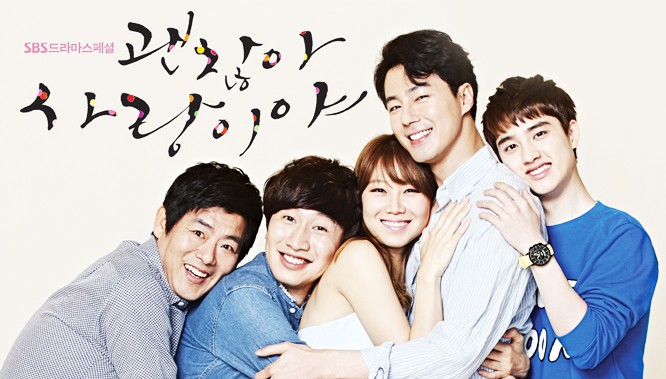 Six years have passed, and I have already watched a long list of K-dramas, but It's Okay, That's Love remains to be my number one. This is why.
The summary of It's Okay, That's Love
It's Okay, That's Love aired in 2014 under SBS, and revolves around the theme of mental health. At that time, it was unusual for K-dramas to take this route because of the underlying stigma on mental illnesses in South Korea. But the production team was brave enough to put the spotlight on the subject, and did it so well.
Jang Jae Yeol, a bestselling author and radio DJ, is full of wit and charisma, that one wouldn't even imagine how dark his past is. I guess you can say that he was able to live his life on his own terms, but there were times when flashbacks of his childhood would haunt him for days. When he was young, he witnessed how his father beat his mom to death (with his older brother hitting Jae Yeol as well)—leaving him traumatized.
During one of his radio broadcasts, he meets Ji Hae Soo, a composed, sometimes moody, but oftentimes endearing psychologist who is traumatized by her mother's infidelity. She also experienced it on her own when her ex-boyfriend cheated on her, which led to Hae Soo's fear of commitment. 
Later on, Jae Yeol and Hae Soo were both surprised knowing that they would live in the same apartment with another psychologist and mental health patient. Since it wasn't love at first sight, they were off to a rough start, but since they're each other's "style," you know what happens next.
ADVERTISMENT - CONTINUE READING BELOW ↓
Now if you're thinking that is some cliché romance story, allow me to introduce you to the cast and each character.
The It's Okay, That's Love Cast Members
1. Jo In Sung as Jang Jae Yeol
The character: Because of his traumatic experience, Jae Yeol suffers from obsessive-compulsive disorder (OCD) and he never sleeps on beds. Instead, he finds comfort in sleeping in bathtubs. He's very organized, and has a thing for the color yellow. He also has undiagnosed schizophrenia, which leads to more revelations. Jae Yeol may come off as an arrogant jerk, but throughout the drama, you will be in awe of the wisdom he carries.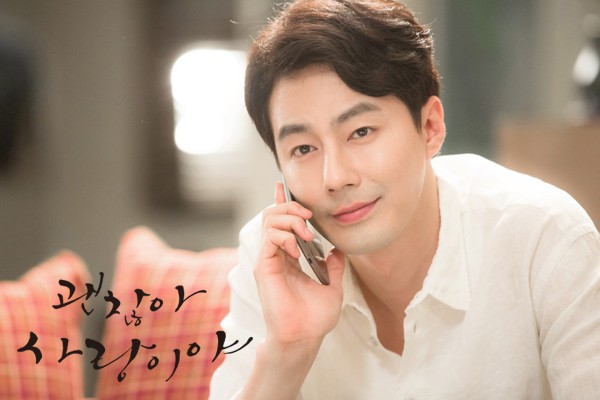 ADVERTISMENT - CONTINUE READING BELOW ↓

The actor: Jo In Sung deserves all the awards for this role. I can't see anyone portraying Jae Yeol but him, because he did it so effortlessly, without missing the important details of his character's body language and facial expressions. He exceeded expectations and proved why he's a part of the top 10 highest-paid Korean actors. It's Okay, That's Love is his second project with the drama's writer Noh Hee Kyung, who also wrote That Winter, The Wind Blows.
2. Gong Hyo Jin as Ji Hae Soo
The character: After witnessing her mom cheating on her handicapped dad with another man, Hae Soo became scared of relationships and develops sex phobia. This is one of the reasons why she didn't get along with Jae Yeol at first, as she found it hard to trust him even though her feelings were starting to grow.
ADVERTISMENT - CONTINUE READING BELOW ↓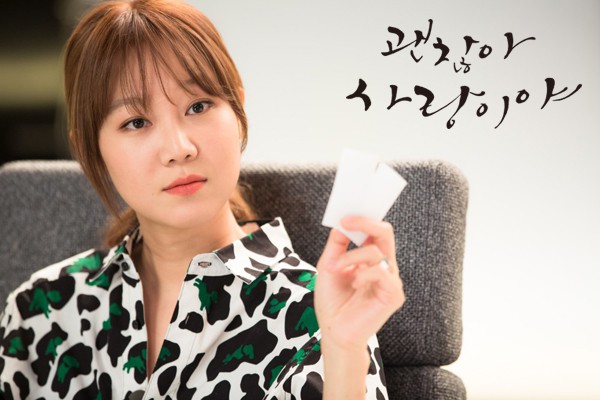 The actress: Not gonna lie, Gong Hyo Jin became my favorite K-drama actress after this show. It made me watch her other dramas like The Master's Sun and When The Camellia Blooms, and now I know why all of her series are successful: She picks the best roles, and she constantly delivers.
ADVERTISMENT - CONTINUE READING BELOW ↓
3. EXO's D.O. as Han Kang Woo
The character: Jae Yeol's biggest fan is a high school student who dreams of becoming an author just like him. He would always be around Jae Yeol and ask him to check his manuscripts, get advice, or tell stories about his day. Just like his mentor, Kang Woo and his mom were also beaten by his alcoholic father. Keep your eyes peeled in the next episodes once his background is revealed.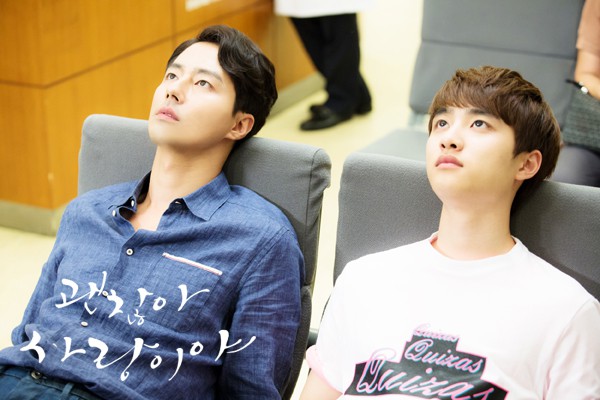 ADVERTISMENT - CONTINUE READING BELOW ↓
The actor: You wouldn't even believe that this was D.O.'s first acting project with how he performed as Han Kang Woo. He proved that he's more than just a K-pop idol, but also an actor that you should watch out for. It's Okay, That's Love paved the way for him to be discovered and cast in other remarkable roles, like in the movies Pure Love, My Annoying Brother, and Unforgettable.
4. Sung Dong Il as Jo Dong Min
The character: Dr. Jo Dong Min is Hae Soo's sunbae (senior) in the hospital they're working at, and is also her housemate. His family is based in the U.S, which means that he's all on his own in South Korea.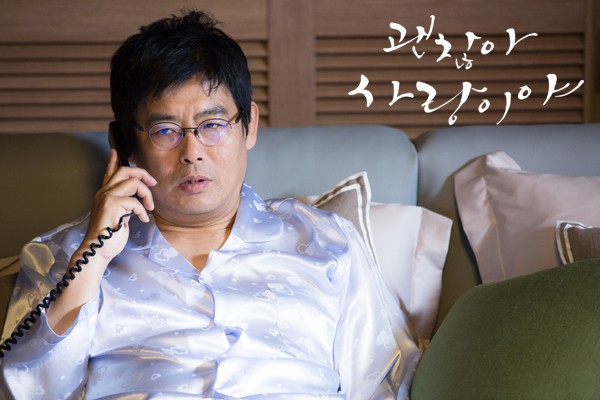 ADVERTISMENT - CONTINUE READING BELOW ↓
The actor: When a drama is starring Sung Dong Il, you're already sure that it's going to be a good one. His father figure role in It's Okay, That's Love gave me more reasons to believe why he's everyone's favorite appa (father).
5. Lee Kwang Soo as Park Soo Kwang
The character: Park Soo Kwang works as a waiter in a cafe, and he lives in the same house as Jae Yeol, Hae Soo, and Dong Min. He has Tourette's syndrome, and during his panic attacks, his fellow housemates would often calm him down. Despite his cheerful personality, he is often rejected by women which made him believe that he is unlucky in love.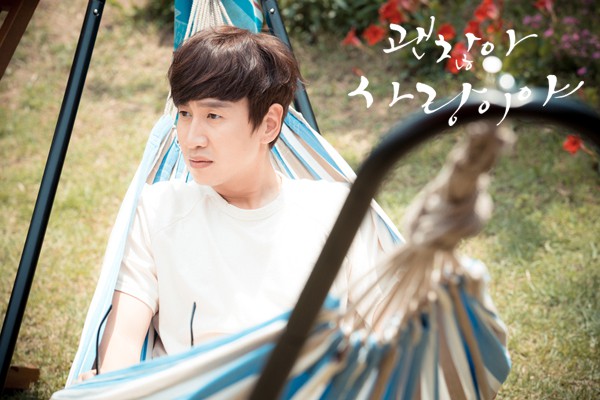 ADVERTISMENT - CONTINUE READING BELOW ↓
The actor: You can definitely see how Lee Kwang Soo has rigorously prepared for his role, knowing that it's never an easy one from the very start. He still has his hilarious Running Man charm here, but his onscreen character stood out the most.
Why you should watch It's Okay ,That's Love:
It's Okay, That's Love is a refreshing, realistic take on romance, deep-seated wounds, and mental disorders. It is not your usual drama with the plot revolving around a poor girl meeting the man of her dreams. Rather, it's a story of flawed human beings who have learned to accept themselves with the help of others. The show had such high rankings while it was on air that the entire cast and production team were treated to a vacation. 
Another EXO member contributed to the drama's success, as Chen sang the iconic OST "Best Luck", which was awarded as the Best OST at the Seoul International Youth Film Festival. There are also tracks included in the OST that are in full English, like The Once's "You're My Bestfriend" and Family Of The Year's "Hero", and if you take a look at the lyrics, you will see how they perfectly fit each scene in the drama, may it be during Jae Yeol and Hae Soo's romantic parts, or the characters enduring the pain brought about by their burdens.
ADVERTISMENT - CONTINUE READING BELOW ↓
YouTube/Stone Music Entertainment
One of my favorite lines from the drama is from Jae Yeol: "It can bring you pain and resentment and distress and sadness and despair and misfortune. But it can also bring you the strength to endure all of those things. Then you can call it love." He pointed out that the course of true love is not as easy as it sounds. You will sacrifice your dreams and endure the pain of making decisions that will either make or break you, but when you find the one who will help you confront your fears, take risks, and accept you no matter how impaired you get, you'll be able to conquer them all.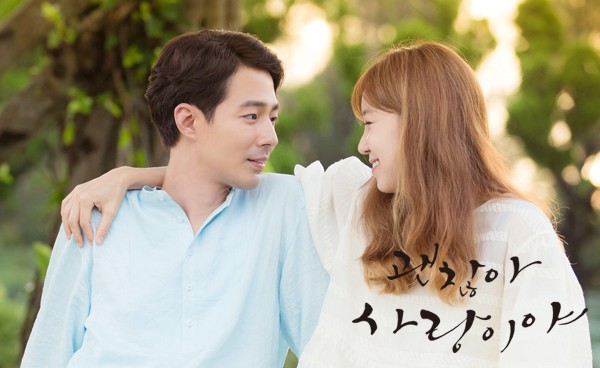 ADVERTISMENT - CONTINUE READING BELOW ↓

When it comes to the mental illnesses mentioned in the story, they were not just well-portrayed, but also clearly explained. There are definitions for each that you will see on the screen. Aside from OCD, schizophrenia, and Tourette Syndrome, this is also where you can take a look at the world of those who are suffering from postpartum depression, dissociative disorder, Lou Gehrig's disease, and more. By giving careful thought on mental health, the show even received a plaque of appreciation from the Schizophrenia Association for bringing light to a sensitive topic, and giving hope to those who are diagnosed with mental disorders. The show's screenwriter once mentioned the inspiration behind this story: "About 80 percent of the whole nation has some mental illness symptoms, and about 20 percent should consider taking prescribed medication. It came to my attention that people seem to equate mentally ill people with criminals, calling mental illness [as] "the influenza of the mind."
ADVERTISMENT - CONTINUE READING BELOW ↓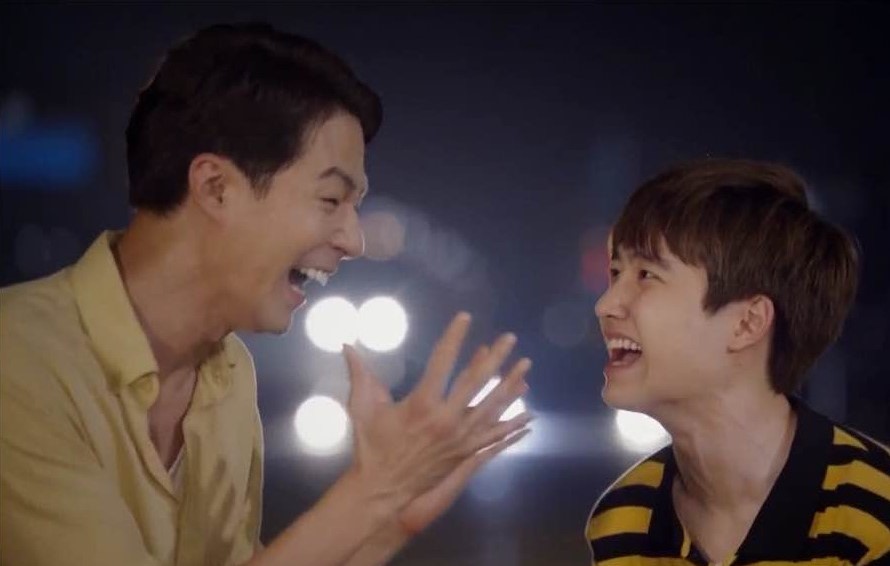 Aside from the knowledge that you will gain, It's Okay, That's Love will remind you about the value ofcompassion, and how it can make such a difference. Here, I learned that we should all understand those who are viewed as outcasts in society for they are human beings as well: Flawed, messed-up, but are also equally worthy of love. 
ADVERTISMENT - CONTINUE READING BELOW ↓
In a nutshell, It's Okay, That's Love is an incomparable series with revelations that will knock you out off your seat, and plot twists that will leave you rewinding the scenes. The entire story is well-written, fascinating, and mind-boggling, and the actors will blow you away with their superb performances. It is heartwarming as it is heartbreaking, and although it only lasts for 16 episodes, its impact will stay with you forever. 
Rating: 11/10
MORE K-DRAMA REVIEWS, RIGHT THIS WAY:
Follow Hanna on Instagram.