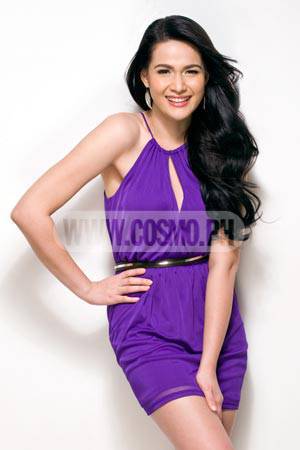 Bea Alonzo certainly knows how to light up a room. The 24-year-old star showed up at the Edge of Light Studios in Quezon City for her fifth Cosmo cover shoot looking beautiful as always, but the moment she slipped into the colorful outfits we got for her, she became even more radiant and stunning--everyone in and out of the studio was blown away!

Yes, we brought her outside to shoot in the streets. It was no surprise that she caused a scene as passersby gathered to see the confident young actress strut her slimmer bod in the slinky, vibrant outfits chosen by fashion director Ana Kalaw.

But then, that's exactly the effect Cosmo was going for when we selected the outfits for the January issue cover. Ana says, "We wanted something bold and fresh to the eye--something really, really fun, because we did blacks, nudes, and darks for November and December. We wanted to start 2012 with something brighter and more colorful."

If you want to add a pop of color to your own closet, choose these hues that are hot right now: teal, purple, coral, hot pink, and bright yellow. Ana notes that these colors set off Bea's fair skin tone well, but we think they look just as great on morena girls, too!

Launch the gallery to see all the vivid dresses, tops, bottoms, and accessories we brought to the shoot, as well as the shoe options Bea brought from her own closet! Also check out her bag feature and interview on CosmoTV!


Grab a copy of Cosmopolitan Philippines' January 2012 issue with Bea Alonzo on the cover--in stands now! Read her cover story "Bea Alonzo: Transformer" on pp.24-30!
Continue reading below ↓
Recommended Videos
1762