Hello people to whom the acronym HSM:TM:TS means absolutely nothing: we're here to discuss Joshua Bassett. You might think you have no idea who he is, but trust: If you've ever scream-cried alone in your shower to Olivia Rodrigo's "Drivers License," you def do. Aside from being the ~alleged~ subject of Olivia's song, Joshua is the star of High School Musical: The Musical: The Series (aka HSM:TM:TS), and he's also a singer, and also the subject of a lot of IRL Disney relationship drama. In other words, he's a triple threat, and we're here to discuss just, like, a whole buncha facts about him so we're all on the same page. That page being Knowing Way Too Much Info About Disney Stars™.
P.S. Feel free to take a shot every time I write HSM:TM:TS.
1. He's 20 years old and 5'11".
Listen, I know it's weird to kick this thing off with Joshua's age and height but inquiring minds want to know. BTW, his birthday is December 22, which makes him a Capricorn so you may or may not be compatible.
2. Joshua got his start in HSM:CT
Yes, thank you, HSM:CT *is* in fact an acronym I just made up. It stands for High School Musical Community Theater, which Joshua was part of almost a decade ago. He played J.V. Jock No. 2, which is almost—but not quite—as fancy as his job playing Ricky Bowen in HSM:TM:TS. Though FYI, his first gig wasn't actually in acting. Joshua told Billboard that he worked "at a frozen yogurt shop," but was "making bank as a local videographer when I was 12."
Continue reading below ↓
Recommended Videos
3. He was almost Harvey in The Chilling Adventures Of Sabrina!
IKR? Can you imagine? Joshua revealed this nugget of info in an interview with Buzzfeed Celeb: 
"I mean, I started coming out to LA when I was about 16. I mean, there were a handful of roles. I was really close to the role in Sabrina The Teenage Witch. It was down to me and Ross Lynch. And he got it, I'm super happy for him. But yeah, I was definitely, like, really hoping for that one. There's a couple others. But that one, I guess, stands out to the one where…I was like, I got really close. And I was really excited about it. And it just didn't work out. But, ultimately, everything worked out."
4. Joshua just released an EP.
It's self-titled, it dropped on March 12, and the debut single "Lie Lie Lie" should probably be read into immediately. Mostly because of the visual similarities to "Drivers License," which we'll get to in a moment:
5. He and Olivia dated suring HSM:TM:TS.
At least that's what fans speculated after seeing their chemistry onscreen, the way they always cozied up to each other in interviews, and all the flirty comments they left on each other's Instagrams. And they actually co-wrote this song for the show!
6. He's maybe (?) dating Sabrina Carpenter.
Joshua started hanging out with Sabrina last summer and fully did a couple's Halloween costume, prompting speculation that they were dating.
And then? Then Olivia dropped "Drivers License," which I think we can all agree has some pretty !!! lyrics, including some that seem to definitely/maybe be about Sabrina and Joshua (Olivia's denied it, but like...c'mon):
"And you're probably with that blonde girl
Who always made me doubt
She's so much older than me
She's everything I'm insecure about
Yeah, today I drove through the suburbs
'Cause how could I ever love someone else?" 
Note: Sabrina has blonde hair and is four years older than Olivia. Ahem.
Anyway, more info on that WHOLE SAGA this way, just note that Sabrina went ahead and released a song of her own called "Skin" with the literal line "Maybe you didn't mean it / Maybe blonde was the only rhyme." Oh, and Joshua congratulated Sabrina about it. But also he congratulated Olivia after the release of her new song "Deja Vu" so who knows what the hell is going on.
7. His dramatic personal life was made into a SNL sketch.
Dude was literally name-checked! He responded both in the below TikTok, and also in an interview with Billboard, saying "I was like, 'I think I'm honored?' They poke fun at everyone and everything. That's the point of the show. I thought it was hilarious."
8. He's basically a musical genius?
At least by my standards as a person who has no skills whatsoever! Meanwhile, Joshua can play multiple instruments:
9. He was on Disney's Stuck In The Middle.
He played Aiden Peters! Remember? Anyone? No? K.
10. He has his own merch.
And 100 percent of the proceeds go to charity, so go ahead and buy this cute sweater: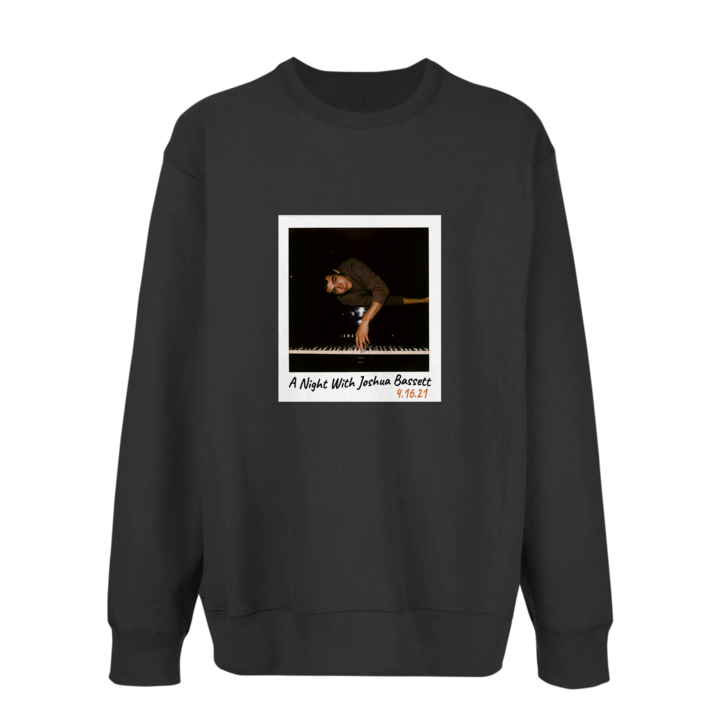 11. His dreams are VERY INTENSE.
While I'm busy dreaming that I forgot to file my taxes (I believe that's called a nightmare), Joshua told Interview that his dreams are...never not doing the most. To quote: "Sometimes I dream up entire symphonies, movie ideas, full plots, and other times old emotional traumas. You know, the normal stuff."
12. And finally: He has a HUGE family and you should probs meet his sisters.
As in, he's one of six siblings. In fact, Joshua has five sisters and their vibe is incredibly cute. Proof: this video of him singing at his sister's wedding:
Kay that's all, please note the total number of times I used HSM:TM:TS was, in fact, only five.