In Julie And The Phantoms, a talented teenager who's grieving for her mom has completely lost her passion for music. But when three cute ghosts—who have no idea they've been dead for 25 years—suddenly show up in her mom's old music studio, Julie finds her voice again + helps them with their unfinished business on earth. This pure and feel-good musical series hasn't been picked up for a second season by Netflix ~yet~, but we're positive that it will because THAT ending was such a cliffhanger! 
Guess what? Talented Madison Reyes, whose first profesh acting gig is Julie And The Phantoms, learned that she bagged the lead role at the same time as her co-stars Charlie Gillespie (Luke), Owen Patrick Joyner (Alex), and Jeremy Shada (Reggie)! Yup, they were all together and it definitely established their closeness as a cast and as a real-life band. 
Cosmopolitan Philippines got to join an online roundtable interview with Madison, where she talked about the story behind the song "Perfect Harmony," her relationship with the boys, and what she hopes the show can teach viewers. 
ADVERTISMENT - CONTINUE READING BELOW ↓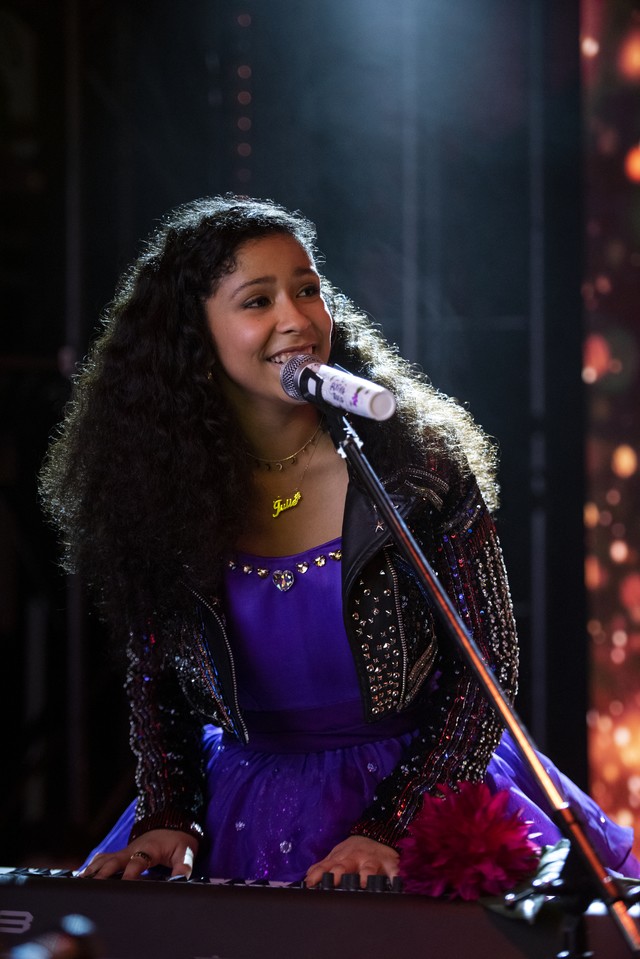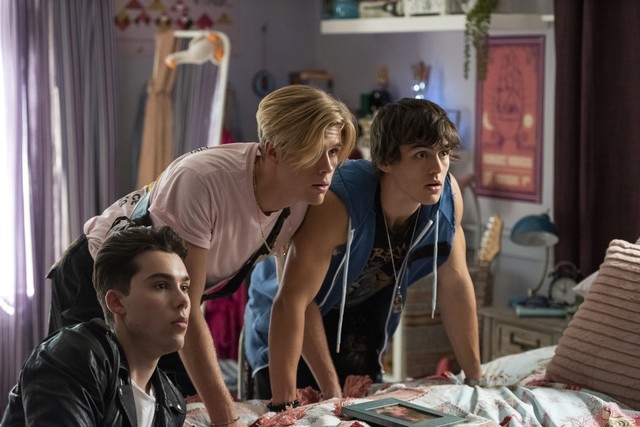 Were you already familiar with Kenny Ortega and his work with High School Musical when you auditioned for Julie And The Phantoms?
Yes, High School Musical was actually something that influenced my wanting to be a performer and an actress a lot. Because watching those movies growing up, I always wanted to be like Gabriela, just dancing around in that school. So when I found out that it was actually Kenny, and I had also seen his other works like Dirty Dancing and my sister, she was growing up while watching Descendants and stuff like that. So, you know, his work has definitely influenced a lot of us in my family. So being able to work with him was like a dream come true.
We learned that you wrote "Perfect Harmony" with Charlie. Is it really inspired by "Can I Have This Dance" from High School Musical 3?
Yeah! So basically we were at a table read and we had been trying to find a song for that scene for about, like, two weeks. We just really couldn't find anything and we were getting close to having to kind of like, you know, film it. So I remember me and Charlie. We were at the table read and Kenny kinda looks across the table, and is like, "Well, why don't you guys try to write something together?" And I was like, "Oh, you know, might as well try," because he had always encouraged us that even if it's a bad idea, you never know what could come out of it so we just kind of went for it.
ADVERTISMENT - CONTINUE READING BELOW ↓
It was inspired by that moment on the rooftop, we really thought that was Julie and Luke's kind of vibe, for what we were looking for. And we also just wanted to pay a little homage to Kenny, because of how much he meant to us and we loved High School Musical both so very much. That process also really helped us get in touch with our characters and really realize the kind of relationship that they might have. It's established in the show but not seen that they write songs with each other all the time. So being able to kind of have an experience like that and really understand why these two people might feel the way that they feel about each other definitely helped a lot. It's definitely our top moment of filming.
ADVERTISMENT - CONTINUE READING BELOW ↓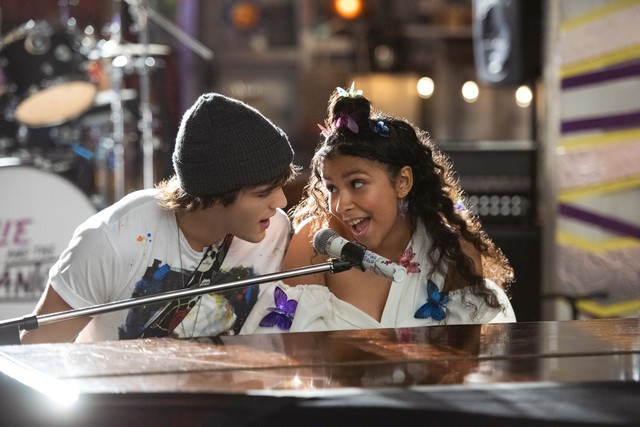 We had constantly talked about it while we were starting, how great it would be to be able to write a song, you know, as a band. But there was never a right moment for us to actually go for it. Everything was already set and we already had all the songs, we were getting close to recording the album. So it was after recording an album and being in Vancouver and us kind of realizing, "oh we should have this dance sequence." But the songs weren't matching and we kind of thought that Julie and Luke's relationship is based off of music. That's where they find their connection, their passion, and kind of like their interaction closely. So we kind of thought, "why wouldn't they have a song that they wrote playing in the background?" At least in Julie's dream world, I would picture him singing to her and her singing to him, because that's just how they communicate, through music. So, when we were given that opportunity, when we saw that window, we knew that it was right for us to try and pursue this.
ADVERTISMENT - CONTINUE READING BELOW ↓
What was it like working with the boys? Could you tell us about your favorite moments behind-the-scenes? 
There was never a dull moment on set. If we weren't on set together we were probably going to hang out at the end of the day, because we just couldn't be away from each other for too long. We were constantly spending our days off with each other, doing something. The pranks were a lot of fun. Those days when we were just hanging out and just reminiscing on, like where we started and how we're like now the best of friends. And now you know we just FaceTime each other all the time and we're constantly on Zoom calls together. We can't be [together] in person but you know we're worried about each other's health and make sure that everybody's staying healthy and we're just as close with the rest of the cast, I mean we were as close with the crew you know everybody was just one big family. So like, you know, even the crew. So, we definitely had a lot of fun.
ADVERTISMENT - CONTINUE READING BELOW ↓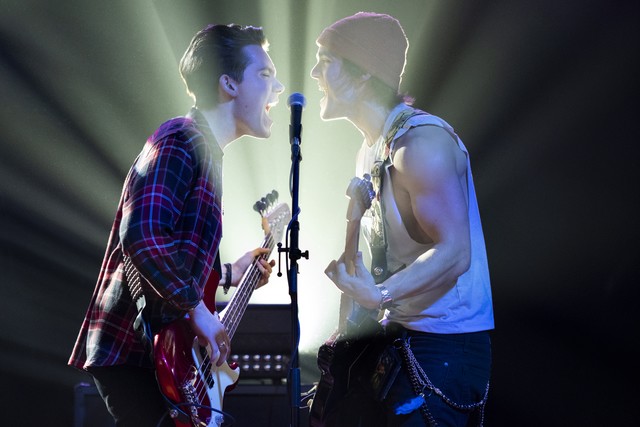 Were there times when they would teach you how to play instruments?
Now, me and Charlie are teaching each other how to play. I was gifted an acoustic guitar after me and Charlie's song got picked up for "Perfect Harmony" by Kenny. I had one, but it was a little old so he got me a new one, which I'm very grateful for because I love it now. So Charlie started teaching me like the chords and then now, he just started teaching me "Unsaid Emily," and I'm teaching him "Wake Up" [on the piano] so we're just kind of finding things to do in quarantine with each other.
ADVERTISMENT - CONTINUE READING BELOW ↓
Don't Miss: 
8 'Julie And The Phantoms' Actors You Absolutely Need To Follow On Instagram 
7 New Shows We Can't Wait To Watch On Netflix This September
What do you think Julie's character can teach young girls today when they watch the show? What do you want them to take away from it?
Something that's really cool about the show is just, you know, the things that it touches upon, with grief and loss, and how it's okay not to get over it right away. It's okay to feel things, and with Julie, she kind of let that experience take over her. Though it was for a long time, everything happens for a reason. I just want people to take away that it's okay to be sad sometimes. Just know that you still can go out there and do those things that you want to do. You just have to wake up and seize the moment, basically.
ADVERTISMENT - CONTINUE READING BELOW ↓
The message behind "Wake Up" is what I see as well, it's just finding your true self and letting music guide you, and letting your friends also help you as well. It's something that the Phantoms did for Julie because at first she really wasn't looking for that help because she thought that it wasn't right for her to do. But when the guys came, then she started seeing all these signs and the song of "Wake Up" and her mom's messages that had been there for so long. How if you just let your friends help you and open up to you, that one person who means so much to you, you can get through anything.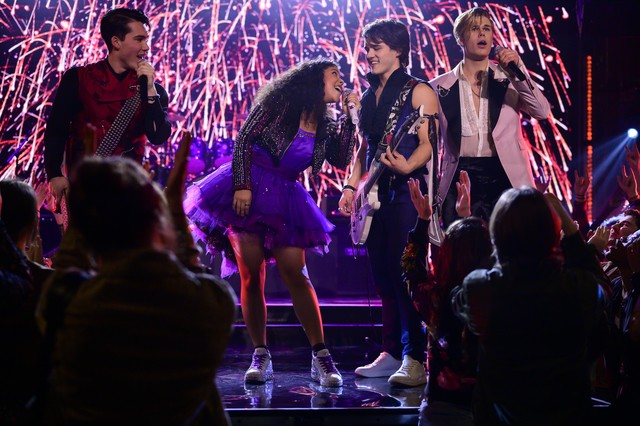 ADVERTISMENT - CONTINUE READING BELOW ↓
*Answers have been edited for clarity.
***
We're officially on Viber! Be part of our growing community and subscribe to Cosmopolitan Philippines now!
Follow Lily on Instagram.