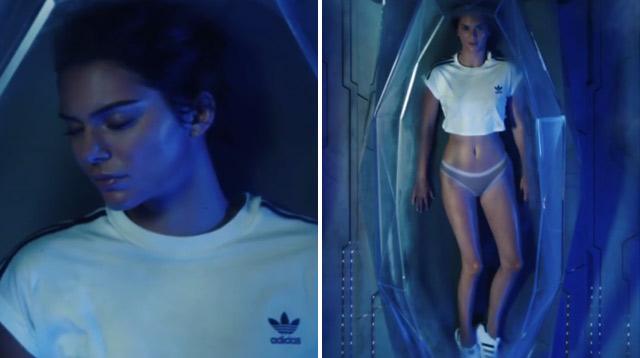 Well, this is awkward.
Adidas is currently facing a whole heap of backlash on Instagram and Twitter after unveiling Kendall Jenner's newest ad for the sportswear brand.
While this is no Pepsi fiasco, people are calling out Adidias Originals for using a model, rather than an athlete, as the face of its brand.
Of course, this is nothing new—hello Gigi Hadid for Reebok and Kylie Jenner for Puma—but it seems that there is something about these particular ads that have really pissed people off.
Adidas first posted a short clip of the ad to Instagram last week, which shows Kendall lying in a perspex box saying "I did what I had to do. I faced it all, and I stood tall. I did it my way."
And later, Kendall shared another clip from the campaign:
A glimpse at the future. #ORIGINALis #adidas_Ambassador @adidasOriginals pic.twitter.com/sBGRUPz6od

— Kendall (@KendallJenner) August 11, 2017
And that's when the criticism started rolling in.
Why doesn't Adidas use actual athletes fuck Kendall Jenner use Simone Biles or Venus and Serena Williams anyone whose an actual athlete

— Nas (@nazables01) August 11, 2017
This is so pandering to a market you'll never have! So not "original" back to Nike with Serena, Nadal and other real athletes. Pepsi got it

— mike zarra (@mikezarra) August 11, 2017
To me, adidas means: athlete, fitness, committed to hard work; impressions not personified by k jenner. you're just another brand. yawn.

— Jan M (@slowdownFloJo) August 11, 2017
Out of all the great clubs and athletes y'all sponsor, y'all really put 21 & Kendal?

— _ (@NaumberOne_) August 11, 2017
kendall jenner managed to make @adidas uncool. @pepsi must be having a laugh rn

— finchley1959 (@finchley1959) August 13, 2017
#adidasOriginalsxAW literally just threw out everything adidas i owned after the @KendallJenner ad. Will never buy again

— Dan Pires (@danpires272) August 13, 2017
Some just found the whole "Originals" concept a little, well, lost.
Kendall Jenner???? Really?!??? There is NOTHING original about having this ridiculous image front your brand...come on adidas!! Do better!!

— ????CJ???? (@ceeja68) August 13, 2017
But not everyone found the ad offensive. Fans leapt to Kendall's defense to compliment her on the new ad, with some explaining that Adidas Originals has never been a brand just for athletes.
@KendallJenner @adidasoriginals ppl are upset that she is the new face of adidas? but how many ppl wearing adidas are athletes? Get over it

— Misty (@mistynites73) August 13, 2017
Why does @KendallJenner get blasted for the @adidas commercial ..like let her fucking live . She is a strong and independent woman .

— Jonluc Neemai (@JNeemai) August 13, 2017
so proud of you ADIDAS GIRL ???????????? pic.twitter.com/Y1LhSg0T0o

— Katie ? (@_DreamHouse_) August 11, 2017
You look beautiful as always! Can't wait to see more of your campaigns ?? Super proud

— chel (@colourmekendall) August 11, 2017
***
This article originally appeared on Cosmopolitan.com/uk. Minor edits have been made by the Cosmo.ph editors.
Recommended Videos